When visual and performance artist Gloria Swain presented her HIDDEN exhibition in 2020, she included a written acknowledgement that held space for fellow artists who couldn't attend due to invisible disability. The showcase of work by Black artists with disabilities was held at the Tangled Art Gallery in Toronto, a space that is dedicated to showcasing the work of artists with disabilities, including Swain, who identifies as Mad.
"That was such a poignant demonstration of disability justice," says Sean Lee, director of programming for Tangled Art + Disability, who has congenital scoliosis. "We've taken that to heart and included a care clause in our contracts to articulate that everyone's mental health and safety are the most important parts, not the deliverables of the exhibition. The artist will still get paid even if they cannot fulfill everything promised, or their show is delayed."
Tangled Art + Disability is not only a gallery—it's also a charitable organization dedicated to enhancing opportunities for artists with disabilities and promoting disability justice. Launched in 2003 as the not-for-profit Abilities Arts Festival, the organization's founding mission was to elevate discussion and awareness of art created by people with disabilities. The aim was to promote diversity and inclusion in the mainstream art world, while ensuring artists with disabilities were part of the larger cultural conversation.
As time went on, they discovered that an annual event was insufficient. While the exhibiting artists received exposure and leveraged networking opportunities during the festival, there was a dearth of programming for the rest of the year. "There would kind of be a lull," says Lee. "But then there was an opportunity to take on a gallery that people could come to regularly for consistent programming of people with disabilities, and to also enact accessible curatorial practices."
Tangled Art Gallery opened to the public in 2016 with accessible curation at the forefront of what they do. Exhibiting artists adhere to accessibility standards developed by the gallery that go far beyond the minimum set by the Accessibility for Ontarians with Disabilities Act (AODA). Artists are requested to display their art at a lower height and in accessible lighting conditions. Tangled staff work with the artists to create audio description and captions for those who are Deaf, a tactile element for those who are blind and sign-language interpretation by a Deaf person for written text. Performances are presented in a relaxed format to accommodate neurodiverse audiences.
While some artists may find these requirements daunting, those who showcase with Tangled are encouraged to creatively incorporate them into their work. "When there's a consistent space for you to come to as an artist, you can be more experimental and you can open yourself up to ideas of creative access or accessibility as an aesthetic component of what you do," Lee says.
Along with providing accessible space, Tangled Arts also offers professional development, networking opportunities, and seminars in their effort to empower disabled artists and amplify disability-identified perspectives.
To fund their work, they rely on ongoing financial support from the TD Ready Commitment. With Canadian arts funding being so precarious, TD provides welcome stability to Tangled Arts' staff so they can continue offering support to artists with disabilities in the form of grants, residencies, and partnerships with places like the Art Gallery of Ontario, The British Council, and The Canada Council for the Arts.
This support was especially important during the height of the COVID-19 pandemic, when accommodation for artists with disabilities became even more vital. "Being able to still participate and be part of an event even when I'm home has been fantastic for me," says Jack Hawk, Tangled Arts' outreach coordinator, who has autism. "That's something I hope doesn't go away. I hope there's increased funding for digital art."
The pandemic also offered Tangled Arts the chance to increase their digital presence by working with international artists, as well as with artists who are typically shut out from traditional forms of engagement. "We've worked with artists who are bedbound, and we were able to realise limitations in our own accessibility, which for me was an exciting opportunity," says Hawk.
Lee says Tangled Arts strives to support artists with disabilities in challenging a world that often values productivity over people. "Disability arts is one of the vehicles for social change that can really dismantle the kind of systems we're in right now," says Lee. "A lot of the past conversations for us as disabled folks were about showing that we could do it too and we could compete. Disability justice is about asking, 'What kind of world are we trying to compete in and why are we trying to compete there at all?'"
Three Artists Leading the Disability Arts Conversation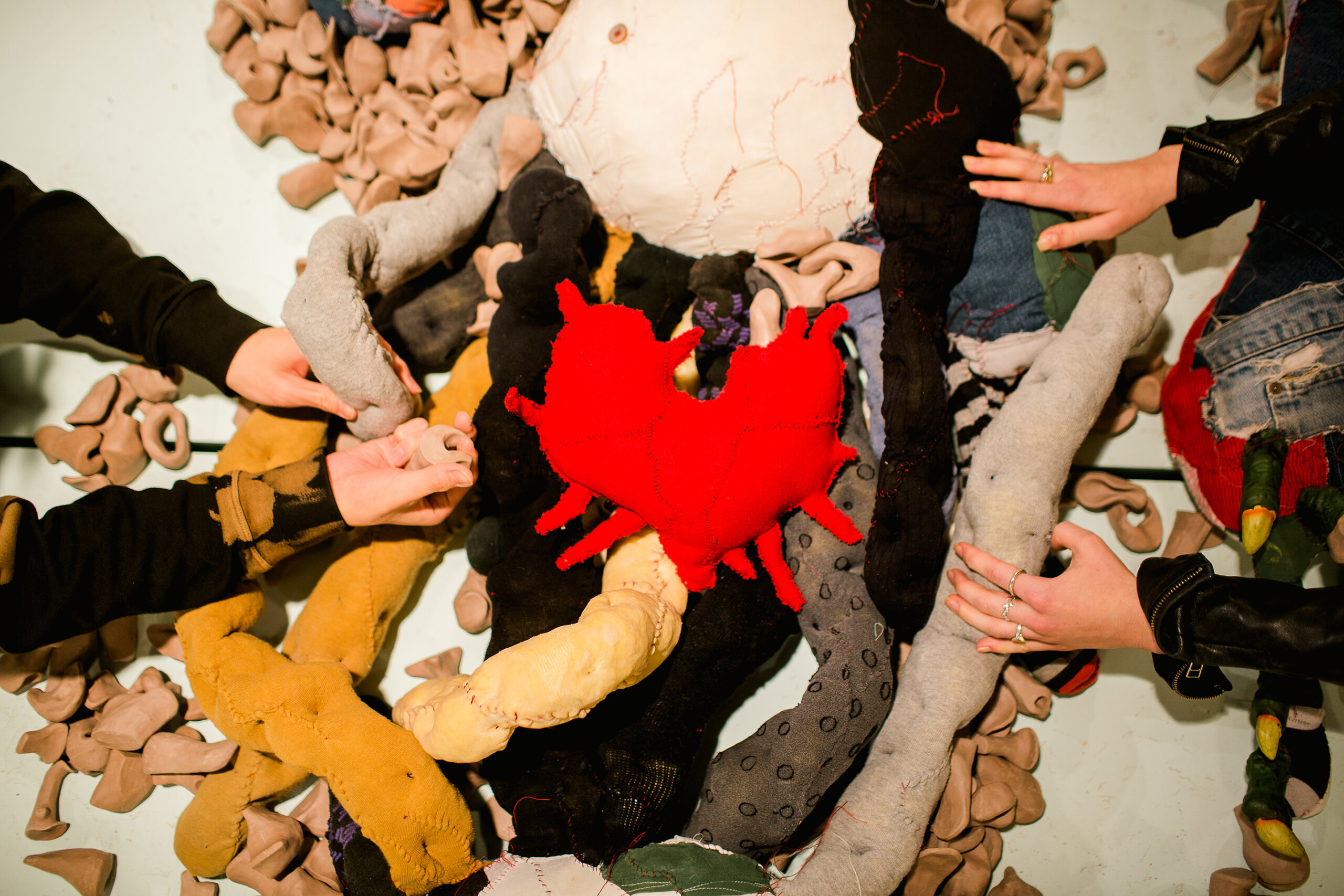 Valentin Brown
The 2019 winner of Tangled Art + Disability's Won Lee Fellowship, Brown is a psychiatric survivor and trans artist with a disability based in Hamilton, Ontario. Valentin's practice using mixed media and sculpture work highlights the ways disability arts and culture disrupt personal narratives. In 2019, Brown's exhibition Body Farm featured a giant tactile autopsy of body parts laid out on a table called Big Softie. It was meant to empower those who've been historically othered by society because of their bodies.
Peter Owusu-Ansah
As a Deaf artist, Toronto-based Owusu-Ansah's work is grounded in his exploration of communication without words. Inspired by zooming in on the pixels in one of his digital pop art projects, the Ghanaian-born artist showcases hypnotic and vibrant pixel grids. His work is showcased across Canada and appeared at Tangled Art Gallery as part of Somehow We Stay Attuned in 2018. In 2021, he won the Murray and Marvelle Koffler Founder's Award at the Toronto Outdoor Art Fair.
Vanessa Dion Fletcher
Vanessa Dion Fletcher is a neurodiverse Lenape and Potawatomi artist who creates using video, textile, and performance. Her work questions what defines a body both physically and culturally using innovative materials like porcupine quills, natural plant dyes, menstrual blood, and Wampum belts. In 2021, she won the Mayor's Purchase Award at the Toronto Outdoor Art Fair.
---
Photo Credit
Michelle Peek Photography courtesy of Bodies in Translation: Activist Art, Technology & Access to Life, ReVision: The Centre for Art & Social Justice at the University of Guelph.