Bruxy Cavey wanted a tattoo. It wasn't to express love for a family member or friend or to commemorate a special moment. He wanted a tattoo to spur religious debate. After mulling over various verses from the Bible, the evangelical pastor at the Meeting House, a megachurch based in Oakville, Ontario, got "Leviticus 19:28" inked along his left inner forearm—the Old Testament verse that forbids tattoos.
Cavey showed off his arm art when he preached in front of a crowd in 2017. The attendees laughed and cheered at the irony of it all. "A fantastic conversation starter about Jesus!" he said. For him, the tattoo encapsulated the "good news" he had been teaching congregants for decades: that Jesus came to Earth to make the old rules obsolete, that Jesus came to save humanity not only from sin but from religion itself. His tattoo, and Cavey himself, was giving religion the finger.
For the thousands who have followed him over the past twenty-five years as the leader of the Meeting House, Cavey has embodied a modern wave of Christianity with a rebellious streak. The movement has sought to appeal to those who have felt alienated by more established Christian churches—from Catholic to United. For much of its existence, after emerging in the mid-1980s, the Meeting House marketed itself as a "church for people who aren't into church." It promised to be different from other places of worship its leaders felt were caught in a dogmatic cul-de-sac. With his long and dishevelled hair, silver thumb rings, and baggy graphic T-shirts, Cavey's counterintuitive preaching, style, and theology resonated with believers and nonbelievers alike. The Meeting House became one of Canada's most popular and iconic churches at a time of mass exodus from more traditional houses of worship.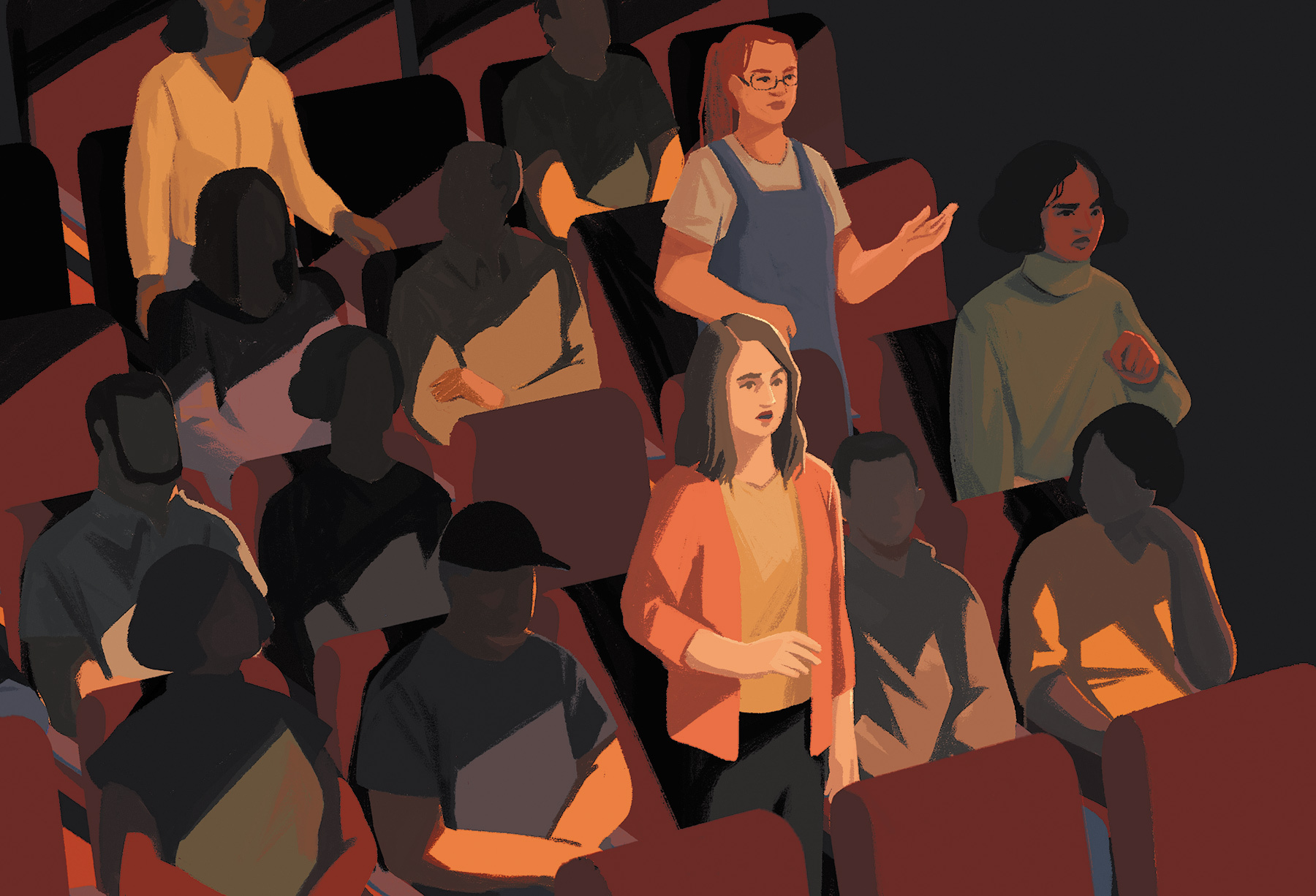 But, since 2021, the ministry has been rocked by a wave of sexual assault and misconduct accusations against Cavey and by the reemergence of previous criminal convictions against other Meeting House leaders. I spoke with more than a dozen current and former attendees of the Meeting House, ranging from youth group participants and congregants to worship leaders and other staff members. Some are survivors of sexual exploitation and sexual assault by former pastors; others spoke to how church leadership silenced reports and prevented them from being made public. Many told a similar story of how they initially came to the Meeting House: on the surface, it was a fun and safe place to explore big questions about life and God. It restored or reinvigorated their faith. At the same time, they pointed to a culture of denial and gaslighting that enabled misconduct and that swept long-standing problems, even criminal ones, under the rug.
Numerous other megachurches around the world are similarly in the throes of ongoing crises of leadership and identity. But the Meeting House stands as a microcosm of the troubling contradictions and unkept promises of the wider evangelical megachurch movement. By promising to bring the faith into the modern age, megachurches were meant to be an antidote to the scandals of traditional Christian churches. Instead, underneath that promise, megachurches have repeatedly revealed just how similar they are to the religious institutions they sought to rise above. According to Peter Schuurman, a Christian academic who spent years researching the Meeting House, "The power and politics and organizational liabilities that are part of such a large organization that create success are themselves the seeds of their unravelling."
Timothy Bruce Cavey, known as "Bruxy," was born in 1965 in Montreal and later moved with his family to Scarborough, a district of Toronto, where he attended school within a Pentecostal church. As a young adult, he worked as a party DJ, according to Schuurman, but his wider reputation arose during his years as a street evangelist. By the early 1990s, he had made a name for himself in the region's evangelical circles and had a proven record of drawing crowds to hear him speak. His preaching style was approachable and humorous, and he quickly became well known around southern Ontario. In 1997, when Cavey was in his early thirties, he began pastoring for a burgeoning church in Oakville that, in 2000, changed its name to the Meeting House.
The Meeting House was originally called Upper Oaks Community Church, which started as a small Bible study group founded in 1986 by husband and wife Craig and Laura Sider and an offshoot of an Anabaptist denomination then called Brethren in Christ. Stemming from the sixteenth-century Reformation, Anabaptism believes in pacifism and austerity, and it tends to be more countercultural. Mennonites, Hutterites, and the Amish are descendants of early Anabaptism. But this form of Anabaptism was staunchly contemporary. "We often define ourselves as Mennonites minus the horse and buggy," Cavey once told the National Post regarding the Meeting House's doctrinal roots. As a church for people not into church, Schuurman notes, it was "evangelicalism for people not into evangelicalism."
Cavey excelled as the Meeting House's senior pastor. In its early days, the church was based out of a high school gymnasium that could hold 150 people. Under Cavey's leadership, the congregation quickly met the criteria of a megachurch: a protestant or evangelical church averaging more than 2,000 weekly attendees. Cavey seemed nothing like the stereotypical fire-and-brimstone megachurch preachers who live lavishly while preaching humility. He was known to drive a Honda Civic, requested a salary cut at least once, and still lives in an unassuming bungalow in Hamilton. Many saw him as a gentle giant who was happy to wrestle tough theological questions with congregants.
In 2002, the Meeting House shifted its main facility to a former Cineplex movie theatre and eventually to a 37,500-square-foot converted warehouse with a 1,000-seat capacity. People travelled from across the Greater Toronto Area to attend. The church was also an early adopter of technology to livestream sermons to as many people as possible, even as far as China and Saudi Arabia.
The church peaked at more than 5,000 members, who gathered at nineteen satellite sites across Ontario as well as at around 200 "home churches," small groups that meet in person and online throughout the week to discuss Sunday sermons and build deeper spiritual relationships. Cavey led this growth, which, for a church in Canada—where the population is far more spread out than in the United States while the percentage of Christians is roughly the same—was remarkable.
Cavey has linked the Meeting House's rise to its goal of welcoming dropouts from other churches: people who have given up on a particular denomination, or burned-out Christians who have become disillusioned with organized religion and religious legalism. The church sold T-shirts with the slogan "Know God. No religion." Cavey once described the church's target audience to the Edmonton Journal as people who are "spiritual but not necessarily religious . . . people who, thanks to something they've read recently or seen on TV or watched in a movie, are on a quest for spiritual meaning. They're coming through our doors, and they're just filled with questions." Schuurman and others who have studied the Meeting House note that, through a subversive irreligiosity, the movement has created space for a denomination which, especially in Canada, is generally perceived as being full of zealots seeking political power and casting judgment on those who fall short of their moral standards. Cavey presented an alternative.
From the stage in front of a Jumbotron, Cavey's sermons and sermon series reflected what many saw as his fun-loving, contemporary side. They were interwoven with pop culture references and iconography, with intentionally provocative titles such as "Big Buts of the Bible." A production team filmed the sermons and other church content and later turned them into online videos and podcasts. One series, entitled "Revolution," was advertised with a parody image of Che Guevara wearing a crown of thorns. But, as a pacifist, Cavey's understanding of "revolution" is rooted in nonviolence. "We are ambassadors to our earthly nation on behalf of Christ's country, where nonviolence is the norm," Cavey wrote in 2017 for the website of Christians for Social Action, an American collective of Christian scholar-activists. "There is no Second Amendment in the Jesus Nation. The only way we 'bear arms' is by wearing T-shirts." Sunday services concluded with what he called "Q & Eh?" sessions, in which congregants could openly and freely pose challenging questions to Cavey or other pastors. It was during one of these sessions that Cavey's girlfriend, Nina, asked him to marry her. Hundreds of balloons fell from the ceiling after he said yes.
For one former Meeting House member, who has requested anonymity due to church investigations, those question-and-answer sessions helped sell her on the church when she decided to join in the late 1990s. "They were raw," says Mary, a pseudonym. "Some of the questions being asked—in any other church, people would gasp." For example, Cavey welcomed frank discussions on sexuality or relationship boundaries. Curious evangelicals took notice. Attendance soared. In response to voyeurs who would attend but didn't fully commit, Cavey launched "purge Sundays," during which, a few times a year, he would challenge attendees to either dive into the church or leave.
But the outwardly exuberant and jolly preacher hid another side. Schuurman, who turned his PhD dissertation research into the 2019 book The Subversive Evangelical: The Ironic Charisma of an Irreligious Megachurch, describes Cavey's personality as divided. "One is the gregarious, funny, witty, intelligent, charismatic public speaker," says Schuurman. "And the other is, backstage or in the hallway afterwards, an intensely quiet, passive, humble, gentle, even shy persona who doesn't seem to have much to say unless prodded with a question."
For some, Cavey was a wolf in sheep's clothing, if not an outright heretic boasting celebrity status. Other Christian leaders took issue with the Meeting House's methods and doctrine. A few accused Cavey of being a "false teacher." One major point of contention was Cavey's belief pertaining to the significance and meaning of Jesus's death on the cross: for him, the cross is a sign primarily of God's love in the face of evil, not his wrath at sin. Leaders from other churches were alarmed by the way he appeared to eschew the structures and rules of religion in favour of what he felt was most important: a personal and direct relationship with Jesus and God. This perspective resonated with a younger crowd (half of the attendees at one point were under thirty-five), which is a notoriously difficult demographic for churches to attain. It may have helped that the worship music was performed by a rock band. But what was particularly attractive was the development within the church ecosystem of small groups and gatherings specifically for youth, ranging from small children to teenagers. Many members didn't even attend the church officially but went to the youth groups with their friends who did. For many, it was more like a social club with hints of Christianity. I attended the Meeting House in Oakville on and off when I was in my early teens, from around 2003 to 2006. That my family was churchgoing was something I usually kept hidden from my nonchurch friends. Every Sunday, if my parents insisted I attend one of the several evangelical churches they belonged to, I always pushed for the Meeting House. It had a lighter, more modern tone. It was less serious, more entertaining.
I attended the megachurch's youth groups on numerous occasions but never fit in. There was always somewhere else I wanted to be. I wasn't sure if I even believed in the Judeo-Christian God. Still, every time I went, I was enamoured by Cavey as a speaker. He appeared relaxed yet authoritative and confident. His sermons had a way of making faith and the Bible seem applicable to everyday life. Even if you were seated at the very back of the service, he pulled you in and held your attention the entire time. He came across as powerful and commanding but not in an oppressive way. Even as a skeptic of religion and church, I felt as if the Meeting House was fulfilling its promise of providing an alternative. Everything about it felt a world away from the rigidity, hierarchy, and the ongoing scandals of other religious institutions like the Catholic Church.
The church's findings "failed to name this abuse of power and authority explicitly for what it is: clergy sexual abuse."
In December 2021, the Meeting House announced that Cavey, then fifty-six, had been placed on a leave of absence by the church, pending a third-party investigation into allegations of sexual misconduct by a female member of the congregation. The fallout escalated. On March 7, 2022, Danielle Strickland, a teaching pastor at the church since 2019, tweeted that she had resigned "in solidarity with [Cavey's] victim of abuse."
The following day, Cavey published a post titled "My Confession" on his now-deleted personal website. "At the core of these allegations there is truth," Cavey wrote, before describing the relationship as an "extramarital affair." He called it "my greatest failure, my darkest sin, and I take full responsibility for my actions." He wrote that the church asked for his resignation and that he had given it. He stated that he had been "irresponsible in my role as a spiritual leader and Christian clergy, which involves dynamics of power and influence and an expectation of exemplary conduct that makes me doubly accountable."
Numerous people took to social media in support of Cavey as well as to condemn detractors. The Meeting House's Board of Overseers, a committee composed of church elders to whom senior staff report, released an online statement the same day, stating that an external review into Cavey found that "what became a sexual relationship between [Cavey] and the Victim, which lasted over an extended period of time, constituted an abuse of [Cavey's] power and authority" and "amounted to sexual harassment." In response, the victim released her own statement online, noting that the church's findings "failed to name this abuse of power and authority explicitly for what it is: clergy sexual abuse." The woman described how she began pastoral counselling with Cavey when she was twenty-three and he was forty-six. "This for me was *NOT* an extra marital relationship or affair, it was a devastating twisting of pastoral care into sexual abuse," she wrote. Supporters of Cavey subsequently revealed her identity on social media in violation of the court-ordered publication ban. She has faced a barrage of threats and other harassment, including from people who say she is trying to harm the church.
On March 12, the church announced it had hired third-party victim advocate Melodie Bissell, president of Plan to Protect, a company that provides abuse prevention training to organizations that include churches, camps, schools, and retirement facilities. Bissell, who completed a doctoral thesis at the University of Toronto on spiritual healing for survivors of abuse, was retained as an independent contractor to confidentially receive and review concerns and allegations of sexual misconduct (including sexual abuse, sexual harassment, or abuse of power or authority) by a pastor, a staff member, or a lay leader within the Meeting House, from any point in the church's history. It took only a week for the church to announce that two other women had gone to Bissell with new allegations against Cavey and that another investigation was being launched.
In the meantime, a website—and subsequent podcast—called Hagar's Voice, a reference to the biblical woman who bore a child for Abraham and his wife Sarah, was launched by Strickland and other advocates as a platform where survivors of clergy sexual abuse could tell their stories and be connected with resources and support.
After two months, the church announced that a new allegation had been added to their investigation, bringing the total number of accusations against Bruxy to four. Bissell had also received allegations concerning other leaders of the Meeting House. On May 31, 2022, Hamilton Police arrested Cavey and subsequently charged him with sexual assault, which is alleged to have occurred between 2012 and 2018 against one of the women who had come forward. The charge against Cavey has not been proven in court, and he is currently released on bail pending trial. Cavey's lawyer, Megan Savard, told The Walrus in an email that they would not respond to questions about the Meeting House or "other allegations of misconduct" due to the pending criminal matter before the courts. "Mr. Cavey is innocent and will plead not guilty. He is eager to proceed to trial and clear his name," Savard said.
Two and a half months after Cavey was charged, the Meeting House announced that it had concluded its second investigation against him, in which "two sets of claims of sexual abuse by a church leader . . . have been substantiated." In a third claim, "his actions have been found to be substantiated as sexual misconduct." In one of the claims, the victim was underaged at the time of the alleged abuse. The church stated that Cavey cooperated with these investigations.
To date, according to Karmyn Bokma, the Meeting House's interim senior pastor, Bissell has received approximately fifty-eight referrals. The church noted in an online statement that these are "not unique sets of sexual misconduct allegations" but are "allegations, disclosures, and concerns relating primarily to clergy sexual misconduct, harassment, and abuse by a number of former pastors and church leaders." Some allegations are repeated. Some of the referrals, the statement continued, were "from people who have felt that the church did not, in the past, respond properly when they came forward with allegations of sexual misconduct."
The first woman who came forward later told the Toronto Star that Cavey pressured her to keep their sexual relationship private and that he would compare their relationship to his stance on gay marriage: it wasn't technically allowed by God, but such a relationship would be redeemed if it were one of commitment. According to the article, Cavey told her that she was a gift given to him by God.
Megachurches emerged in North America in the early twentieth century, out of a desire among Protestant leaders to create opportunities for people who weren't typically drawn to traditional worship. Several prominent US pastors were known to conduct door-to-door surveys asking people what prevented them from going to church. From the answers, pastors crafted the megachurch concept: everything from its convenient location to its entertaining music. And it worked. The phenomenon boomed in the 1970s and '80s. There are around 1,800 megachurches in North America today, with around thirty-five in Canada.
These congregations largely see themselves as forces for societal good, entrusted with spreading God's message throughout the world. "There's an appeal as well, to a sense that you want to be part of a church that is doing big things for God that is having a dramatic impact," says Katelyn Beaty, former editor of Christianity Today and author of the 2022 book Celebrities for Jesus: How Personas, Platforms, and Profits Are Hurting the Church. "And part of that, too, is attaching to one specific leader and his vision."
However, all that comes with significant downsides that can lead to abuse, Beaty says. What is meant to set megachurches apart is the lack of a doctrinally entrenched hierarchy, of the likes seen in the Catholic Church, for example. "There definitely are certain hierarchies [in megachurches], but they tend to be understated and more covert," Beaty says, "driven more by personal power dynamics than official church teaching that would give specific spiritual oversight to Archbishops, bishops, priests." But, in both systems, the opportunity for abuse can flourish. "You see a posture of protection and huddling in the Catholic Church—it is the protection of the institution," Beaty says. "In the megachurch context, it's more often protection of a specific leader, and others enabling that leader to keep serving as he has, whether he is directly being accused of something or simply failing to do the proactive thing—to care for victims in light of abuse allegations in the church."
As #MeToo began to spread in public discourse and on social media in the fall of 2017, often identifying the prevalence of sexual assault at work and in halls of power, a similar movement developed in Christian circles. Called #ChurchToo, it was a chorus of testimonies exposing widespread sexual abuse among clergies around the world. But sexual and criminal allegations within megachurches existed long before the creation of any collective banner. There was Seattle-based Mars Hill—a megachurch founded in 1996 by pastor Mark Driscoll, known as the US's first internet pastor—that grew to fifteen locations with a weekly attendance of more than 15,000 people and reached many more through online sermons. Driscoll was well known for his charisma and "punk rock spirit," his brashness, and his fixation with masculinity and fame. He resigned in 2014, and Mars Hill shut down in 2015 following an internal investigation into various misconduct allegations against him, including those relating to financial misconduct, rampant bullying, misogyny, and plagiarism.
Then there's Hillsong, the hip megachurch founded in Australia in 1983 that boasts a weekly in-person and online attendance of 150,000 worldwide, churches in thirty countries, and a celebrity following in North America that has included Kourtney Kardashian, Justin and Hailey Bieber, and Kevin Durant. The church's founder, Brian Houston, stepped down as global senior pastor following accusations that he had engaged in acts of sexual misconduct involving women. A 2022 Discovery Plus documentary series, Hillsong: A Megachurch Exposed, presented allegations that Hillsong's leadership profited off of church donations and exploited volunteer labour. Subjects of the film also alleged that other pastors engaged in extramarital affairs and sexual misconduct while preaching against lying and immorality. By March 2022, Hillsong had closed at least nine of its sixteen US churches. Another Australian megachurch, C3 Church Global—better known as C3 and geared toward attracting younger members—has faced a slew of financial misconduct allegations and accusations that it condemns the LGBTQ2+ community while purporting to be inclusive. The Toronto chapter was the subject of a 2019 article in Fashion magazine written by a former member who alleged that the church quietly discriminates against LGBTQ2+ people.
The Meeting House and the entire evangelical movement are being forced to confront their failure in living up to their ambitious visions for their role in society.
Chicago-based megachurch Willow Creek essentially wrote the playbook for modern evangelical churches looking to appeal to a secular demographic, paving the way for the Meeting House. Its superstar founder and senior pastor, Bill Hybels, was a spiritual adviser to former US president Bill Clinton during his impeachment trial. In 2018, the Chicago Tribune revealed allegations of sexual misconduct by Hybels against a number of women from the church over decades. He was reported to have been in a prolonged affair with a married woman, an allegation the woman later retracted. Hybels has denied the allegations but resigned shortly after they came to light.
In 2019, Canadian-born megachurch pastor and broadcaster James MacDonald was fired from Harvest Bible Chapel in Rolling Meadows, Illinois, after a thirty-year tenure, following allegations that he fostered a culture of fear and intimidation, misappropriated church funds, and sought to hire a hitman to kill his former son-in-law. "I confess to all who have followed my ministry, a regression into sinful patterns of fleshly anger and self-pity that wounded co-workers and others," MacDonald wrote in a Facebook post months after his firing. "I have come to see my sin of handling pressure in a way that got things done, but neglected the priority of love and the presiding humility of serving others first."
Of course, not all megachurches have imploded in scandal, but the casual and informal framing of new churches has, paradoxically, made it easier for some leaders to abuse their power and hide their wrongdoing. Perhaps the exponential growth and size of these institutions are part of the problem and allow harmful behaviours and relationships to flourish in the shadows of the church. The Meeting House and the entire evangelical movement are being forced to confront their failure in living up to their ambitious visions for their role in society. "We've come to understand," says interim senior pastor Bokma, "that there are layers of unhealthy culture that we are working to address."
Years before accusations emerged against Cavey, he and other leaders at the Meeting House would have been aware of allegations of sexual misconduct levelled by younger congregants. For some who attended at the time, including some who experienced abuse, this was yet another symptom of a church and an organization that appeared to treat problems as outliers rather than symptoms of widespread or systemic dysfunction.
If the Meeting House was vastly different from most churches, the same can also be said about its youth groups. They weren't traditional Sunday School gatherings spent reciting Bible verses and singing "Jesus Loves Me." They were high tech and engaging. Many parents found it encouraging that their children were so eager to attend. It may have helped that the youth ministry was called "The Underground," a name that might evoke an idea of rebellion and a hidden subculture. Groups of teens gathered during the week at the church as well as for activities outside of church, including bowling, movie nights, and overnight retreats. The youth groups promised spiritual guidance wrapped in a good time. And the particular bonds many of the youth leaders fostered with younger parishioners, in which leaders were seen more as friends as opposed to mentors, made the Underground at the time primed for boundary crossing and abuse.
Kieran Naidoo—known as "Kie," pronounced "key"—began working in the Meeting House's youth ministry as a youth pastor in 2005, while in his midtwenties. His wife at the time, Candace Louter, started volunteering there as a youth leader. Louter says that Naidoo "handpicked" which girls—junior high school students in their early teens—would be in her small group.
Naidoo was seen as a dynamic, charismatic speaker; he was cool, friendly, and trusted by youth group members as if he were a big brother. But he often took advantage of some of the young girls' vulnerabilities, including substance use, family financial issues, and mental health struggles. "I had a lot of trouble in school. I was bullied," says Amber, who is referred to here with a pseudonym due to a publication ban. "I think that's why he targeted me, because I was easy almost." She was a teenager in Louter's youth group and developed a close friendship with Naidoo. He even baptized her. "I trusted him fully," she says. "And I believed he loved and cared about me." Amber recalls how Naidoo would tell her that she looked like his wife, which at the time felt like a compliment but she now sees it as highly inappropriate and a form of grooming. Former attendees describe how close he'd get with youth members, routinely hanging out with them outside of church activities. They say he would ask them explicit questions about their sex lives. "He really thought he was a God to the kids in the youth group, and the kids pretty much worshipped him," Louter says. "They didn't worship God. They worshipped Kie. And he loved every minute of it."
Elizabeth, a former Meeting House member who requested a pseudonym for fear of repercussions, attended the church and its youth groups from when she was around five years old until she was seventeen. She recalls youth leaders, including Naidoo, often speaking with her and her peers about sex—types of discussions that, at the time, weren't taking place at school or in other areas of her life. "It was just this weird, hypersexual environment," she says. In a statement to The Walrus, senior leadership of the Meeting House wrote, "It's been disappointing to learn that this was some people's experience and we understand the pain that would have caused."
In 2008, the Meeting House asked Naidoo to resign. According to Louter and a court transcript obtained by The Walrus, another youth group leader had discovered sexually explicit messages between Naidoo and an underage girl from the youth ministry. Naidoo's colleague reported these messages to a lead pastor who "encouraged [Naidoo] to resign from the Meeting House and to enter marriage counselling," which was paid for by the church, according to court transcripts. Louter says the church urged Naidoo to tell colleagues that he was leaving due to marital problems and was focusing on repairing his marriage. By then, many church members had heard rumours that Naidoo was involved in some kind of sexual impropriety, but Louter and other members say that nothing official was ever mentioned by the church leadership to other youth colleagues, to the youth members themselves, or to parents and guardians. "It still to this day bugs me that they never said anything because more people could have come forward," Louter says. She was informed about the sexual messages at the time, but she says she never saw them. "I never knew the extent of how serious it was." The Meeting House confirms that no public statement regarding the specifics of Naidoo's sexual impropriety was made.
According to Louter, in February 2009, after Naidoo resigned from the Meeting House, Brethren in Christ, the denomination that the Meeting House is a part of and is accountable to, referred him to the Southdown Institute, an Ontario rehab centre for clergy members struggling with mental health and addiction issues. (Clients of the institute have included several Catholic priests who have been accused of molesting children.) Louter says a copy of the institute's final assessment report on Naidoo was forwarded to a representative of Brethren in Christ (now called Be in Christ Church of Canada). Still, no detailed public statement was made. "I think it was done rather quietly," says Charles Mashinter, the current executive director of Be in Christ who was not in a leadership position at the time. "And I think part of that was to protect the people that were involved." Looking back, Mashinter says, "we probably failed those parents."
For years after Naidoo left the Meeting House, Louter says, he continued to work with youth at other churches. After his quiet resignation, he also remained in communication with many girls he had met at the Meeting House. Around February 2009, Jasmine, a Meeting House youth group member referred to here using a pseudonym due to a publication ban, started chatting on MSN messenger with a guy who said his name was "J. J." He claimed to be a Christian who had been in the foster care system. Over time, Jasmine, who was then fifteen, says she ended up feeling close to J. J., almost as if he were her online boyfriend. So, when he asked her to send a photo of herself in her underwear, she did. He not only asked her for pictures, Jasmine says, but also offered her money for them. (She never ended up receiving money.) "I don't know what I was thinking, I gotta be honest," she says. "But I did feel like it was some sort of a relationship."
In April 2011, Naidoo told Louter that he was leaving her for one of the girls from the youth ministry who had recently turned eighteen. Louter moved out but remained in touch with some of the girls from her youth group. In conversations with them, she began to suspect that this J. J. they were talking about might be Naidoo. Contained on external hard drives he had left behind, Louter found explicit images and videos of several girls he had solicited online. Police later uncovered that he solicited the images and videos both using his real identity as well as through a series of personas—including J. J. He was also messaging with Amber as well as three other underage girls who attended youth groups at the Meeting House.
In February 2012, Halton Police arrested Naidoo and charged him with sexual exploitation, possessing child pornography, and invitation to sexual touching—in part based on the evidence and testimony of Louter as well as some of the girls from the youth groups. Naidoo pleaded guilty to six charges involving four victims who attended the Meeting House and was sentenced to three and a half years in prison.
It turned out that Naidoo's predatory behaviour toward underage girls at church had gone on for much longer. After he was released, Naidoo was arrested once again, in 2021, this time by police in Toronto. The charge was one count of sexual exploitation that occurred between 2002 and 2005 against a young girl who attended the Spring Garden Baptist Church in Toronto, where Naidoo served as a youth pastor in his early twenties before joining the Meeting House. The girl had become close with Naidoo and, when she turned twelve, began chatting with him on MSN Messenger. According to a court transcript obtained by The Walrus, the two often had long chats late at night that became sexual in nature, including Naidoo sending the girl multiple videos of himself having sex with other people. It wasn't until 2020 that the victim, who cannot be identified due to a publication ban, reported the crime to police. On May 16, 2022, Naidoo pleaded guilty to sexual exploitation.
Despite the guilty plea, the prosecutor made the rare decision to stay the charge—meaning no further action by the court would be taken—as Naidoo had already served time in prison for the criminal sexual abuse charges pertaining to the Meeting House girls. Naidoo was given the opportunity to address the court and his victim directly and said that he was "deeply sorry" for his actions. He told the victim: "I was meant to be protecting and guiding you; instead I manipulated you for my selfish gain. These types of communities are meant to be safe havens for vulnerable youth, and I took advantage of this." Naidoo's lawyer, Jacob Jesin, told The Walrus in an email: "Mr. Naidoo has made direct statements through the court system expressing his guilt and significant remorse over his past behaviour. He continues to acknowledge his role in the hurt and pain that behaviour caused."
In the aftermath of the Naidoo case, "we walked away from the church," says Amber's mother, who had trouble sitting in any church without crying—sometimes just the thought of it was enough to bring her to tears. "My faith will never be broken," she says now, "but the church has broken me." These experiences made Amber hate God at the time. "Especially because there was no support," she says. "They didn't provide a support group. They didn't come out to everyone and say, 'Hey, if you've had any experiences, you should come forward.'" In a statement to The Walrus, senior leadership of the Meeting House claim that there was support offered as well as encouragement for victims to contact the police. "We've learned and understand that offers of support in the wake of sexual abuse may not meet the needs or expectations of everyone involved, and that people's needs differ based on their experience."
In 2009, after Naidoo had resigned, the Meeting House hired another youth pastor, named David Churchill. He was in his midtwenties, married to another church member, and was as charming and well liked as his predecessor, according to members of the youth group at the time. "He was a young, attractive British guy who had the same vibe as being very friendly with the kids," says Elizabeth, the former youth group member. And that "hypersexual environment" she remembers during Naidoo's time wasn't nearly as strong.
"When I think of Christianity now," Elizabeth says, "I just think of abuse."
Churchill's responsibilities included counselling youth one on one. He began counselling one fourteen-year-old girl at the church in 2010, believing he could "maintain an appropriate counselling relationship with youth under his care," according to a court transcript of Churchill's sentencing obtained by The Walrus. Three years later, after the girl turned eighteen, she and Churchill "engaged in sexual activity," and "both Mr. Churchill and the complainant believed themselves in love and in a relationship." After the girl told her best friend and fellow church member about the relationship, Churchill was called into a meeting and resigned.
In July 2014, Churchill, then twenty-eight years old, was charged by the Halton Police with sexual assault and sexual exploitation against the girl when she was seventeen. It was the second time in less than five years that a youth pastor at the Meeting House had been charged with a crime pertaining to sexual abuse against an underage girl at the church. In a statement to The Walrus, senior leadership of the Meeting House claim that relevant parishioners and leaders were informed both after Churchill's resignation and after charges were laid. On June 2, 2015, after pleading guilty, Churchill was sentenced, on two charges of sexual assault, to six months in jail. Sexual misconduct counselling was recommended.
For Elizabeth, the lack of accountability in how the church handled both the Naidoo and Churchill cases was the beginning of the end of her Christian faith. It was particularly troubling, she recalls, to hear from other members of the church that Churchill was leaving due to issues pertaining to sexual misconduct. Today, Elizabeth maintains that the Meeting House, like many churches, evangelical and otherwise, has not upheld the very moral standards preached and taught by the church, nor has it fully made amends to the victims and their family members who were left reeling in the dark. "When I think of Christianity now," Elizabeth says, "I just think of abuse."
Over the years, congregants tried to speak up about what they felt was an oversexualized culture that allowed men, especially those in leadership roles, to behave inappropriately toward female members. According to former parishioners, complaints were often rebuffed or downplayed; sometimes they felt disbelieved or belittled. "It was not a culture that would receive negative feedback," says Danielle Strickland, the former teaching pastor who resigned in solidarity with the first person to publicly come forward with allegations against Cavey.
Around 2009, Mary, who joined the Meeting House in part because of Cavey's compelling question-and-answer sessions, became aware of a number of extramarital affairs in the church among and between leaders and congregants—unrelated to Cavey—and was disturbed by this. She says she tried to raise her concerns with one pastor, but after no action was taken, she eventually went to Cavey directly and asked him whether these types of behaviours were condoned by the church. She says Cavey urged her to take it up with then senior pastor Tim Day, who was positioned to be a bridge between Cavey and the rest of the pastorship. But her complaints to Day were also rebuffed, she says. The same year, Mary says, she experienced sexual harassment by Day himself, who made sexualized comments to her that made her feel violated. (Day declined to comment on these allegations.) In the wake of the initial Cavey allegations in 2021, Mary reported this incident with Day to the Meeting House's victim advocate. In 2011, around two years after she first raised her concerns, Mary says, she spoke with Cavey again about the lack of action in response to the extramarital affairs among congregants. She says he assured her that what she described was not aligned with church values but to take it up with Day. So she did, again. "He told me that the fact that I was concerned about [being] emotionally upset was evidence that I was psychologically damaged, and that they needed to find out what was wrong," says Mary, who left the church shortly after this. "It was truly a culture where, if you were a perpetrator, if you'd messed up big time, there was protection and cover. If you dared to call out the culture of sin and cover-up and all this crap, you were the one who was at risk. You were in the crosshairs."
Candace Louter felt similarly. When allegations were swirling around her then husband Naidoo, she says, she felt pressured by Day to keep quiet about the truth around his resignation or else, she alleges, Day threatened that her husband would not receive severance. "And we didn't have a lot of money," Louter says. (Day declined to comment on these allegations.)
In the spring of 2022, when the Meeting House's victim advocate Melodie Bissell was reviewing allegations against Cavey, other women also came forward to raise allegations of sexual misconduct and sexual abuse against Tim Day from when he had been employed at the Meeting House between 2001 and 2015. According to the church, Day declined to participate in the church's investigation, conducted by an external lawyer, and was provided with multiple opportunities to do so. In an online statement, the church noted, "The victim's allegations against Tim Day were substantiated as sexual abuse by a church leader." Day is not facing any criminal charges. The Walrus sent Day a request for comment to a list of questions. Day's lawyer, Julia Burke, said in an email that Day "has decided not to respond to any questions or comments by the media."
Last September, the church announced in an online statement yet another accusation, against a former worship pastor who worked at the Meeting House from 2002 to 2010. The man previously admitted to the church that he had "engaged in an inappropriate sexual relationship with a member of his team," the statement reads. When he admitted this to the church, his employment "ended." "Unfortunately, this incident was not communicated to our community." In 2021, he was hired back as worship leader on a contract basis. But, when the previous wrongdoing was raised again, the man was "asked to step down from his role and willingly did," the statement continues. While the church noted that he has demonstrated a "heart of confession and repentance for what took place," it stated that, today, the man's behaviour "would be considered sexual abuse by a church leader."
For Bissell, the numerous allegations of abuse against the five church leaders over the years point to deep problems within the Meeting House that continue to have lasting impacts on the survivors and the broader church community. "The amount of abuse that has been made public," Bissell says, "demonstrates that there was a systemic problem at that time." According to Bokma, the Meeting House now forbids leaders, staff, or volunteers from being alone in a room with a minor.
On a Sunday evening last August, a few dozen members of the Meeting House gathered at the Oakville headquarters for a town hall. The church's Board of Overseers was providing an update on the results of their investigations into Cavey and Day. The meeting was also livestreamed. Two days earlier, the church had announced that, in addition to the criminal sexual assault charge against Cavey, two other sets of claims of sexual abuse by a church leader and one claim of sexual misconduct had been substantiated by its third-party investigator. One case involved a minor at the time of the alleged incident. The church also announced that the investigator had substantiated other allegations against Day as sexual abuse by a church leader.
The crowd was mostly comprised of people who appeared to be in their fifties and sixties, with a few younger parishioners in their twenties sitting alone or in pairs. I sat in a plush seat, with the air conditioning blasting. The scent of coffee wafting from takeout cups transported me back to my time at the Meeting House waiting for Cavey's sermons to begin on Sunday mornings. There was so much promise back then of what a modern church could be and how it could be different.
After providing a rundown on the latest updates, the overseers and interim senior staff opened up the meeting to questions from the in-person audience and those watching online. It quickly became clear that congregants were divided regarding Cavey. "I miss Bruxy," one person at the meeting said. Others said they felt the church hadn't gone far enough to deal with the abuse and underlying culture issues that allowed it to happen.
Bruce Miller, a co-chair of the Board of Overseers, spoke about Cavey's future as if it were a story that could help other church leaders: "I was talking with Bruxy the other night, and I said to him, 'I want you to hang onto this hope that when you get through all of this, God has a plan for you, Bruxy, to take all that you have learned through this experience and be able to minister in a very powerful way to other church leaders because of what you've gone through. God is not finished with you.'" However, another co-chair, Jennifer Hryniw, said that "unless someone fully admits and fully repents, we are not giving an opportunity to speak to our community."
Later in the evening, one member of the interim senior staff read out a question that had come in by email from someone who said they were one of the victims. The person asked for clarity on whether Miller's remarks meant that the church was working to bring Cavey back into the Meeting House fold. Miller clarified that was not the case, but that "God does have a plan in restoration for all of us."
Throughout the town hall, members raised concerns about the rapid turnover among church leadership and how the congregation had been hemorrhaging members in the wake of the Cavey allegations. For a church that often highlighted its open and honest process for questioning faith and God, few answers were given. As the congregants filed out, a major question hung in the air: Can the Meeting House disentangle itself from the person around which it was built?
Peter Schuurman, who wrote the book about the Meeting House, doesn't think the church will ever fully recover from the crisis involving Cavey and other leaders. "This church was animated by the charisma of Cavey and a joint production that included a team of leaders and a vast crowd of followers who believed in the irreligious message of Jesus. That vision, that charisma is gone," he says. "Maybe they'll learn from this rash of scandals, and their initial enthusiasm for themselves and self-congratulation will turn into a more mature, sober organizational structure and maybe a wisdom about speed of growth."
Cavey's own words might prove prophetic. As Schuurman recounts in his book, during one Sunday service at the Meeting House in 2007, Cavey decried other church institutions that remain open past their expiration date: "Part of the life of any structure is being able to embrace their own demise," Cavey said. "One of the saddest things on the planet today are the time and energy that people invest in churches and denominations that have long outlived their usefulness."