The studio of Toronto-based painter and illustrator Matt James sits above a bar in Parkdale. There's a beat-up drum kit in the kitchen, along with a couple of electric guitars and three separate collections of vinyl, tapes, and CDs. James's fine art lines the hallway. A few drawings by his eldest son are taped to one wall.
I visited on a cold night last weekend. This Wednesday, James was officially announced as the winner of the 2013 Governor General's Literary Award for children's illustration (English language). Local cover band The Neil Young'uns was playing downstairs, and my host exuded the kind of cheerful, goofy warmth you'd hope from someone in his line of work.
"I really love my job," he said. "In fact, I sort of have to pretend sometimes like it's not fun. You don't want people thinking that your work is too fun or whatever."
James's third children's book, Northwest Passage, sets the lyrics to Stan Rogers' iconic song against beautifully detailed paintings—complex blues, ghostly outlines. This is the third time James has been nominated for a GGLA, but the first time he has won. He is now at work on a fifth children's title.
Julien Russell Brunet: How did Northwest Passage come about?
Matt James: They came to me with the idea. I looked at the song. I looked at Stan. I thought it over. Can I be respectful? Can I get into this? I saw how heavy the tune was and what a heavy guy he was and I just jumped in.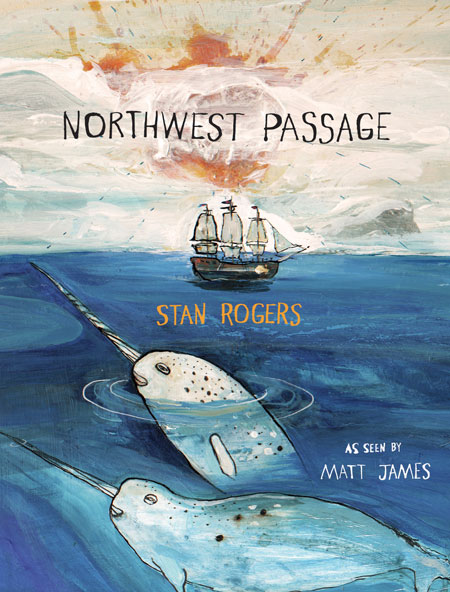 House of Anansi
Julien Russell Brunet: What's your impression of Stan?
Matt James: He seemed like he was about the common man, the working man and driving around in his van with a bunch of dudes. I found him to be a real appealing character. I don't know what he was like as a guy outside of what you learn from his tunes, but he accomplished a lot. And he seemed like such a man: the deep voice and the bald head and just the confidence he had.
Julien Russell Brunet: How does the editing process work with a project like this one? How do you determine what pieces to keep and what pieces to revise?
Matt James: I plan it out beforehand with drawings. If a piece doesn't have life, it's gone. You're thinking about what the crux is, what's the meaning, what's the most important thing that you got to get across. Like, 'Wow, this painting's got a lot of emotion, but that doesn't look that much like Stan'—that's all right. I don't think people need it to look exactly like Stan if the feeling is there, if it feels lonesome and ponderous or whatever as he's driving along the highway.
Julien Russell Brunet: Do you have any working rituals?
Matt James: If there is a ritual, it's some kind of divide between day and night. During the day, I'm working: I'm concise and focused. Nighttime is more playful and, sometimes, the play ends up being the most fruitful work. I'm having a beer or two, just going for it, reflecting, making a mess, something I can react to later.
Julien Russell Brunet: Any particular set of influences?
Matt James: Do you know Alexander Calder? He's one of my favourite artists. He did this thing called Calder's Circus and he also made a series of portraits out of wire that I love. If you get to see them in real life, they cast these shadows, like amazing line drawings, when you walk around them. I think he's a pretty big influence even though my art doesn't look anything like his. When I look at his art, I feel pure joy. And that's how I want to feel when I make art and how I want other people to feel when they look at it.
Julien Russell Brunet: Has having children affected the way you approach these books?
Matt James: I take pretty literal visual cues from my kids. The freedom and the attack and, if I may, the 'fuck it' attitude they have towards art—it's beautiful. There's nothing precious about it. There's always going to be another piece of paper. There's always going to be another crayon to grab hold of.
Julien Russell Brunet: If you weren't an artist, what would you be?
Matt James: My dad was a scientist and science teacher. I got 12 percent in his OAC chemistry class, so I'd have to start mainly from scratch, but I imagine myself being some kind of environmentalist or biologist.
Julien Russell Brunet: What does it mean to win a Governor General's Literary Award?
Matt James: It's a huge honour and it's certainly something I've thought about for a while, having been nominated for it twice before. At the risk of sounding cheesy, it's a dream come true. Financially, it means I get to keep working as an artist. Like, 'Whoa, twenty-five thousand dollars!' That means I can take a little bit more time on this next book; I don't have to rush and do commissions at the same time. It means so much to the rest of my family too—just being a success from my mom and dad's point of view, and bragging rights for everybody.
This interview has been condensed and edited for publication.