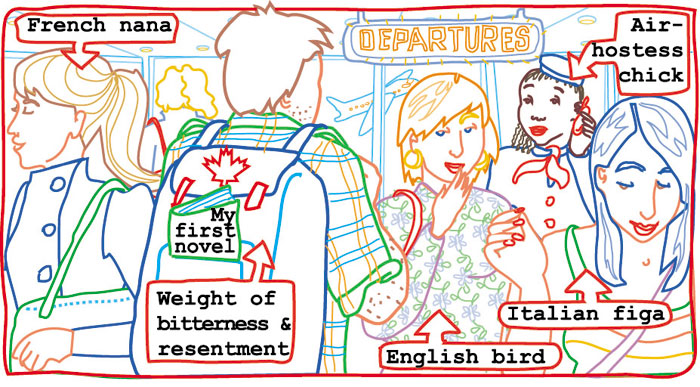 With its bustling nightlife, centuries-old culture, and thrilling cosmopolitanism, London is the perfect place to begin a life-changing European adventure. An afternoon spent sampling the wares at Camden Market and wandering among the pretty young bohemians of über-hip Hoxton will put a spring in your step. At the Moon and Sixpence, the haddock is so fresh and the ale so delicious you'll hardly think twice about what she's doing right now, at this exact moment, back in Montreal. Try the clean and comfy Palmerston Inn for an evening watching the bbc and writing in your journal—perhaps the first words of that novel you'll finally have time to write!
---
The standard line is that Paris is the "romance capital of the world," but the city's unique charms are best appreciated alone. Wander through Montmartre and relish the fact that for your first vacation in ages, you won't have to patiently explain the historical significance of each monument. Le Mérou Jaune is the ideal place for a quiet meal spent thoughtfully thumbing through a Michel Houellebecq novel, and for once there's no need to worry about her wheat "sensitivity." The wine menu is excellent, and don't let the prices deter you—now that you've moved into a bachelor apartment, you can afford to treat yourself to a vintage Château Pontet-Canet.
---
With its ancient ramparts, grand piazzas, and majestic Gothic architecture, Siena is the kind of magical place that can make you forget your overpaid therapist and his clichéd advice about not "running away from your problems." A walk through this ancient city's quiet streets will no doubt enchant you, but avoid the softly lit Piazza del Campo, where the sight of young lovers embracing in the shadows of the magnificent Palazzo Pubblico could—for a brief but convincing moment—make you feel as if your heart is literally going to crawl out of your throat and die in your hands.
---
Rome can seem overwhelming at first, but the cheerful Albergo del Pescatore Solitario is a great place to meet fellow travellers, particularly young American backpackers who might actually appreciate your ideas about Italian cinema. Get to know your new friends on the dance floor at the raucous Disco Za Za. After a few glasses of nerve-steeling Chianti, try some of your best moves on a Californian sophomore whose smile and nervous laughter suggest she could very possibly be "into it." When you overhear her telling her friend to "stay near" because you look "kind of like a psychopath," tactfully retire to the affordable and mercifully empty Trattoria Bondi. But beware the grappa! After a half-dozen generous pours, you could find yourself at the Itaca cyber café, trying to break into her email account in search of messages from her new human rights lawyer boyfriend, then composing a 3,000-word email that begins, "Dear Skank…"
---
No matter what they say about the Big Apple, Barcelona will always be the real city that never sleeps—which is lucky, because you can't seem to close your eyes without seeing the two of them gasping and intertwined like the distorted subjects of some freaky erotic Picasso. A pre-dawn breakfast of sinfully rich chocolate con churros at the Café Alejandra should ease the terrors of the night, but the patroness's playful mockery of your Spanish could leave you feeling inexplicably angry. Taking in a bullfight at the Plaza de Toros Monumental de las Ventas is an authentic experience, but not for the faint of heart. Watching the lone bull stagger around the arena in the hot sun—attacked from all sides, angry and confused—you could find yourself struck by a wave of such intense empathy that you flee to the servicios, lock yourself in a stall, and choke back violent, jagged sobs.
---
The Barajas Airport in Madrid is clean, capacious, and served by many airlines that sell last-minute flights to Canada. The flight attendants aboard the Boeing 747 can be annoyingly slow taking drink orders, but the cabin is a fine spot to reflect on your European adventures. The opening page of your journal reads, "Perhaps it's just the change of scenery, but for the first time in ages I feel truly alive." The rest of the book is blank except for one brief entry—"Note for novel: Leonardo da Vinci, greatest genius in history, never had a single serious relationship"—and the email address of someone called Arizona Dan. At customs in Montreal, when they ask if you have anything to declare, tell them, through tears, that you'll "never be happy again." Not, at least, until your next life-changing vacation.