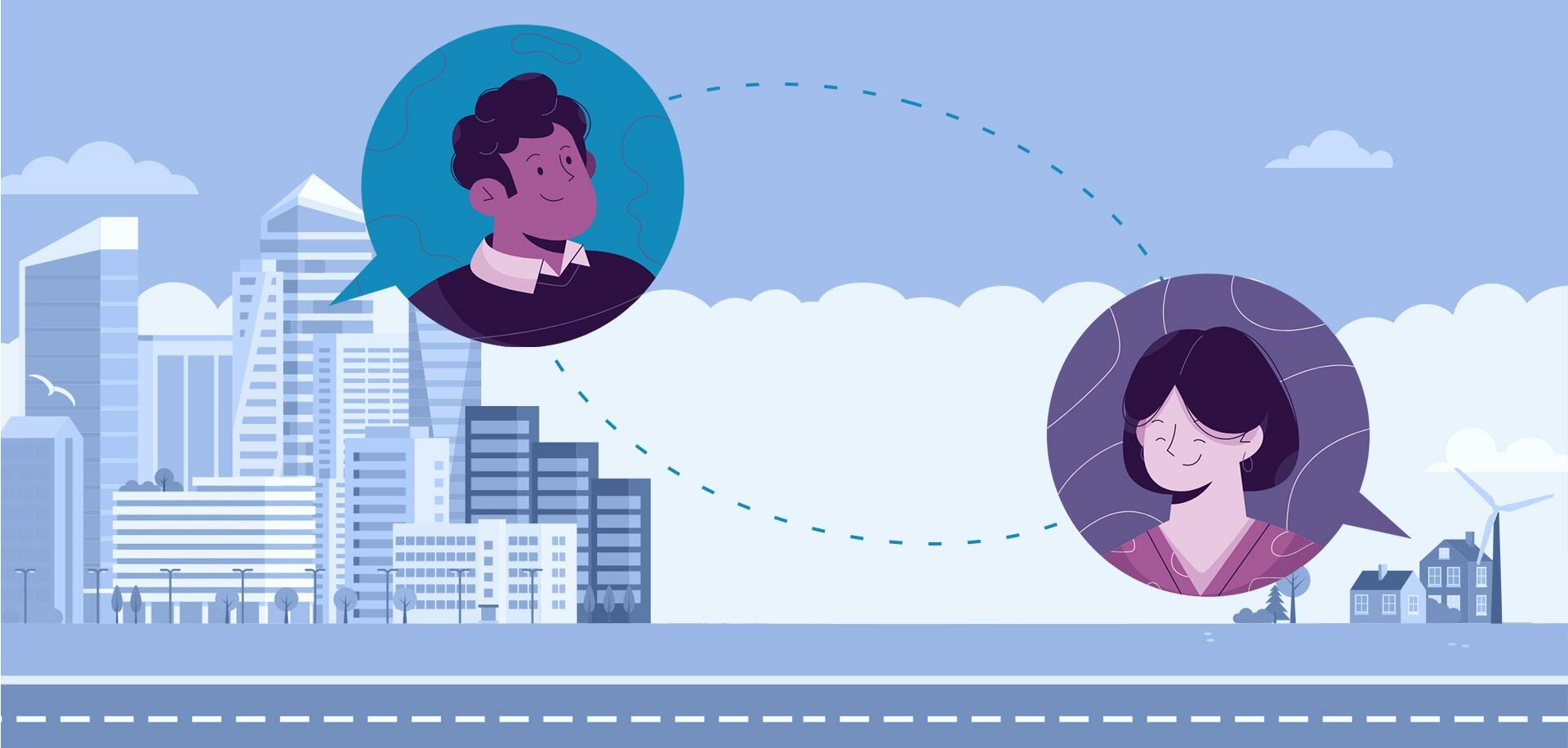 HOOKED-UP CULTURE
Edged out of the city by ever-inflating housing prices—and freed up by flexible working parameters, courtesy of COVID-19—Canadian millennials might finally have a shot at financial stability. If the Wi-Fi's good, that is.
Living in Toronto's Little Portugal neighbourhood at the outset of the pandemic, Salina Vanderhoorn had a humbling thought that seems entirely commonplace for today's urban-dwelling millennials: "Should I just go home to mommy?" In the thirty-two-year-old design director's case, home was Deep River, Ontario (population: 4,100), where she grew up. "Mommy" ended up being her sister, whose apartment she moved into last December, thereby buying herself a year to pay off debts and consider next steps. "I make good money, but I'm single, and was living alone downtown," Vanderhoorn says, "where, unless you're a Bay Street banker, it's impossible to get anywhere, from a financial perspective." Balancing her freelance gigs with a teaching stint at Humber College, Vanderhoorn has now embraced the freedom to work from anywhere, but her rural sojourn isn't without moments of frustrating disconnection: "Is the broadband good enough that my sister and I use Netflix and check social media at the same time? Yes. But does my audio lag when I'm lecturing? Also, yes."
Vanderhoorn's plight is emblematic of the impossible choice afforded to an urban Canadian generation rocked by persistent economic instability: work an average of fourteen years to afford a down payment on a house or condo—according to data from West Coast non-profit Generation Squeeze, a not-for-profit thinktank that focuses on issues of generational equity—or ride the work-from-home trend and leave the city altogether. The numbers are stark: 64,000 people moved out of Toronto for other parts of the province from mid-2020 to mid-2021; 25,000 moved to rural Quebec from the province's surrounding urban centres; and 6,000 flowed into Halifax, the majority of which came from out of province. This shift, albeit spiked by the pandemic, was in line with an existing trend. The country's three largest cities—Toronto, Montreal, and Vancouver—lost a combined 87,444 citizens to the suburbs and surrounding rural areas between July 2019 and 2020, a third of which were from the fifteen to twenty-nine age cohort. But when the only alternative to buying a preposterously tiny, million-dollar home in the city is moving to the country, the internet better be on par with what you're leaving. Sadly, that often isn't the case.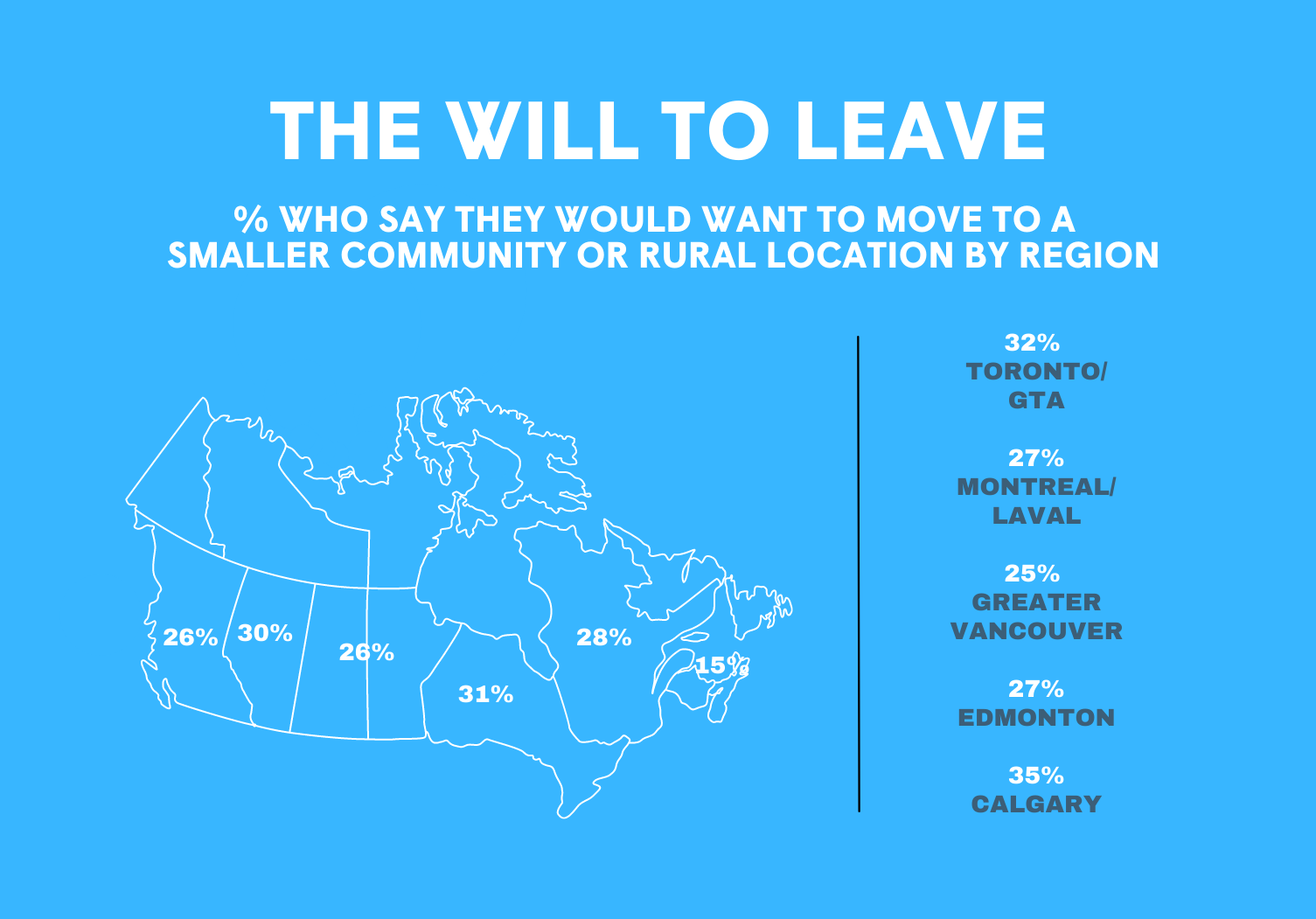 Overall, Canada ranks well in telecom investment—$255 per capita compared to the OECD average of $156—which is an indisputable reason for our fixed broadband speeds being some of the highest in the world. According to the CRTC (The Canadian Radio-television and Telecommunications Commission), Canada's large telecommunications providers invested over $58 billion between 2015 and 2019 to build, expand, and upgrade wireless, fibre, and cable products and services.
"Canada's networks are strong today because network-building companies like Shaw have spent billions of dollars to build them," said Zoran Stakic, Shaw's Chief Operating Officer and Chief Technology Officer. "Canada's networks will be the foundation for our country's economic and societal success, but the scale of the investments needed for the networks of tomorrow cannot be overstated. Given this investment challenge, governments and regulators need to ensure stability."
While the federal government previously set a goal of providing all Canadian households with CRTC-standard broadband speeds (50/10 Mbps) by 2030, just 45.6 percent of rural households meet this requirement–as compared to 87.4 percent of households country-wide. For many working millennials, it seems that, in the absence of affordable housing, robust rural broadband access might be their best chance at achieving a quality of life that's historically eluded them.
The so-called "digital divide" between urban and rural certainly isn't new, but in light of the pandemic-prompted outflux of youth from big cities, closing the gap has perhaps never been more urgent. In rural Alberta, where just 37 percent of households—and 24 percent of those in Indigenous communities—meet the CRTC standard, municipal agencies have listed broadband access as tantamount to weather disasters and crumbling infrastructure on the list of priorities for federal candidates to address. Across the country in Ontario, a $362-million funding agreement was rolled out in August 2021, intending to bring high-speed fibre internet to more than 90,000 households in the province's easternmost areas—and Ontario—wide by 2025. Rural connectivity is so important to regulators and communities alike that, in its bid to combine with Shaw Communications announced March 2021, Rogers Communications committed $1 billion to enhance internet connectivity in rural and Indigenous communities in Western Canada, which is more than federal and provincial broadband funding initiatives.
For Paul Kershaw, Associate Professor at the University of British Columbia's School of Population Health and founder of Generation Squeeze, the acute attention on universalizing broadband is an upside of the recent burst of "employment diffusion," but also serves to highlight the more intractable systemic issues facing (or squeezing) young workers. "We need to stop for a moment and think about what it means if talented, well-educated, and hard-working adults are saying that their ability to actually arrange secure shelter and work is so constrained–that people with masters degrees think they'll never own a home," says Kershaw, who, since the onset of COVID-19, has worked from home in Pitt Meadows, forty-five minutes from UBC's main campus. "You can see why the extension of broadband to areas where housing has not yet exploded provides a potential escape route from a broken intergenerational system that is otherwise causing hard work to not pay off for younger Canadians—but it's still just a coping mechanism." It can't solve all of the interlocking factors that contribute to overpriced housing, but it's a key step, he adds.
Though consistently pressed by student debt, inflating childcare costs, climate change and, yes, housing, one depressurizing consequence of the pandemic has been the merciful rise of flexible working arrangements, which, for obvious reasons, simply wouldn't be possible without reliable internet access. The "Great Resignation," in many ways, wasn't just about workers quitting specific roles, but also how and where they prefer to work. An Angus Reid poll from last August revealed that 44 percent of Canadians would consider looking for a new job if they were asked to return to the office, post-pandemic; unsurprisingly, the most likely potential quitters were those aged eighteen to thirty-four.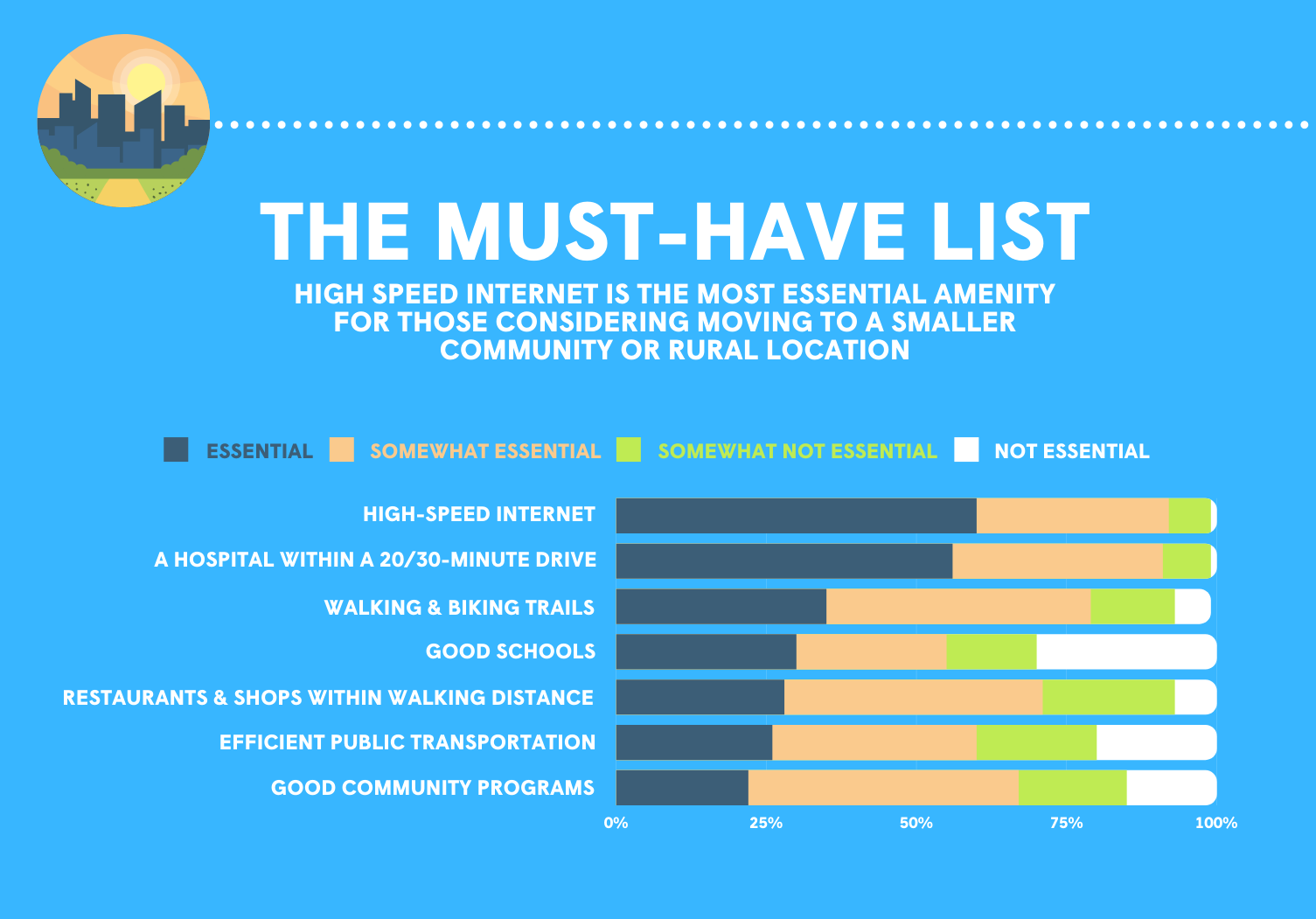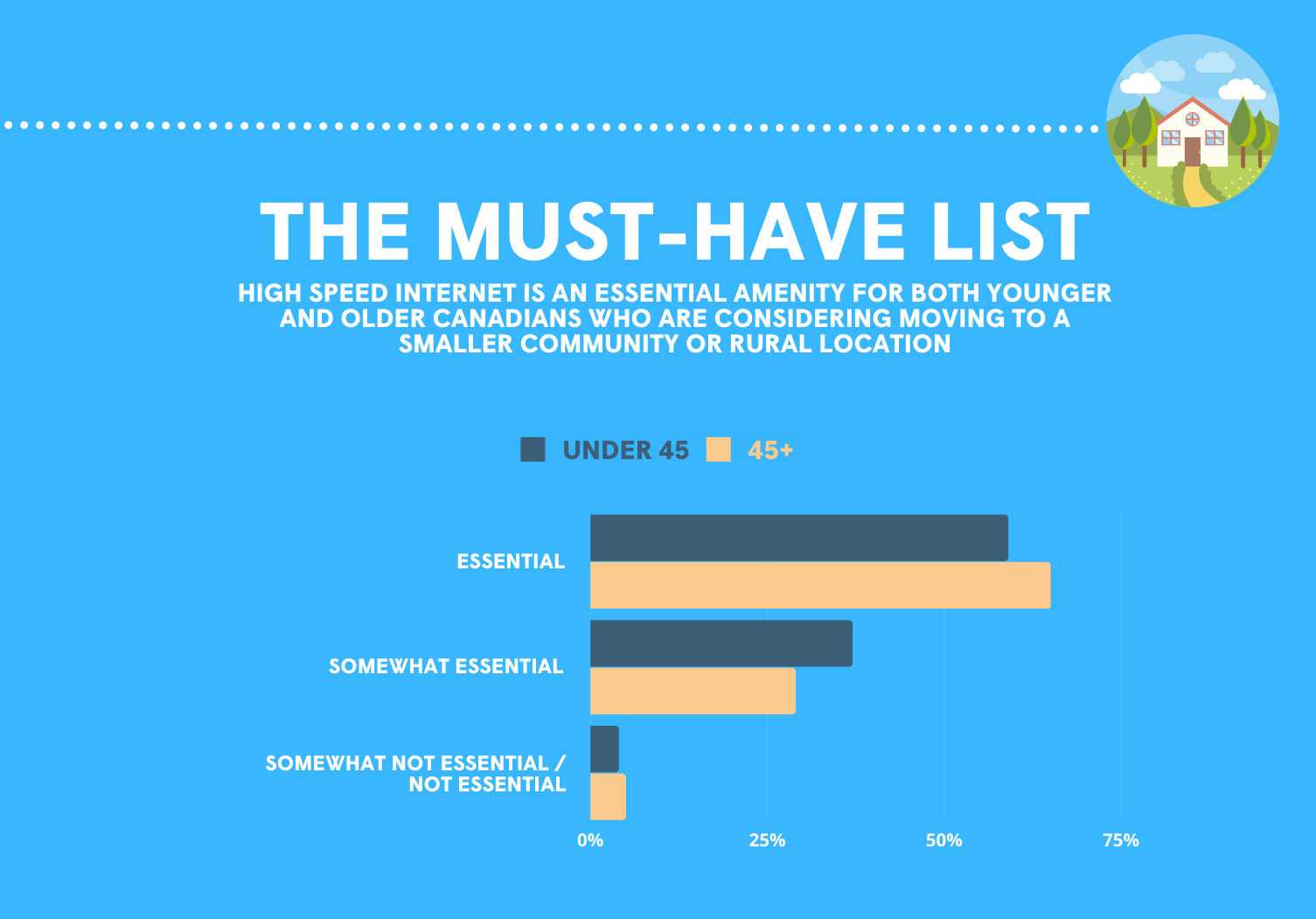 Source: Abacus Data

At Wealthsimple, an investment-management service specifically geared toward millennials, the decision to pivot to an office-optional workforce came early on in the pandemic. "We quickly realized that the output of our team was not impacted by their location, face time, or hours logged," says Marina Harris, Wealthsimple's Chief People Officer. "Today, all applicants need is an internet connection, we provide the rest." Despite unveiling its new brick-and-mortar Toronto headquarters last September, Wealthsimple's employees are currently scattered across nine provinces, and in smaller, blink-and-you-miss-them towns, like Fall River, Nova Scotia (population 2,337). But in addition to the chance to experiment with more creative, quintessentially millennial working configurations—meeting-free weeks, anyone?—Harris says other paradigm-shifting opportunities have presented themselves. "By formalizing what it means to be a hybrid workforce," she says, "we built new pipelines of talent from previously untapped sources and increased our diversity, too."

Laying the groundwork for fibre in rural areas also has the potential to expand employment opportunities for communities for whom geography was previously an insurmountable barrier. In Minto, Ontario, Mayor George Bridge says partnering with Southwestern Integrated Fibre Technology (SWIFT)—a municipally-led non-profit aimed at expanding broadband into underserved communities—has been transformative for the rural farming community, which used to rely on spotty cell towers for service. "As far as emergency situations, and [work] we have to do, you certainly have to have the internet out there, and it takes a team effort," he says. "The federal and provincial governments have taken this seriously, and they've now said internet is an essential service–but we still have a lot of work to go."

Wiring up Canada's smaller pockets has the potential to bring a deluge of economic activity and reinvigoration to these communities that hasn't been seen in years. Back in Deep River—and nearby Chalk River—Vanderhoorn has noticed the scope of local offerings has begun to shift with the demographics: there's no indie coffee shop yet or elaborate avocado toast, but there's a new boutique for sustainable goods owned by a fellow millennial gig worker (and part-time photographer). Local cabin resorts are being renovated. A yoga studio has even opened near Vanderhoorn's high school. "I've reached a point where it's hard to imagine going back to the city," she says, noting that, with the recently announced delay in the area's planned high-speed rollout, there is still a price to pay. "The pandemic changed things for me—and maybe for the better."