It's an ordinary Tuesday morning in April, and the Fairmont Winnipeg is crawling with zombie road warriors. Arms outstretched, balancing Starbucks and BlackBerrys, they click their wing tips to a dirge beat. A flock of WestJet stewardesses attracts little attention; Don Cherry, instantly recognizable in goatee and high collar, leans against a stairwell, waiting for someone to recognize him. But then a pair of elevator doors dings open to reveal a handsome man sporting a Merlin mane and a bright turquoise ring, and everyone stops. The undead look up from their screens, the flight attendants whisper behind cupped palms, even Grapes stares. One bold porter bounds across the carpet for a hug. Merlin embraces him before striding past a swooning maître d' and into the Velvet Glove restaurant. "The Grand Chief,"she announces dreamily. "He comes often."
After nearly forty years in Canadian politics, Larry Phillip Fontaine still commands respect, even awe—a remarkable feat, considering his most formidable political foes (Brian Mulroney and Robert Bourassa among them) are either dead or despised. The Assembly of First Nations may well have joined them if it weren't for Fontaine's talent for pacifying three divergent constituencies: the Ottawa politicians who lend him credence, the 633 national chiefs who lend him votes, and the 700,000-plus First Nations people he is meant to represent. On July 23, he will either embark on an unprecedented fourth term as national chief, or he will leave the AFN's fate in new hands. For now, he's still hedging about whether to run.
A Statement of Purpose
From Phil Fontaine's 2008 address to the Senate Committee on Aboriginal Peoples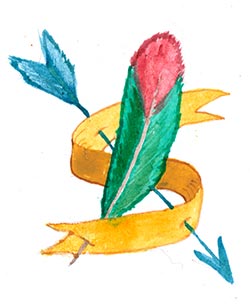 "I come to you here this evening. I am the National Chief for The Assembly of First Nations, representing First Nations people. Distinct peoples, with rights that are unique to us. We are the only peoples in this land that have treaties with the federal crown. Yet, I have to convince the federal government, year after year, of the legitimacy of the community I represent, the legitimacy and validity of this organization to represent all First Nations People. And if I speak out of turn, I'll get punished. I'll get punished, right… And I don't want to fight with governments… that's not my job. I am National Chief not to fight with governments. I am National Chief to work with governments, regardless of political stripe… to remind Canadians and Canada, that it has to respect the human rights of all of its citizens. That it can't pick and choose on the human rights that it will support."
"I've given it all kinds of thought," he says over cream of wheat and white cranberry juice. "Here's my problem. I've no pension plan. So when you're done, you're done. But you still have to make a living, and I'm at an age where that becomes a more difficult proposition. I'm not as marketable as I was twenty years ago." This is surely a joke, since the idea of Fontaine as an old man is absurd. Months away from pension age, he hasn't aged a day since fist-thumping his way onto the national scene in 1989 as the firebrand Manitoba vice-chief for the AFN. The strict vegetarian runs almost daily, lifts weights, and tries to avoid pasta ("I put on weight pretty easily," he explains).
The idea that he's now less marketable also seems suspect, given that back in Fontaine's salad days—or, more accurately, his meat-eating days—he looked like the type of leader who would burn brightly but briefly. Just after landing the vice-chief post, he was arrested for protesting the Mulroney government's cuts to aboriginal post-secondary education. A year later, he exacted revenge, convincing Elijah Harper to raise the eagle feather that defeated Mulroney's Meech Lake Accord.
But in time, he realized that grousing only served to marginalize the AFN and set himself up as the conciliation candidate. After his long-time nemesis Ovide Mercredi burned too many bridges with his more confrontational approach, Fontaine won his first term as national chief in 1997. He lost to Matthew Coon Come in 2000, but returned to power in 2003. He's built an impressive resumé since then. Over the past three years alone, he's wrangled a $5.2-billion settlement, an apology, and a Truth and Reconciliation Commission for victims of residential schools. "My track record is pretty clear," he says, gnawing on a slice of rye.
"To this day, I believe the best way to effect change is to establish a respectful relationship with your adversaries. And, in this case, government has always been my adversary." Of course, during an election it's not always clear who one's adversaries are. During each of his five AFN campaigns, he's been accused of being a Liberal patsy and a white man's Indian, and assailed with stats showing a lack of socio-economic progress among First Nations (life expectancy seven years shorter and income $10,000 less than the national average, to name a few).
This time around, complaints will likely centre on the electoral process itself. In recent years, a hodgepodge of prominent thinkers have been railing against the fact that the national chief is beholden to local chiefs, who were in some cases elected amid charges of vote rigging and ballot stuffing, and who more generally have very different priorities than the bulk of the First Nations community. "As a result," writes Tsimshian lawyer and entrepreneur Calvin Helin in the bestselling Dances with Dependency, "you have a political circumstance where almost all of the political power is concentrated in the hands of a few individuals—a situation not unlike many banana republics." In their controversial book Disrobing the Aboriginal Industry, Marxist theorists Frances Widdowson and Albert Howard go a step further, accusing the chiefs of being "compradors" who enable "an ever-expanding, parasitical Aboriginal Industry—first clergy, then consultants, lawyers, and anthropologists [who] have used the plight of aboriginal peoples to justify a self-serving agenda."
Fontaine responds by pointing out that he launched the AFN Renewal Commission back in 2004 to look at democratic reform, and fully endorsed recommendations that included a First Nations Auditor-General and a one-person-one-vote system. But his contention that the chiefs are responsible for holding up the process may not win him much support from the 50 percent of aboriginals under age twenty-five, for whom Helin's critiques have become a clarion call. Among Facebook groups set up to discuss the coming AFN election, consensus clearly favours enfranchisement: "change doesnt come from the AFN office, it has to come To the AFN office, to the Regional offices, and down to the local band offices," goes one of the more succinct comments.
So there might be something to Fontaine's anxiety about marketability after all. Today's disenfranchised are connected in ways a man who pronounces the world's largest search engine "Go-goal" couldn't possibly understand. And yet, ever sensitive to prevailing political winds, Fontaine sees a counter-trend that could keep him in the game. "We went down to the inauguration," he says in his grim baritone, "and we were riding the underground, listening to these two African-American kids talking about how they were going to be like Obama when they grow up. We can have that for our kids, too."