the cold war was over, they'd told him. Soviet equipment factories converted to Benz dealerships. East German labs switching from steroids to solar panels. But a new world meant new threats.

He paused to button his collar to the top, then wound a scarf carefully around his neck, covering most of his face. Out the back door he went, into the biting wind. Twenty-one, maybe twenty-two kilometres per hour, minus 26, for a wind chill of minus 38.5… no, 38.6.

No time! he muttered to himself, quickening his pace through the night.

The Olympics were coming, and Ottawa had sent word to every scientist in the land: Canada would be bullied no more. Montreal in '76. Calgary in '88. Not a single gold medal. The only nation ever shut out at its own Olympics, and we'd done it twice. It was time to start fighting back. Against the Americans and their speed suits. The Dutch and their clap skates. And the Aussies. How he loathed the Aussies.

He strode toward the pay phone at the end of the block, slipped the receiver off the hook, and dialed the number he'd memorized when he enlisted in the Program four years earlier.

"Gaëtan? " the familiar voice said.

"Boucher," he responded.

"Barbara Ann? "

"Scott."

"Excellent, you're clear. What have you got for me, Cranston?

"It's the new bobsled cowl, sir," he said. Then paused, shifting his gaze warily. The man walking down the other side of the street seemed to be lingering, and he looked vaguely Swiss. Cranston waited until the man passed, then resumed speaking.

"We've got the drag down by nearly 2 percent. Another day in the wind tunnel, and it should be ready for field testing."

"Excellent." The voice was smooth and reassuring. "You've done well. Very well. Your country is proud of you."

The line went dead. Cranston hurried along the frozen street back to the lab. Two months left until the opening ceremonies. There would be no shutout this time. Top Secret had come too far.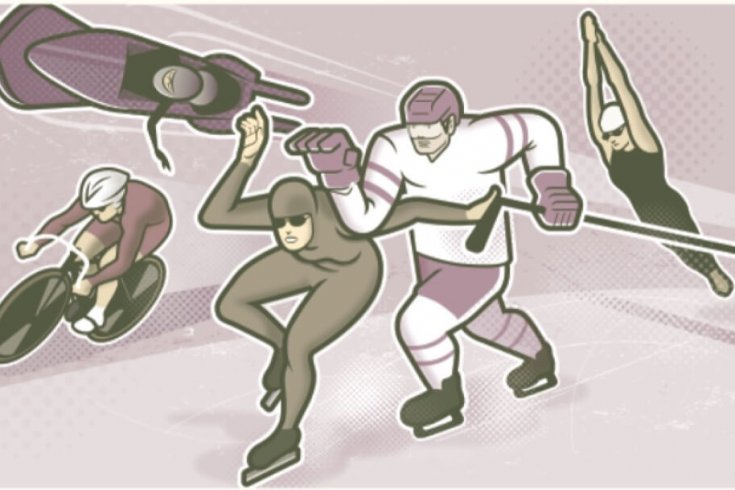 On July 2, 2003, the natural cycle of debate about Canada's Olympic ineptitude—a month of anguish followed by two years of indifference—was disrupted. By a vote of fifty-six to fifty-three, the 2010 Winter Games were awarded to Vancouver and Whistler over Pyeongchang, South Korea. With that, taking part and fighting well were no longer enough. We wanted to win, we decided, and launched the Own the Podium program to that end a year and a half later. The initiative has since disbursed $117 million, with the aim of propelling Canada to the top of the medals table in 2010. For our elite athletes, the money has translated into better coaching, more training camps, extra massages, and, just as crucial, access to a shadowy cadre of scientists.
Vancouver-Whistler will mark the first time Canadian athletes will benefit from the single-minded, government-funded pursuit of the technological upper hand. The vehicle for this drive is Own the Podium's Top Secret wing, which has funnelled $7.5 million toward applied research into air, snow, and ice friction, as well as sophisticated physiological testing and performance monitoring. Partners including Bell Canada, the National Research Council, and universities across the country have chipped in by loaning scientists and research facilities. In keeping with its cloak-and-dagger moniker, Top Secret's officials and researchers have stayed mum amid rumours of wired ski helmets and ultra-sleek speed skating suits. Own the Podium head Roger Jackson told me last fall that fans (and competing teams) will see the new technologies in action "either in the last World Cup events or in the opening rounds of the Olympics."
The decision to create a program specifically devoted to technology has its roots in the bitter experiences reported by Canadian Olympians in debriefings after the 2002 Salt Lake City Games. "They were being beaten by athletes who had better suits, or better runners on their bobsleds, or better skis, because the manufacturers were giving the best ones to other countries," Jackson says. In some cases, the technologies in question were demonstrably superior—but even if they weren't, perception led to reality.
"Canadian speed skaters were sitting in the grandstand, watching the American speed skaters in their fancy new suits and saying, wow," Jackson recalls. The Americans gained confidence from the suits, while the Canadians lost their nerve before the races began. Australian researchers sought a similar edge in a series of "precooling" techniques designed to condition their endurance athletes for hot weather, starting with ice vests at the 1996 Atlanta Games, then advancing to ice baths in 2004 and slushies in 2008. Whether drinking slushies is actually better than dunking in an ice bath is debatable, Australian researcher Louise Burke admitted at a post-Olympic conference in 2008. "In Beijing, we wanted something new," she said. "You always have to have something new for athletes, for that placebo effect."
Jackson cites (without divulging any details) several potential innovations with genuinely quantifiable benefits. Among them is a more aerodynamic bobsled cowl—the technical term for a sled's fibreglass-on-steel body—designed in a wind tunnel, then tested on the track. The measurable success of such advances has changed how athletes view science: "It seems to take a long time for people to really appreciate how good some of these improvements are," he says. "But once they see it, everybody jumps on the bandwagon."
Soon after the 2010 Games, Canada will have to decide whether to extend the Top Secret mission for another four years. Jackson hopes we'll build a centralized sports technology institute like those in Australia and Germany, with staff scientists to lead the country's research program. Such a move would undoubtedly boost medal counts. But it also conjures visions of an athletic arms race, dominated by a nouveau-Soviet approach in which duelling sports institutes pit scientist against scientist. The implications of such a shift would reach well beyond the lofty realm of elite sport.
Under the bright sun of an antipodal spring day, Sharni Layton guides a few dozen school kids and their parents to the large windows overlooking the new swimming pool at the Australian Institute of Sport, near Canberra. She begins to rhyme off its high-tech amenities. Around the entire pool, underwater windows allow coaches to track their athletes from different angles. Force plates built into the starting blocks and walls measure reaction times with infinitesimal precision. Cameras zip along tracks on the pool bottom to follow the swimmers during their laps. And when the athletes pop their heads out of the water, their training efforts are instantly replayed on plasma screens at the edge of the pool, alongside graphs and vectors analyzing their performance.
Layton is a promising twenty-one-year-old netball player, one of some 150 funded athletes living at the institute. She trains twice a day with the ais team for a total of about four hours, which leaves time to pick up extra cash leading tours of the sprawling sixty-five-hectare campus. The new pool, which opened in 2007 at a cost of $17 million, is the site's current crown jewel, though Layton points out that the old fifty-metre pool, just a few buildings away, is still pretty good. Once, when six-time Olympic medallist Michael Klim was struggling with his turns, they drained it and installed mirrors on the bottom so he could adjust his technique as he swam. "The better the sport does, the more money you get," she says a bit wistfully. "And swimming wins the most medals."
Set in the rather nondescript Canberra suburb of Bruce, the ais was born of Australia's failure to win a single gold medal at the 1976 Olympics in Montreal. It is funded out of the $164 million the country dedicated to elite athlete development in its most recent annual budget. The results of this level of investment have been fairly clear: since the institute was created in 1981, the athletes receiving its direct support have brought home 142 Olympic medals. Naturally, other countries have taken note. A week after my visit in October, a delegation headed by Alex Baumann, the former champion swimmer who now heads Canada's Summer Olympics medal initiative, toured the ais and other Australian sports facilities.
One distinguishing feature of the ais is its sports science and sports medicine unit, which employs about 100 full-time staff, ranging from doctors and physiotherapists to physiologists and biomechanics experts. Among that group is a core of a dozen people who, as ais director Peter Fricker puts it, "drive the sharp end of our performance research focus." He continues: "As much as we'd like to think we've got really talented athletes and really good coaches, how does a country like ours succeed internationally against big populations with lots of money? I think it's by being clever." Relative to its population, Australia earned four times as many medals in Beijing as Canada, and six times as many as the United States.
That dominance was made possible by innovations like the techno-pool—"the ultimate wet lab," Fricker says with evident pride—and their spinoffs. It was from the ais's wet labs that Speedo's super-buoyant, corsetlike polyurethane lzr swimsuit emerged in 2008, triggering an avalanche of new world records. Working with ais scientists, the company's Aqualab development team had tested streamlining with a motorized pulley that hauled swimmers along lane one of the old pool at greater-than-world-record speeds. (They also carried out drag tests in an open-water flume in New Zealand, and air resistance trials of more than 100 fabrics at a nasa facility.)
A display on the wall of the ais visitor centre touts the lzr as "the most successful suit ever," but it ultimately became a victim of its own success when companies like Jaked and Arena developed imitations that outdid the original. Heading into last summer's world championships in Rome, more than 130 world records had been broken in the year since the lzr's introduction. The Canadian team, preparing for the worlds at a holding camp in Italy, decided almost en masse to forsake the free suits provided by team sponsor Speedo and order the latest Jaked suits at around 500 euros each, though they could be worn just two or three times before becoming stretched beyond usefulness. "It was the first time we'd had to pay for suits ourselves," says breaststroker Martha McCabe. But the differences in performance were too great to ignore.
On the eve of the championships, fina, swimming's international governing body, announced that the new super-buoyant suits would be banned in 2010. This set the stage for a final orgy of polyurethane-fuelled speed, as forty-three world records fell during the world championships, leaving the 1,500-metre freestyle marks as the only ones predating 2008. American phenom Michael Phelps suffered a rare loss after sticking to the slower Speedo suit out of loyalty to his sponsor; other members of the well-funded US team were reportedly running around the hallways between races begging for better gear. With the new restrictions, says McCabe, "we're taking a step back. But we're all on the same playing field, and that's all that matters."
A finalist in her first world championship appearance at just nineteen years of age, McCabe now faces a career in which—barring a decision by fina to wipe the slate of polyurethane-aided times—she may never swim another personal best time, let alone approach a world record. Yet it's difficult to pinpoint the moment when swimming officials should have stepped in. Should they have banned the first skimpy nylon-spandex suits, donned by the likes of Mark Spitz in the '70s? Or the full-body suits that first appeared in 2000? The aim in each case was to reduce drag resistance; the only difference is that the newest suits are so much better at it. "It seems to me that what they did is the worst option, because they allowed them for a year and now all these records are broken," McCabe says. "If they were going to allow them in the first place, they might as well just accept that technology is going to continue enhancing sport forever."
That technology enhances sport for everyone is undeniable. "Look at what's happened in the fitness industry," says Roger Jackson. "Twenty-five years ago, no one was cycling. Now you can't get on the roads on a weekend without seeing bands of people on really lovely, efficient bikes with good gear systems and tires." Regardless of skill level, consumers benefit from high-performance gear developed for elite athletes, whether it's lightweight kayaks, faster skis, or warm, dry clothing. And of course the companies whose sponsorship dollars are the lifeblood of sport benefit as well. The challenge is managing innovation in a way that doesn't compromise fairness.
Problems arise most obviously during times of transition, when some competitors have new technology and others don't. Jackson, a three-time Olympic rower who earned gold in the coxless pairs event at the 1964 Games in Tokyo, experienced this first-hand. "The rowing shells we used in my first Olympic Games were quite heavy and clumsy and not very adjustable," he recalls. But in the '60s and '70s, some countries began developing lighter, stronger, more manoeuvrable boats. "If a shell was 250 pounds, the Germans were building them at 200 pounds," he says. "They used new materials like Kevlar and carbon fibre well before others did." The international rowing federation decided to allow the boats, reasoning that such advances would be widely available to anyone who could pay.
The point of programs like Top Secret, by contrast, is to produce technology that isn't available to everybody, thereby tilting the playing field, however slightly. And that raises some thorny questions. We would encourage a neurosurgeon to take a pill that steadies his hands before surgery, notes ethicist Thomas Murray of the Hastings Center in Garrison, New York, but would condemn an archer who popped the same pill before an event. The difference, Murray argues, is that in sports we value the "virtuous perfection of natural talent"—the ideal of contestants competing on the basis of the genetic cards they were dealt, supplemented only by perseverance, sacrifice, dedication to training, tactical acumen, and other routes to improvement we deem "virtuous." If a new technology is to be introduced into a sport, he writes, it should satisfy two criteria: continuity and equal opportunity. The advent of fibreglass poles for pole vaulters in track and field, for example, met that threshold: "Continuity was assured because the poles still required the same skills from pole-vaulters, such as speed down the runway, strength, and agility. Equal opportunity meant that all athletes had to have access to fibreglass poles."
Super-buoyant swimsuits seem to meet the basic criteria of continuity and access, but their virtue is more difficult to judge. Technologies used in training rather than directly in competition present an even stickier dilemma. The hyper-instrumented $17-million ais swimming pool, for instance, tilts the playing field for Australian swimmers no matter what they wear during the race.
Elsewhere on the ais site is an altitude house with adjustable oxygen levels, which allows athletes to live and sleep in conditions simulating elevations favourable to the production of red blood cells. This kind of altitude training has created controversy in recent years, leading to accusations of "technological doping." The proliferation of portable altitude tents, worth between $5,000 and $10,000, in the run-up to the 2002 Winter Games led the International Olympic Committee to ban them from the Olympic Village in Salt Lake City. It was a token gesture, since the benefits obtained from the tents are achieved long before the actual competition. In 2006, the World Anti-Doping Agency ruled that the practice violated "the spirit of the sport," but a proposed ban was dropped after a backlash from athletes and scientists. It's hard to see how such a prohibition could have held up anyway. Would they also ban moving to Banff?
The University of Calgary's Human Performance Lab occupies a cavernous, gymnasium-sized space in the Roger Jackson Centre for Health and Wellness Research. Along one wall, a researcher encourages a cyclist pedalling furiously on a stationary bike plugged into at least five different machines. In a corner, nine motion capture cameras focus on a patch of artificial green next to a large black curtain, creating a virtual golf swing analysis system. A runner outfitted with reflective markers at each joint prepares to run back and forth across the force-sensing floor. In a smaller room next door, a glass-walled altitude chamber sits next to an enormous treadmill built into the floor. The buzz of activity and the assortment of bizarre machines recall James Bond's visits to the R&D wing of MI6.
The lab's gear guy—its Q, if you will—is a young kinesiology professor named Darren Stefanyshyn. In the wake of the Canadian team's disheartening experience in Salt Lake City, he helped develop the new speed suit—an ultra-tight superhero outfit criss-crossed by stretchy silver bands—worn by Nordic skiers and others at the 2006 Turin Olympics. He is also one of the world's leading footwear researchers, and he proudly shows off an enormous pneumatic shoe-testing robot that accurately simulates what happens when a foot makes contact with the ground under various conditions. The machine also performs three-point bend tests on skis, and break-point tests on composite hockey sticks.
The projects Stefanyshyn is working on for Own the Podium are, needless to say, top secret. His research for speed skaters encompasses everything from apparel to footwear, he says, and he's also working with the sledge hockey and luge teams. Once again, speed suits will be a crucial theme. "People are now using their apparel as a piece of equipment," he says. He expects other countries to be developing similar ideas, which is why, even though the suits rely on the same technologies swimming just banned, he doesn't feel they confer an unfair advantage.
Down the hall from the Human Performance Lab is another hub of Top Secret guile, the Sports Technology Research Lab run by kinesiology professor Larry Katz. He and his colleagues are developing a database to help monitor the performance of Canada's Winter Olympic athletes, and they've also done research into virtual reality training simulators for sports like bobsledding. To demonstrate the analytical tools they've created, biomechanics consultant Pro Stergiou pulls up training footage of the national luge team. Video tracking measures every aspect of the force exerted and acceleration produced in each push-off. And as with the Australian pool, the data can be accessed in real time, allowing for rapid analysis and adjustment.
Even the most hidebound traditionalist would be hard pressed to find anything unethical or contrary to the spirit of sport in Katz's efforts to help athletes monitor their training. This suggests that we have no fundamental objection to pouring cash into the pursuit of an edge that the luge team from, say, Slovakia can only envy from afar. Perhaps we draw the line only at having our athletes wear something so advanced that the unevenness of the field is too obvious—or so advanced that we wonder how many batteries it takes.
The first skates, as far as we know, were fashioned about 4,000 years ago by Finnish hunters who strapped horse ankle bones to their feet in order to traverse their frozen, lake-dotted landscape. By pushing themselves forward with a stick, hardy Finns could reach speeds of about five kilometres an hour ("quite good fun," reported one of the British researchers who figured this out in 2008). It wasn't until the thirteenth century that wooden skates with iron blades appeared, likely in the Netherlands, enabling a more conventional skating motion. The pace of innovation quickened thereafter, with longer steel blades in the eighteenth century and one-piece boot-and-blade combinations in the nineteenth.
Dutch biomechanics researchers built the first prototypes of what are now known as "clap skates" in 1985. They feature a hinge near the toe, allowing the skater to twist his or her foot and push off while the blade continues to glide along the ice. Elite speed skaters were initially hesitant to try the new contraptions, but in 1996 three women on the Dutch national team agreed to test them out. When one, Tonny de Jong, won gold at the European championships in 1997, word that the skates delivered a 3 to 5 percent performance boost spread quickly. Just one year later, every single competitor at the Nagano Olympics used clap skates, leading to the evisceration of every world record in the books.
The newest frontier in skate technology also traces its origins to 1985. That's when Calgary inventor Tory Weber, then a college student, pulled on a pair of sneakers left to warm on a heating vent, headed outside, and slipped on his icy front walk. Twenty-two years and $17 million in venture capital later, he unveiled the Thermablade at a press conference at the Hockey Hall of Fame in Toronto. None other than Wayne Gretzky touted the skate's heated runner as "the most significant advance in skate blade design in at least thirty years." Tests showed that the blades reduced sliding friction by more than 50 percent, upping speed and reducing fatigue. And yet, after making some encouraging noises, the National Hockey League hesitated, eventually demoting Thermablades to the minors for an additional year of testing.
As of October, Weber was in discussions with two "non-English-speaking" teams about the possibility of outfitting them with heated blades for the 2010 Winter Games. (Canada, to his great dismay, had yet to call.) But it's the nhl that sets the standard for hockey players in most of the world, and Weber's strategy is geared primarily toward getting the league on board. He has a few gambits in mind, notably a simpler recharging process and studies on whether heated blades reduce injuries. He's also hoping to contain costs. With sales of the $400 skates stalled and credit scarce, his company filed for bankruptcy in July—a sign, perhaps, that people believe battery power, and its attendant expense, would be taking things one step too far. Millionaire pro hockey players might not balk at the extra few hundred dollars, but as any hockey parent will attest, the cost of gear is already high, with younger and younger players shelling out for such high-tech equipment as composite sticks to remain competitive. And it's here that the collateral damage from the sports technology arms race becomes clear.
In the early '80s, sociologist Roger Barnsley was attending a Lethbridge Broncos game when his wife, perusing the program, noticed that nearly all the players were born in the first few months of the year. The observation led to the first study of the "relative age effect," which revealed that nhl players were four times as likely to have been born in the first three months of the year as in the last. The phenomenon, which has subsequently been identified in a wide range of other sports and activities, stems from the differences in physical maturity among children in a given cohort. At an early age, an extra six months of growth confers a slight size and speed advantage, making it more likely that kids with birthdays in January will be selected for elite teams than those with birthdays in July. As a consequence, January children are better coached and more motivated to succeed. By adolescence, when the size deficit has been erased, coaches' early assessments of which kids would make the best players have become self-fulfilling prophecies.
Barnsley's work demonstrates how seemingly trifling barriers can limit later success. This isn't just a question of fairness. It's also in Canada's interest, if we want to win medals, to maximize the talent pool we're drawing from, and not to thin it unwittingly on the basis of birth month—or access to the latest equipment. Limiting the effects of the latter barrier will require a shift in the way we think about sports technology.
In 1997, the winner of the Lou Marsh Trophy as Canada's top athlete was Jacques Villeneuve. The young race car driver, himself the son of a famous driver, was honoured that year for capturing the Formula 1 world championship for the Williams-Renault team. The next season, though, Villeneuve failed to win any races and slipped to fifth overall in the standings. He then changed to a new team, then another and another, never once taking the checkered flag before he bounced out of F1 entirely in 2006. It was a strange fate for a man who'd won seven times in 1997 alone. At least, it was strange if you didn't understand F1 racing. To followers of the sport, who knew it to be a battle among engineers as much as between drivers, Villeneuve's decline made perfect sense: after the 1997 season, Renault had stopped making engines for the Williams team.
Compare the F1 approach with that of Florida-based nascar. As its full name, the National Association for Stock Car Auto Racing, suggests, nascar originated as a form of stock car racing, which is based on as-sold production models of cars. If everyone was driving a 1949 Oldsmobile Rocket, the thinking went, then the best driver would win rather than the best engineer. nascar rules have evolved considerably since the circuit's early days, so the current cars bear only a superficial resemblance to street legal vehicles, but the sport's basic philosophy remains focused on equalizing the cars. It's not that the technology doesn't improve—far from it—but that the association allows only slow, incremental changes.
Both F1 and nascar have millions of fans around the world, but their fans have different expectations about what they're watching. That Villeneuve should be at the mercy of his engine maker is acceptable to F1 followers; that Michael Phelps should be betrayed by his swimsuit isn't. The unspoken covenant we have with most of the sports we watch at the Olympics, and many professional sports, too, is that they will be regulated like nascar rather than like F1. Had fina officials operated on that basis, its regulations on swimming gear would have been enacted in 2000, not 2010.
Some sports are already moving along this path. In Olympic sailing, Roger Jackson points out, the host organizing committee provides identical boats for competitors. That's nascar. The F1 equivalent is America's Cup racing, where anything goes if it makes the sailboat faster. Similarly, in modern pentathlon, participants receive a horse from a common pool. "You have a draw to see which nag you get," Jackson says, "and then you compete with the good, the bad, or the ugly."
Almost every sport, in fact, has some set of rules intended to keep equipment relatively uniform and safe. A simple litmus test of their effectiveness might be to ask whether the top countries and teams are nevertheless spending millions of dollars in pursuit of technological advantages. If so, that sport's rules might be allowing too much leeway.
Not every sport can follow sailing's lead and issue identical, interchangeable gear—skiers, for instance, really do need skis that fit them. The goal in a nascar-oriented sporting world would simply be to reverse the default status of new technologies and equipment modifications so that they're banned unless expressly permitted instead of the other way around. Innovation would hardly grind to a halt, because sports equipment makers still want to sell lighter, safer, more comfortable gear to the masses. Aluminum baseball bats, for example, have flourished despite Major League Baseball's decision not to accept them. As for more esoteric advances without mass-market appeal—polyurethane swim corsets, for example—would anyone really miss them?
For now, the realpolitik of global sport dictates that countries with golden aspirations deploy their operatives in programs like Top Secret, ethereal concepts of virtuous perfection be damned. Canada grew tired of having snow kicked in its face by the powers of sport, so we've committed ourselves to developing some tech-enhanced brawn. And with the rules as they stand, that's fair game: few laud the integrity of the committed ninety-seven-pound weakling. A couple of tweaks to those rules and stronger stewardship from international sports federations, though, and we might nudge the Olympics back toward its ideals—and bring our sports scientists in from the cold.