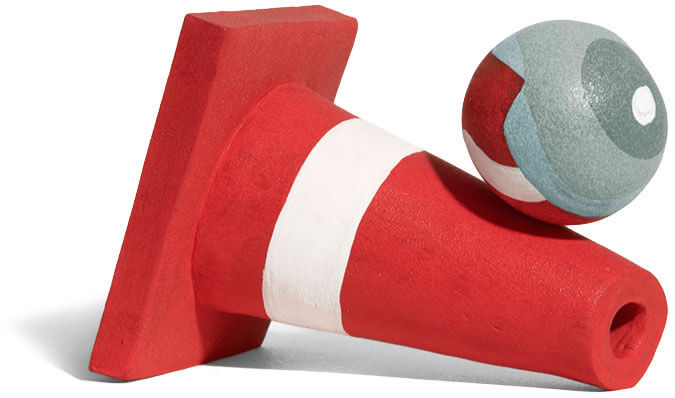 Adam Kiesler takes his place behind the 1981 Bally pinball machine with the easy confidence of someone who's assumed this stance many times before. He stands upright, nearly a foot from the machine, his feet shoulder-width apart. He pulls back the plunger and watches the ball hit bumpers that flash red and yellow as it makes its way down to the flippers. Medusa stares down at us from the backbox, her eyes glowing bright as she snarls, a blue forked tongue protruding from between a set of fangs.
"What you want to do is hit that target up there, and then the flippers close," Kiesler explains, gesturing with his chin as his eyes follow the ball. His focus intensifies; his shoulders curve over the machine. Occasionally, he'll kick one foot out to the side as he leans in to hit a flipper particularly hard. "Now I want to backhand. You trap the ball here, and if you flip it really quick, you can get it back there." I nod and pretend I'm following the strategy. Kiesler doesn't notice my confusion. He's deep in the game now.
We're inside North Star Bar, an establishment that Kiesler co-owns in Montreal's Plateau neighbourhood. There are ten pinball machines in North Star, and there's alcohol on offer, which makes it feel a little like a speakeasy—that's because, according to a bylaw passed by the city in 1977, no establishment that serves alcohol can also have pinball machines. Kiesler has been working to overturn the bylaw—he's even tried unsuccessfully to meet with the mayor. "You can have a pool hall and serve booze, and that's fine, but you replace the pool tables with pinball machines, and all of a sudden, that's illegal," he says. (The bar next to North Star has a sign in its window advertising billiards.)
Kiesler is a long-time pinball aficionado; it attracted him as a child growing up in Winnipeg because, unlike other games at the arcade, a high score in pinball meant the chance to win a free round, which meant the chance to stretch his allowance. The game went from pastime to passion after he finished his undergraduate degree in Montreal. He began to play in competitive tournaments in the United States and started a club for his friends called the Punk Pinball League; they played in one another's homes. But there was no real community for prospective fans, so Kiesler and his friend, Justin Evans, opened North Star last year—bylaw be damned. "I want to develop a pinball culture in Montreal like you have in Vancouver. There are barcades everywhere," he says. "Opening this place, and seeing the smiles on people's faces when they play, we're doing something really positive for the city," he says.
Everything in North Star is a tribute to pinball. Behind the bar is a large D. Gottlieb & Co. sign, a relic from the pinball manufacturer, which Kiesler calls the "Cadillac of pinball." Side tables are modelled after those used in bagatelle, a precursor to pinball. Projected on the wall is a video supercut of pinball's appearances on the big screen, put together by filmmaker Mark Loeser, that includes clips from films such as Spaceballs and Bottle Rocket. It's more than four hours long. The bar itself is named after former Montreal pinball manufacturer North Star Coin Machine Company.
Kiesler says city officials agree the bylaw is dated. When asked why it was created, the councillor for the area, Christine Gosselin, makes vague reference to a history of such businesses attracting child prostitutes. Trying to find the bylaw itself was like falling down a rabbit hole of bilingual legalese. A bylaw passed in 1955 prohibited the game in any public place. Later, police said the machines were attracting children and causing them to steal change from their mothers' purses to play. In 1977, the bylaw was repealed and replaced with one that allowed pinball machines in heavily restricted amusement halls. At the time, Mayor Jean Drapeau told the Montreal Gazette that pinball operators' objections to the bylaw simply proved that they were "making money off the youth." Overturning the law will be a difficult process; a revised bylaw will need to undergo three readings at council, plus be advertised in newspapers, allowing any citizen the chance to object.
Kiesler knows that until that happens, his bar will exist in a murky legal area. When we finish our game of Medusa (I tried to play, he beat me), I ask him why he likes pinball so much. "Coming home from work after a long, stressful day, I'd play a game and just lose myself and not think about anything else in my life," he says. "My only focus is keeping that ball alive."
This appeared in the June 2016 issue under the headine "Ding! Ding! Ding!"