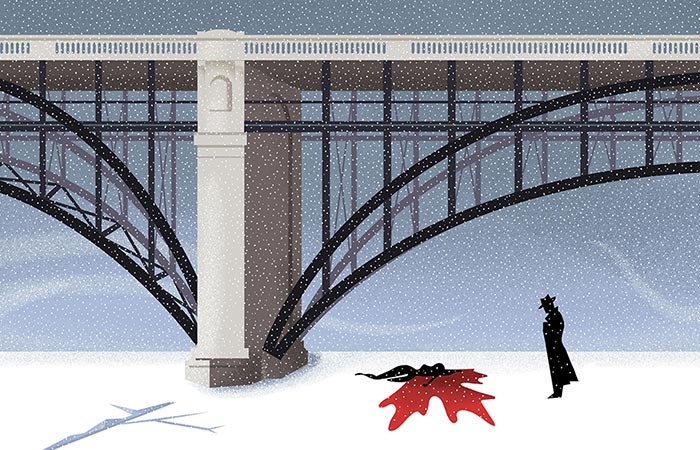 Books discussed in this essay
The Killing Circle by Andrew Pyper
Doubleday Canada (2008)
The Suicide Murders by Howard Engel
Penguin Canada (1980)
Forty Words for Sorrow by Giles Blunt
Random House Canada (2000)
The Murder Stone by Louise Penny
Headline (2008)
The Guardians by Andrew Pyper
Doubleday Canada (2011)
Roughly a third of the way into Andrew Pyper's bestselling The Killing Circle (2008), sodden anti-hero Patrick Rush—a hack newspaper critic with literary aspirations—scores an invite to the Quotidian Awards. Affectionately known as the Dickies, the Quotidian is handed out to the work of fiction that "best reflects the domestic heritage of Canadian family life." Among plates of caribou tartare and beaver-shaped shortbread, Rush espies the young Rosalind Canon, CanLit wunderkind of the moment. She is flush with a Dickie nom, a considerable book advance, and the adulation of the culturocracy.
Why not me? whines Rush, borrowing the italics Stephen King made a thriller hallmark back in the '70s. He continues:
Luck. Pulled strings. Marketability. Though there is always something else, too. A compelling order to things, a story's beginning, middle and end. Me? All I have is all most of us have. The messy garble of a life-in-progress.
Desperate for a narrative, Rush steals someone else's story and turns it into a mega-selling thriller called The Sandman. He is then forced to dismember a corpse, watch helplessly as his son is kidnapped, and undergo sundry trials that make Job's ordeal resemble a weekend winning streak in Vegas. It all ends, unhappily, in a dilapidated house in the frozen Canadian backwoods.
Let's count the in-jokes. Pyper, like the fictional Ms. Canon (note the booby-trapped name), received several large advances for his first novel, Lost Girls (1999), and has earned similarly generous payouts for his three follow-ups. Unlike Canon, he and his crime-writing peers are routinely snubbed by the Gille…sorry, the Dickies, but sell hundreds of thousands of books—that old Faustian trade-off. The big joke, however, is that The Killing Circle is a commentary on Canadian literature, by way of a cracking Canadian crime yarn. It's also a self-aware nod to the thesis of Margaret Atwood's classic work of literary criticism, Survival (1972), where we learn that our canon is a litany of man-gets-kicked-in-the-balls stories, fancifully told, set in a snowy landscape. The leitmotif of Canadian fiction is la survivance, and we are united by a belief in a universal moral order, represented by a vast, nascent nation that stretches across a continent. Literary Canada is, however, a breakable place, roughly segmented by creed and topography, which is especially true in our crime writing. This is no place for heroes, just survivors: workaday schmoes in flannel, braced for the business end of an axe to the head.
The Killing Circle lustily embodies all this, and reminds us that without a "beginning, a middle and an end"—in other words, without full-blooded, white-knuckle pop storytelling—we cannot know ourselves, because our collective subconscious remains unexplained. Furthermore, a vibrant genre fiction, one that is allowed the occasional day pass from the ghetto, can enliven those books that "best reflect the domestic heritage of Canadian family life," making our overall literature more vigorous. Mostly, Pyper reminds us of this: genre fiction explains us. If we continue to ignore it (forgive the italics), we will never, ever understand this country.
Disdain for genre—specifically crime fiction, for the purposes of this essay—is by no means exclusively Canadian, but it does occasionally feel like a local specialty. Andrew Pyper's PR folk used the desperate compound "genrature" to promote Lost Girls. Pyper himself noted, eight long years before The Killing Circle, that "unfortunately, when most people use the word [genre], I think it means a ghetto for formulaic, often poorly written stuff. If that's the definition, I don't think I'm really interested in participating." The lone anthologizer of early Canadian crime fiction, a crusty old-timer named David Skene-Melvin, prefers the term "criminous literature"—a feeble attempt at gentility, like a Persian rug in a brothel. So, one wonders, is there a Canadian school of crime fiction? Is it markedly different from, say, Tasmanian crime fiction? And are the ghetto walls higher here than they are elsewhere?
Every literary culture has a crime genre, and no two are precisely the same. They are major cultural exports that, despite vast international readership, effectively parse the local id. Ian Rankin in Scotland, Henning Mankell and Stieg Larsson in Sweden, Batya Gur in Israel, Vikram Chandra in India—all hang their societies' tattered undergarments on the global cultural clothesline.
No argument here: genre is calibrated differently from literature. While the latter is at best a sublime communion between writer and reader—a fathomless one-on-one engagement through language—genre is rather a way of sharing atavistic, universal fears through rigid formula. Crime books have a singular function, to thrill, and they are sold by the ton at airports because they maintain their relevance across cultures and borders. They are also, necessarily, about place. Most unfold in contained settings, and thus become credibly national, filtering subconscious concerns through a parochial scrim.
If journalism is a first draft of history, crime fiction—written quickly, and primarily for profit—is often a literature's dry run. We can connect the dots between Edgar Allan Poe, Agatha Christie, Graham Greene, and Ian McEwan. We find the DNA of Dashiell Hammett and Raymond Carver in Richard Price, Thomas McGuane, and Wells Tower. What do Joseph Conrad, Martin Amis, Aravind Adiga, and Jorge Luis Borges have in common? They've all published gussied-up crime books. A conversation between genre and Literature, with a capital "L," has long been the sign of a robust culture. In Canada, that conversation resembles a muted argument over the last cruller in a Regina Tim Hortons.
It's worth considering the broader impact of this current cultural dismissal, especially since Canada's literary history is steeped in genre fiction. The frontier writing period—roughly 1880 to 1920—was followed by the vibrancy of the interwar years, when the country was united by a single pastime: reading. Not incidentally, as Canada was defining its borders and its putative identity, there was a roaring trade in genre. As Skene-Melvin puts it in his anthology Bloody York: Tales of Mayhem, Murder, and Mystery in Toronto, forgotten crime writers like Grant Allen, Robert Barr, Roger Pocock, and William Fraser once described "a country of infinite geography, for each time it was encountered it was individually interpreted."
Bristling with Presbyterian rectitude, these stories differed from American frontier pulp because Canadian expansion was driven by the law, not by an effort to escape from it. The Mountie—that abiding frontier icon—arrived first, knitting the country from east to west, fort to fort. (The first serial character in Canadian crime fiction was Ralph Connor's Corporal Cameron of the Northwest Mounted Police, who debuted in 1912.) Less Davy Crockett or Billy the Kid than a faceless, nameless concept, the Scarlet Rider represented universal moral order; the North was not a place where one found freedom, in the American sense of the term, but rather redemption. It was a utopia that didn't require heroics, just dogged adherence to the rules. These various shenanigans took place in a brumal dominion that slaughtered its inhabitants with the gleeful blood lust of Hannibal Lecter. Weather—very bad weather—was the abiding villain.
So far, so CanLit. (Geographical and meteorological determinism are the maple syrup and back bacon of our literary criticism.) But while the northern school of crime fiction was all snowdrift, pine tree, and lonely axe murderers, John Charles Dent's The Gerrard Street Mystery and Other Weird Tales (1888) bloodied up the once-grand residences along Toronto's Jarvis Street. His stories form a portrait of a growing middle class struggling to establish itself in the New World. Our pop writers defined an urban Canada before Canadians were sure one existed.
Where does one find this treasure trove of Canadiana, you ask? Skene-Melvin's anthologies aside, there are few academic texts, fewer serious critical considerations, and only one small academic program at Brock University that cover Canada's genre legacy. This leaves us dangerously adrift from what our forebears were doing and thinking as this country took shape, and opens a yawning cultural gap that contributes to, among other things, our unhealthy obsession with rural historical fiction marinated in poetics.
In the postwar years, Canada's cultural bureaucracy built fences to protect our literary fiction—and the culture at large—from anything that smacked of America, for which "genre" was understood to be a synonym. (Most Canadian crime writers have learned not to bother filling out grant applications, a discipline at which our literary novelists are preternaturally adept.) Thus began a process that effectively choked off a genuinely popular form of popular culture. Canadians had to wait until 1980 for the first modern, local crime novel, one that exemplified how, as the culture evolved, Canadians were defining themselves by what they were not.
Howard Engel, then a CBC producer from the Niagara Region, introduced Benny Cooperman in The Suicide Murders. He's an egg-salad-sandwich-chomping Jewish PI from Grantham (St. Catharines in drag) who counts his mother as his best friend, smokes a couple of packs a day, and lives in a flop above a booze can. "What I don't know about the upper crust in this town," says Cooperman, "could fill a library." He is the rumpled underdog—shambling, avuncular, and sly—facing off against the goyishe establishment, shtetl cuisine staining his tie. He can't hold his liquor, he gets laid (far) less often than a Niagara parish priest, and he'll take piecework because he needs the dough—a soft-boiled anti-Marlowe.
The twelve tragicomic books in the Cooperman series quickly became artifacts of a cultural movement that never really existed. Despite this, or perhaps because of it, Engel received the Order of Canada in 2007, for "[breaking] new ground as the author of the Benny Cooperman mystery series, [which is] unequivocally Canadian…He has given readers across the nation and around the world a sense of our stories, our values, and our various regional characteristics."
There's delicious irony in the cultural bureaucracy—the very same WASP biens pensants he cast as rapists and killers and crooks—bringing Engel into the fold. The above citation implies that popular writing can be intrinsically healthful, like fibre or antioxidants. In this context, Engel's contribution to the country has been lumberjack functional, providing the nation and the world with an image of urban Canada that would otherwise be buried somewhere deep within In the Skin of a Lion.
That said, the Cooperman series has disappeared off our cultural radar, primarily because it satirizes something American. The hardboiled-isms—"She was the sort of woman that made you wish you'd taken another three minutes shaving"—are worth a chuckle, but they give the series an ersatz, Saturday Night Live skit quality. Indeed, Cooperman is at his most interesting when he is equivocally Canadian. In Murder on Location (1982), the terrified gumshoe chases a killer over a precarious ice bridge into the United States, a metaphor that suggests the deep cultural links between the two countries. It's Engel at his best, and one can't help wishing he'd played it straight all the way through.
In 1982, Engel, along with the Globe and Mail 's Derrick Murdoch and others, established the Crime Writers of Canada, to award one another the prizes they weren't getting elsewhere. This Cartesian battle cry—We write, therefore we are—nudged along the likes of British Canadian Peter Robinson, who emerged from the '80s with a genuine international brand in his excellent Inspector Banks novels (set in Yorkshire, mind). Such industrial legitimacy ushered in Louise Penny's Quebec-set cosies; Linwood Barclay's Everyman-in-peril tales (pointillist-detailed, blood-soaked portraits of over-leveraged modern family life, depicting a middle class roughly sandwiched between a violent cracker underclass and a rapacious, wealthy overclass); William Deverell's West Coast law procedurals; and, perhaps best of all, the bleak psycho-thrillers of Giles Blunt, which stand as landmarks in what we might think of as the new Canadian crime wave.
Giles Blunt, who was longlisted for the IMPAC Dublin Award for his 2009 literary novel, Breaking Lorca, is one of those crime writers who would happily choke his meal ticket, Detective John Cardinal, with a length of piano wire and bury him in the northern woods. Fortunately, he can't afford to do so. Forty Words for Sorrow (2000), the first of five Cardinal novels, not only renders the brutality of a northern landscape, but also describes what a northern people must do—how they must think and act—to prevent that brutality from becoming the ruling impulse of their society. Here, there is no presiding moral order. The Mounties are the bad guys, a stilted, bumbling bureaucracy more focused on bringing down decent cops than on solving crimes. Forty Words makes two things very clear: we have given up on our icons, and the landscape—or the dark part of the Canadian soul it represents—has emerged triumphant.
It's a notion echoed in Louise Penny's finest Chief Inspector Gamache instalment, The Murder Stone (2008). In the prologue, she describes the construction of a hunting cabin deep in the Quebec woods, financed by robber barons. A century later, the cabin is transformed into a high-end auberge in which a horrible crime will take place. "[It] looked a little like a forest itself," writes Penny, "but one turned unnaturally on its side." The landscape is corrupted, and the result is an unnamable violence.
Forty Words opens as Cardinal is called to a lakeside crime scene, where he encounters the mutilated corpse of a young Ojibwa named Katie Pine, frozen in shallow lake water. In Blunt's work, murder—or at least its aftermath—is a grand event. Death is not trivialized; it's monumentalized. The books' set pieces describe corpses either sculpturally preserved in ice, or utterly degraded by the rot of summer. But the most moving scene of Forty Words occurs when Cardinal visits the local Chippewa First Nations reserve—"a shadow nation"—to tell Pine's mother the awful news, in a perfectly imagined evocation of Canada's national shame:
"Okay," she said, when he told her Katie's body had been found. Just the one word, "Okay," and she started to shut the door. Case closed. Her only child was dead. Cops—let alone white cops—could be of no assistance here.

He had the feeling that, had he not mentioned it, the thought of tracking down the man who had killed her daughter would never have entered Dorothy Pine's head. All that mattered was the fact of her death. She gave a slight shrug, humouring him, and he stepped past her into the house.
In Blunt's Cardinal series, Canada is nastily stratified. An educated middle class, represented by Cardinal and a few of his colleagues, stands against heavily armed degenerate hicks, and shadowy, hyper-rich neo-cons with inscrutable designs (the same people who once comprised Engel's Anglo elite). Our original sin continues to poison us from within, and the redemptive utopia of the North has become lousy with pimps, politicians, hookers, hustlers, rapists, junkies, and serial killers.
John Cardinal is the quintessential modern Canadian crime fiction hero—the northern lawman reimagined. He has none of the investigative genius of Poirot, and even less of the tough-guy bravado of Marlowe. His partner, the French Canadian junior investigator Lise Delorme, often steps in to save his ass. He is saturnine, miserable, rumpled, and out of shape, and he subscribes to a left-leaning moral and political code that he often betrays, and that is all but laughable in context. In other words, he's a boomer—a representative of the generation that grew up during Woodstock, galvanized around Vietnam, and watched that optimism evaporate during the '80s and '90s. He is saved only by his unarticulated belief in policing, and his need to out the truth, whatever the cost. The old universal moral order has become a ragged, piecemeal thing.
Andrew Pyper, the wild card, serves as the great summarizer. Every cultural movement needs one. In his three ripsnorting works of genrature (Lost Girls, The Killing Circle, and the just-released The Guardians), he has presented a trio of neo-Canadian anti-heroes who are more familiar with the bottom of a Scotch bottle than with the backwoods. Debased, compromised, and self-pitying, they encounter a Canada as corrupt and ravenous as the once-grand haunted house that lurks at the centre of his latest book—a place where a nubile young woman is horribly murdered by an establishment figure. The Guardians, in which three old friends return to the town of their youth to mourn a fourth who took his own life after watching over a place where terrible things have happened, is a screenplay-ready meditation on the loss of youth, and the fact that the past is terra incognita in this country.
Pyper's genre books, like those of his peers, are survival texts that alternate between a corrupt natural environment, wretched small towns, and the metastasizing metropolis of Toronto. The Canadian counter-jumper, epitomized by the boomer, cobbles together his meagre aspirations on thin ice indeed. There are no heroes, only survivors. Families are ripped apart, children are murdered, wives and husbands are revealed as chimeras. It's Survival 's thesis, jacked on OxyContin, cut with a pint of Newfoundland screech.
There is something else as well—something distinctly, depressingly contemporary. Barclay, Blunt, Pyper, Deverall, et al., suggest that the elitist liberal centrism that has formed our defining political sensibility for over a generation is under siege from a right-wing underclass, and buttressed by a wealthy overclass that bears with it the threat of violence. Our society has stratified, fragmented, and we stand opposed to each other, no less blue state/red state than our southern neighbours. We have never understood this country, and we refuse to understand it still, because to come to terms with it means subverting so many of our founding Presbyterian myths: that nature can be brought to heel, that progress is eternal, that there is an overarching moral order once exemplified by the Mountie (a trope Blunt has expended five books debasing). These writers fill in the places our denuded liberalism now leaves blank. They find their way into our subconscious, and turn it into bestselling airport books.
The cultural tide is indeed coming in: Engel as the ironic establishment figure; Peter Robinson's recent lauding by the 2010 International Festival of Authors in Toronto. There is a growing respect for what our genre writers can contribute to the culture at large. "It's absurdly too huge a task to think about rejuvenating the [Canadian] canon," Pyper told an interviewer twelve years ago. "And I'm not good enough to do that." Perhaps not, but it's no bad thing to have our literature now and then influenced by disciplined plotting, vivid characters, sharply drawn evocations of modern-day mayhem—the very specialties of crime fiction. After all, if you're going to have a ghetto, it might as well serve the ivory tower.
This appeared in the March 2011 issue.