In the centre of Montreal's Place d'Armes Square stands a monument to the city's founder, Paul de Chomedey de Maisonneuve. Beneath him sit four figures that are meant to represent the historical roots of the city: three named Europeans and a nameless Iroquois man. In an image near the base of the statue, Maisonneuve is depicted pointing a pistol at another Iroquois man wearing a headdress. Anishinaabe artist Scott Benesiinaabandan has often walked past this memorial and others in the historic district of Old Montreal. The statues tend commemorate military battles and celebrate colonial leaders for conquering Indigenous peoples. Like so many other historical monuments across the country, they are reminders that Canada's official histories continue to glorify its colonial past. "They stay up there, and after a few months of walking by, you no longer notice," Benesiinaabandan says. "Once these histories become psychological background noise, they become more dangerous."
Benesiinaabandan, who grew up in Winnipeg and Sault Ste. Marie, Ontario, came to Montreal for a year-long residency through Aboriginal Territories in Cyberspace at Concordia University, where he is now working on a master's degree in fine arts. One of his recent projects, monumentalisms, confronts the influence of colonial monuments. Benesiinaabandan created 3D-printed sculptures, digital prints, and a virtual-reality installation using more than 600 photographs of three monument sites: Place d'Armes Square, a statue of Jacques Cartier in Saint Henri Square, and a John Cabot statue in Cabot Square. The photos were distorted and combined into abstract imagery, altering a viewer's sense of reality. "It sort of creates this surreal reimagined landscape, or a psychic landscape, of what these monuments are actually hiding or imposing on us as we walk by every day," he says.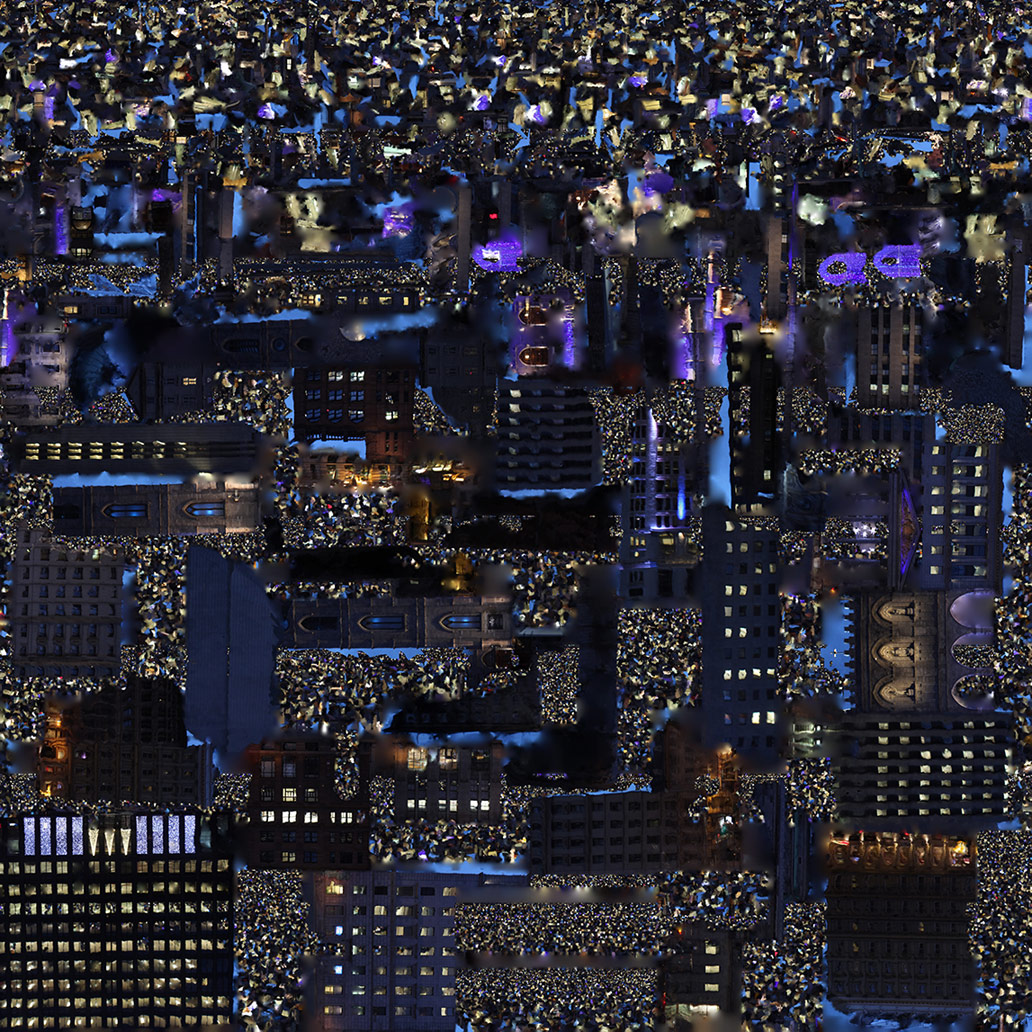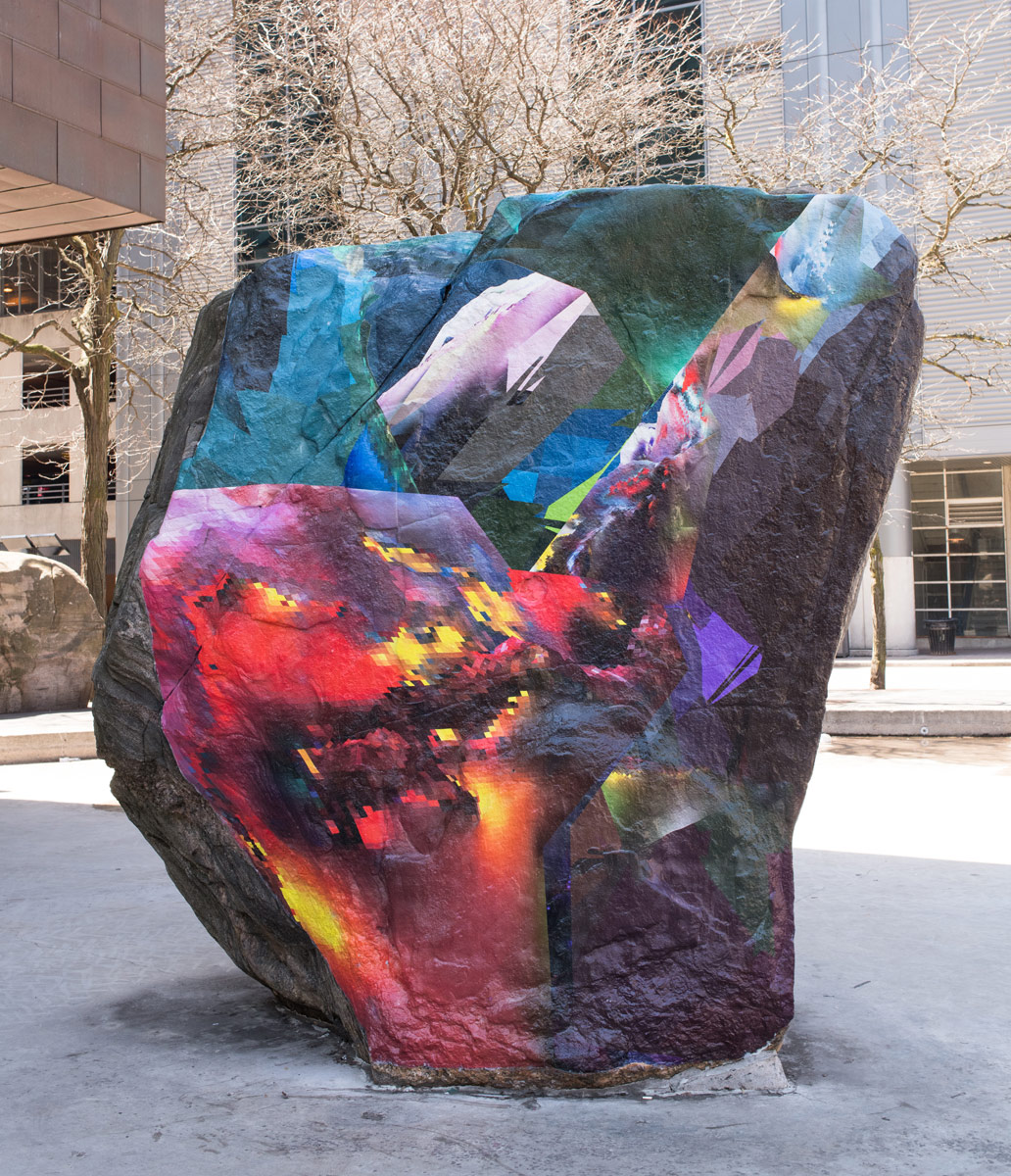 He used similar methods in newlandia: debaabaminaagwad, an outdoor installation at Toronto's Ryerson University. He processed over 100 images of a statue of Egerton Ryerson, the university's namesake, and four flags: the Mohawk Unity Flag and three others, representing the Anishinabek Nation, the Mississaugas of the New Credit First Nation, and the Two Row Wampum treaty. For about a month this past spring, pedestrians walked over a distorted, multicoloured "shadow" of Ryerson, who was instrumental in the development of the residential-school system.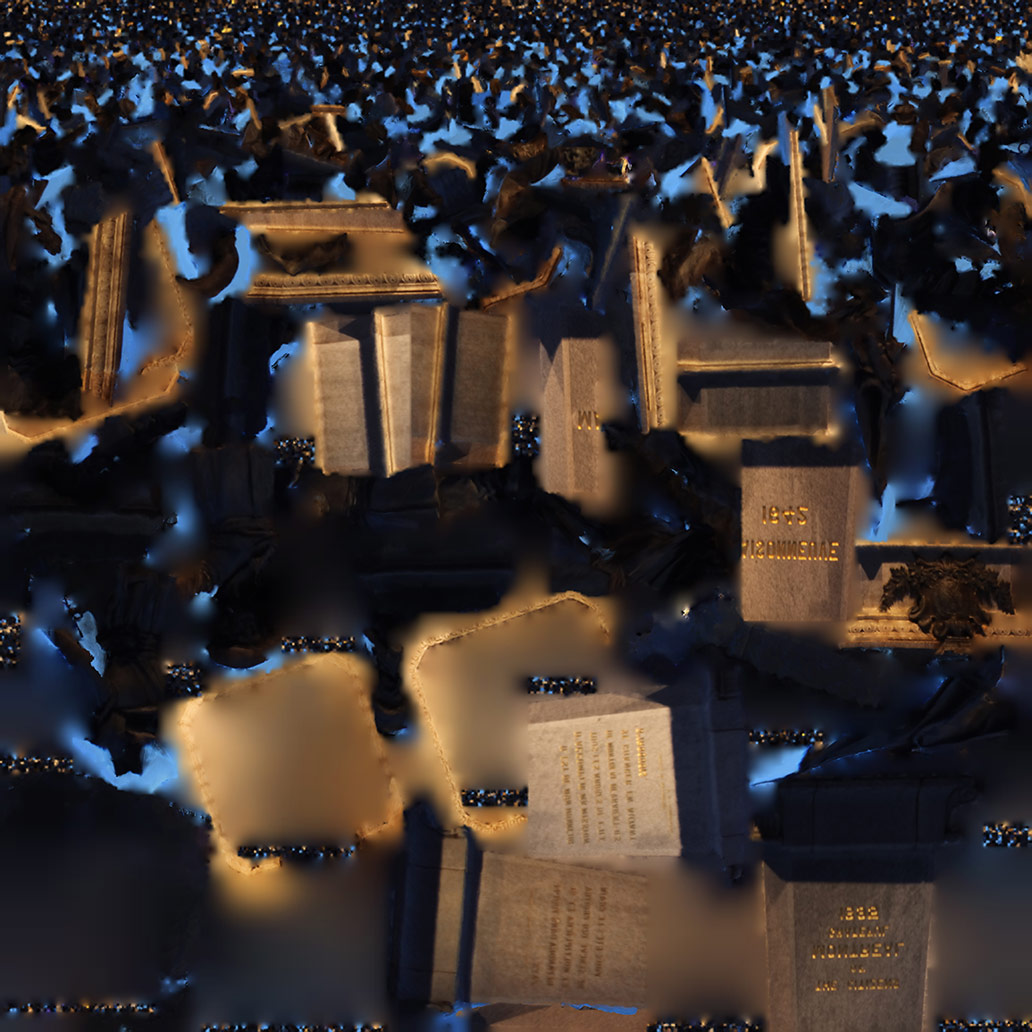 Extending from the base of the statue onto the road, the photo-vinyl imprint was gradually worn away by foot traffic and spring rains. And that was the point. By placing the shadow in the direct path of passersby, they became "implicated within these histories," which fade over time but may remain hidden in the subconscious.