"Peculiar travel suggestions are like dancing lessons from God."
—Kurt Vonnegut
Cannes. The glitz. The glamour. The rain. Oh God, the rain.
About a week ago I was offered a free trip to cover MIPCOM, the world's biggest TV sales event. How could I resist the chance to do the Cannes cancan?
It's Saturday evening. I'm standing outside the Villa Francia residences, a twenty-minute ride from the Grand Hyatt Cannes Hôtel Martinez where all the action is, including the gala party for MIPJunior—the kid's TV event that launches the festival at 7 p.m. In a show of legendary French hospitality my hotel's shuttle driver closes the door and leaves me stuck waiting in the rain until 8:15.
I was born and bred in Vancouver, I don't mind rain—but the steady stream isn't letting up. I'm getting a little wet. It's France, I just landed a few hours ago, and I'm thrilled to be here: It's an adventure.
The rain gets a bit heavier and I duck under cover.
Finally, the door opens. I'm the only passenger.
The streets of Cannes twist and turn like an amusement park ride—plenty of roundabouts and roads that are only theoretically two lanes wide (especially for a bus like this one). I keep my eyes on the architecture both because it's exotic and to avoid witnessing the inevitable moment when the bus crushes a puny Peugeot.
By the time we stop the rain is coming down like proverbial chats et chiens. I look outside and see a lovely view of the Cannes waterfront, but nothing resembling a hotel.
Between my mangled grade school French and the driver's limited English I manage to ask where the party is. "That way," he says—and points. He seems to mean quite a distance.
"Don't you drop me there? " I ask.
"No. I stop here. You come back here at eleven to go to hotel."
"How far is the Grand Hyatt? " I ask again, thinking it must be across the street.
He considers, then answers with a Gallic shrug. "About twenty minutes," he says, as the rain pounds the side of the bus.
"Is there anywhere I can get a cab? " I ask.
"Maybe city hall," he says.
"Where is city hall? "
He points in another direction, up a hill, then says he's on his break, indicates it's time for me to leave the bus and reminds me again that if I want a ride back he'll be leaving at eleven.
I step outside and start walking toward the Grand as briskly as possible. I finally find an awning to hide under and take out my cell phone to check Google Maps—thank you, global roaming. The good news and the bad news are the same: He wasn't lying about the hotel being twenty minutes away on foot.
The rain is starting to puddle in the street. Restaurants are shuttering their doors. After ten minutes of swimming toward the party I pass a vendor selling umbrellas. I consider buying one, but realize my collection of local currency consists of a lone 50 Euro note. I'm a pretty trusting Canadian, but handing it over in this weather and hoping for change seems like tempting the fates. I keep my drenched head down and start laughing. I keep reminding myself: This is France, it's an adventure, I'm thrilled to be here. So what if I'm getting wet.
That's when the lightning starts.
I arrive at the tent on the beach where they're holding the party. I finally step inside and see that most people are grabbing their umbrellas and heading for the door. I'm not a drinker, but I want alcohol and want it now.
I go against the flow of the crowd and head straight to the bar. As I drip all over the floor and squeeze the excess water from my sweater I discover everything is closed; everybody is being shuffled out. Tents and lightning are a bad mix, but I'm not walking back to that bus and hoping the driver will open the door.
A media officer from MIPCOM named Audrey invites me to share the shuttle that's taking her home. It's a big passenger van. I'm saved.
For fifteen minutes or so we taunt the lightning from the tent, then Audrey and her colleagues and I run through the rain and dive into our chariot.
As the driver drops off the crew at their hotels and homes he keeps hitting streets that have turned to swamps and cars that have died in the middle of roundabouts. At one point he has to back up a block to avoid stalling out in a dirty brown wading pool. The sewers are probably backing up.
I think of the twisting, tiny roads back to my hotel and start to wonder if I'm getting home tonight—and where I'll be stuck waiting out the storm if I'm not.
After all the other passengers are dropped off the driver starts up to my hotel. First we're blocked by a small abandoned car in a pool of water that's already covering the wheel well. He manoeuvres around it only to find himself blocked by a van that's letting someone out. We're waiting in at least a foot of water, tempting a stall. Finally, the other van moves.
There are no cabs at all on the streets and almost no cars.
The driver tries another route, then another, then informs me he's taking me back to the Grand. He keeps apologizing and telling me there's no way to my hotel; he can't make it; he hopes I'm okay with being abandoned. Actually, I'm not remotely okay with being left in downtown Cannes with my grade school Western Canadian French and dying cell phone!
In a moment of clarity I tell him no. Through a series of panicked calls to Audrey (cell service dies every few seconds), we convince him to abandon me next to the bus that dropped me off earlier—it should still be there. Even if that shuttle can't make it back to the hotel, maybe I can sleep in it for the night.
The van driver apologizes again as he lets me off across from my stop; the brown sludge on the main road is so deep he's afraid to cross it. He asks if I'm okay with this. No, I think again, not really. I tell him, "I understand."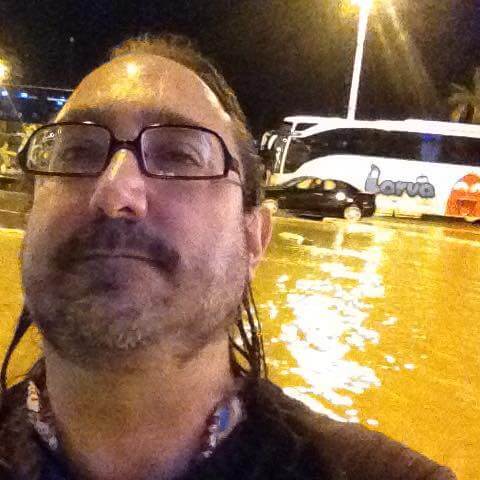 There's a break in the rain and I risk enough phone power to take a selfie in front of the swamp. I look for a place to cross, somewhere shallow. There isn't one.
I just start wading across the abandoned street; I try to ignore my suspicion that I am likely, quite literally, knee deep in shit.
The shuttle driver is chatting with another driver in another bus.
He looks at me.
I look like I snorkled to his bus.
He asks if I found the Grand. "Yes," I say. After considering me for a moment he lets me onto his vehicle. I decide that if he tries to throw me off before we get home, I'm not budging without a fight.
I collapse in the front seat.
Gradually, a handful of others return from the party to board. They all have umbrellas. They all look very dry.
The bus meanders through the small streets. I suspect the driver crushes a few Peugeots to do it.
When I get to my room I pour a hot bath as the power flickers on and off. As I slide into the tub I hear thunder. I know that lightning and tubs are another bad mix. I don't budge.
I wake to the news that the Grand Hyatt suffered severe water damage. MIPCOM events have been relocated; the festival's famous red carpet to kick off the fest for the 14,000 delegates has been cancelled. Then I discover that people have died—drowned in their cars, some washed out to sea. At least seventeen people are dead.
Cannes. Some glitz. Some glamour. The rain. Oh God, the rain.