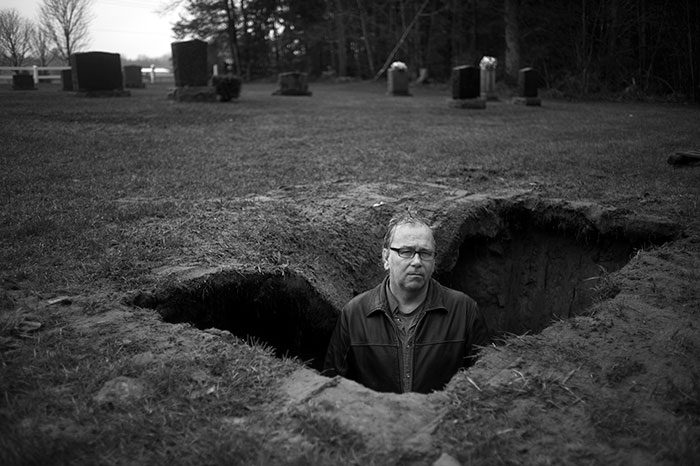 Tony Burgess lives in Stayner, Ontario, just south of Highway 26 off Airport Road, a scenic route that stretches from the runways of Toronto's Pearson International Airport to the shores of Lake Huron. On this late February afternoon, the writer is standing in the kitchen of the two-storey home he shares with Rachel Jones, a Crown attorney and his wife of twelve years, and their two children, eight-year-old Griffin and five-year-old Camille. Burgess, wearing a loose-fitting sweatshirt and jeans, with an unruly mop of grey hair, nurses a can of Creemore while his kids swarm around his legs like low-flying mosquitoes. The house sits on the edge of this small town of 3,000 residents, a fifteen-minute drive from Collingwood, whose Blue Mountain is visible in the distance. Around these parts, the family's house is known as the former Thistlewaite residence. Locals told Burgess that it was built in 1882 and at one point served the community's funerary needs. The writer points to an oddly shaped window on the kitchen's west wall, through which the bodies were delivered. Thistlewaite's daughter later inherited the house and filled it with cats. The nearby hardware store kept a specific brand of luggage in stock at all times, as it was Miss Thistlewaite's preferred type of casket. Casually, Burgess mentions the rumour that dozens of felines are buried in his backyard. "According to the previous owner, who claims to be a bit of a clairvoyant, the house is haunted by cats," he says.
Over the span of three novels and three short story collections, the fifty-one-year-old author has blended ultra-violent horror and absurdist humour, inflicting nightmarish narratives on the quirky citizens of small-town Ontario: think H.P. Lovecraft meets Stephen Leacock. In Burgess's 1998 debut novel, Pontypool Changes Everything, a language-borne virus transforms the residents of an Ontario community into zombies; in last year's short story collection, Ravenna Gets, the hamlet of Ravenna collectively decides to kill Collingwood. Canadian authors are routinely criticized for celebrating the rural over the urban; by setting his books among the villages and farming communities of southwestern Ontario, Burgess is acknowledging the cliché. But like other horror writers who explore the sinister side of small towns, he forces the reader to look past the supposed banalities of the rural experience and glimpse the darkness underneath.
In June, he published what might be his most surreal book yet: Idaho Winter, about a tormented boy who takes control of his surrounding world after learning he's a character in a book. It's a novel for young adults, a move that will unleash Burgess on a new and unsuspecting readership. The book is hilarious, heartfelt, yet absolutely brutal. Already, he has battled with his publisher, ECW, about how to market it. It might not work—hell, it shouldn't work—but that's Burgess for you. Failure is not only an option; it's often a preference.
"Tony is the ultimate contradiction," says Michael Holmes, his editor at ECW for nearly fifteen years. "He's both the most sane man I know and a mad genius. He's very practical, very impractical. He's very terrifying, very funny. He is capable of the most complex ideas and locutions and art, and the most banal, base, stupid humour at the same time. And that's what I've always loved about him: he's not afraid of the world."
"Tony was a born raconteur," says his friend William New, now a concert promoter in Toronto. The pair met at their junior high school in Mississauga, Ontario, and bonded over a shared interest in punk music, which was still in its infancy. One night, inspired by a double bill of A Clockwork Orange, and Straight Time, about a career criminal's unsuccessful attempts at becoming a law-abiding citizen, the pair robbed a convenience store—in drag (Burgess was wearing one of his mother's blouses). For that stunt, he was sentenced to three months in a medium-security facility and was granted day passes to finish high school.
He subsequentally became a fixture on the burgeoning art and music scene on Toronto's Queen Street West, adopting the name Tony Blue. When New began organizing shows, Burgess often opened them with a reading. "He'd literally be writing what he was going to read the day of the reading," New says. "Then he'd get up and do this brilliant reading, and he'd literally be tossing the pages aside as he finished them, never to pick them up again. That was indicative of his approach at the time. Things were fairly disposable—including himself, I think. The fact that he's still alive now is surprising if you knew him in his early twenties."
In 1989, Burgess enrolled at the University of Toronto, where he studied semiotics. Fred Flahiff taught him on two different occasions. "I don't know if I can speak of teaching Tony," he says. "I think one just clears the way for him." They became friends, and Burgess once gave the professor a gift: a drawing of a large eyeball, with Flahiff reflected within it. The eye is supposedly that of Coleridge's Ancient Mariner; the person reflected is the wedding guest, the mariner's reluctant listener. Next to Burgess's signature are written the guest's words to the mariner: "Hold off! Unhand me, grey-beard loon!"
"I've always felt the picture sums up something central in him," Flahiff says, "that he's the Ancient Mariner with a story to tell, and his audience is picked more or less at random. The audience has no choice but to listen, however reluctantly."
Burgess's first book was published in 1997: The Hellmouths of Bewdley, a collection of sixteen bizarre short stories, begins with a man waking up tied to a tree, handcuffed to a corpse, and it grows progressively more disturbing. In "Spring," a madman tries to raise an army of Amazonian warriors; in "Wrist," a guy attempting suicide is joined in the bathtub by a friend; in "The Bewdley Torture Society," a father murders his wife after she drowns their son. Burgess published Pontypool Changes Everything the following year, and Caesarea, a novel in which residents of a small town discover that miniature versions of themselves have taken over their homes, came out in 1999. Caesarea climaxes, as Burgess puts it, in "a wholesale carnival of dismemberment that lasts 100 pages." Twelve years later, he seems unsure of its merit. When I mention that I was about to reread the book, he says not to bother: "It may be unreadable." The effort required to penetrate his works may be why he has yet to achieve any sort of mainstream breakthrough.
"Tony is criminally underappreciated," Holmes says. "When you think about his talents, and the ambition in his novels, whether or not they succeed is beside the point. I love Tony as a writer, because he's willing to embrace spectacular failure. He pushes his own limits so far that even if a book doesn't work, he achieves so much."
Though praised by critics and respected by fellow authors, Burgess has never published a bestseller, nor enjoyed the backing of a major house. Not that he gives a damn; defying convention has been a hallmark of his career. "I don't want to write to CanLit expectations," he says of the historical fiction and multi-generational sagas that dominate award shortlists. "I'm obviously not anything like an A-list writer, nor somebody who's going to get on Canada Reads."
Indeed, he is not an easy read. His sentences twist and turn back on themselves like a Möbius strip. For instance, here's Dr. Rauf, in Pontypool Changes Everything, explaining the language-based disease: "Well, one of the first things to understand about this virus is that its existence is incomprehensible because it exists contrary to the way our rational minds comprehend. And because the virus is situated, quite physically, anterior to the process of comprehension itself." Burgess has also written several screenplays with director Bruce McDonald, only one of which has been produced: Pontypool, a loose adaptation of the novel, was released in 2009 and earned Burgess a Genie nomination for best adapted screenplay. "It took him a while to kind of surrender to the idea of what a screenplay is," McDonald says. "A novel can be much more free form and wild. Writing a screenplay is like creating specs for a Maserati or a Ferrari: it has to actually work." Burgess writes quickly; his 2010 novel, People Live Still in Cashtown Corners, took him nine days to finish. This speed—recklessness, one could argue—sometimes shapes the narrative. When his friend, the writer Derek McCormack, pointed out that at the end of Idaho Winter two major characters suddenly change names and genders, Burgess was at first incredulous, then just shrugged. "He didn't care at all," McCormack says. The "mistake" remains in the final version.
Idaho Winter, the disturbed central character in the novel of the same name, is a boy whose "unhappiness exceeds everyone's." His father, Early, serves him roadkill; the crossing guard directs cars to run him down; a neighbour trains a pack of vicious pit bulls expressly to rip Idaho to shreds. The only person to show him kindness is a classmate named Madison (based on, it should be noted, the daughter of one of Burgess's friends; he often incorporates friends and neighbours into his work). After she's brutally assaulted in an attack meant for him, Idaho learns that his life is not really his own; he's at the mercy of a writer who views mistreating his characters as the path to literary fame. Enraged, Idaho imprisons his creator and takes control of the world. When the writer breaks free, he discovers that his book has been transformed by Idaho in the most horrific ways imaginable. The novel finds Burgess at his deviant best, but it is unquestionably accessible to kids, with allusions to classic children's fare, ranging from The Neverending Story to the Choose Your Own Adventure series—tales that play with the idea of readers and characters controlling the narrative. "I enjoy that, of course," Burgess says. "I've always enjoyed unstable books."
The dystopian novel is au courant among young adult enthusiasts; witness the success of Suzanne Collins' Hunger Games trilogy, in which children must fight one another to survive, and Moira Young's Blood Red Road, a Mad Max for teen girls. Aesthetically, if not thematically, these books represent the polar opposite of the Harry Potter series' earnest coming-of-age magic, or Twilight's glossy teen angst. Idaho Winter at once validates and challenges this trend.
Although Burgess insists the book is for young adults, ECW plans to market it as a "young adult parody." At one point, he almost pulled the novel, but now he's resigned to its placement in bookstores. ECW has always given him a long leash, but maybe this is too strange even for them. "Tony has created a new genre, or as close to a new genre as you can get with YA," Holmes says. "You've got a woman with a head on her back narrating part of the book. Trying to explain that in thirty seconds to the buyer of kids' books at Chapters isn't going to go over easily."
Still, the novel's combination of gross-out humour, malevolent adults, and pop culture in-jokes (the members of Green Day feature prominently) should appeal to a younger crowd. In a sense, Burgess is a misfit kid writing for other misfits; he knows their language. Watching him interact with Griffin and Camille, it's easy to forget who is the parent and who is the child. When asked what about his father he'd like people to know, Griffin replies, "That he's crazy, and that he's weird." There's a childlike innocence and neediness to Burgess that makes him endearing. Recently, McCormack went to the gym and returned home to fourteen missed calls from Burgess: "If he doesn't get me, it makes him so mad he calls back every two minutes." More than once, he adds, Burgess had called to say he had locked himself in his shed, and was just waiting for Rachel to come home and let him out.
Later on the night we meet, Burgess and Jones are sitting in the den, where they work at separate desks, a couple of metres apart. One of Burgess's shelves is jammed with so many books it resembles a Tetris screen, while Jones's case files are strewn across the floor. They tell the story of Burgess's brief musical theatre career, back in 1998, when they'd just moved from a flat in Toronto's Parkdale neighbourhood to a "shack by the river" in Wasaga Beach, Ontario, a resort town on Georgian Bay. Jones's law career was getting off the ground, leaving Burgess alone for much of the time. He was going stir-crazy, immersed in a Shining-like isolation about as far removed from the Queen Street West strip as one can get. "I think writers fear real solitude," he says. One night, he opened a copy of the Wasaga Sun, vowing to join the first club or organization he came across; he noticed that the local theatre company was holding auditions for Oklahoma! After auditioning, he was offered the lead role of Curly.
"That was before I had kids, so I went to every show," says Jones, who had been terrified that her husband would flop. "He was great, but it was nerve wracking."
"I still have nightmares about forgetting my lines," says Burgess.
"He would open the show from the back of the theatre with Oh, What a Beautiful Mornin'," she says. At this, Burgess launches into the song. He has a surprisingly strong voice, and Jones shushes him, motioning to the kids' bedrooms upstairs. "I remember at the time my heart just seizing in my chest. It was scary. But you did awesome."
This appeared in the July/August 2011 issue.