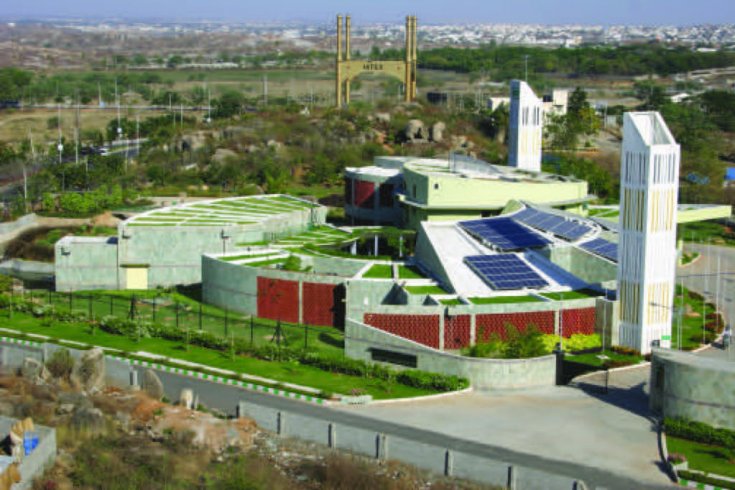 hyderabad — There's a large statue of Mahatma Gandhi seated in meditative repose in front of the Andhra Pradesh state legislature in Hyderabad. He might be the only person in the whole city who's found any peace. Outside the legislature's imposing iron gates, a wide boulevard eventually branches into narrow roads and cross streets that are choked with clanging, growling, belching, barely crawling traffic—traffic that is truly awful even by the formidable standards of urban India.
Hyderabad, once a mid-size city best known as the historic stronghold of Muslim culture in otherwise deeply Hindu South India, has been stampeding toward megalopolisity for nearly a decade on the strength of a massive high-tech boom that has earned it the nickname "Cyberabad."
The city's most miraculous feature lies in the hills west of this congested core amid a wide, rock-strewn expanse of blessed emptiness populated only by a few diligent cows and the skeletons of a couple of office blocks. It is a vision of harmonious, smogless calm: a low-slung, greenery-encrusted structure that goes by the awkward moniker of the Confederation of Indian Industry""Sohrabji Godrej Green Business Centre (cii-Godrej gbc). It was, astoundingly, the first structure outside the US to earn a Platinum certification from the United States Green Building Council under the Leadership in Energy and Environmental Design (leed) rating system. When it opened in July 2004, it was only the third building in the world to receive this supreme grade.
With a roof carpeted entirely in grass save for one south-facing expanse shingled in solar panels, walls built from concrete bricks impregnated with the fly-ash waste of coal-fired energy production, and lush grounds irrigated by the centre's run-off rainwater, the cii-Godrej gbc is incongruous in a nation of two-stroke motors and unregulated urban sprawl. More than 75 percent of the material used in its construction—including every last pebble of the four thousand cubic metres of rock removed to clear the site itself—is recycled. The building's overall energy use is half the norm. It is flanked by two fetching whitewashed spires, hollow and open-mouthed, whose inner walls run with dripping water to pre-cool incoming air before it hits the building's air-conditioning system, thereby conserving power. And there's more: double-glazed glass to reduce the a/c's workload further still, a recycled steel frame, interior furnishings topped with bagasse, a formica-like material made from the fibres of sugar cane. Recycled carpets. Waterless urinals in the men's rooms. The site even sports two charging stations for electric vehicles.
So extensive is the cii-Godrej gbc's list of innovations that it's tempting to ask at the reception desk to see the centre's white elephant. Instead, I'm greeted by project manager S.C. Kumar, whose initial remarks seem to confirm the notion that the centre is merely a meticulously executed vanity project.
The cii-Godrej gbc, Kumar tells me, was born at a photo op. During his 2000 visit to Hyderabad, Bill Clinton announced the US government's intent to help India set up an environmentally minded business centre. The then—chief minister of Andhra Pradesh, Chandrababu Naidu, met this with a grand declaration of his own, promising five vacant acres upon which to build the thing. In due course, a high-minded business association (the cii) and a diversified industrial powerhouse (House of Godrej, the Mumbai-based makers of everything from hair dye to forklifts) were brought in to augment the expertise and seed money provided by the United States Agency for International Development. A team of Indian architects and engineers headed off to the United States soon after for a crash course in sustainable construction. Ground was broken in Hyderabad in 2002, and two years later the cii-Godrej gbc opened its doors with a staff of thirty-five (mostly engineers and architects) and a vague but ambitious mandate. "Even right in the beginning," Kumar assures me, "one of the areas of our activity was to promote and facilitate and work as a catalyzer for the green-building movement in this state"—seemingly as noble yet ineffectual an endeavour in rapidly industrializing India as an oil company's glossy ad for its infinitesimal renewable-energy division.
Except that, miraculously, this lovely white elephant, not even two years old, has already birthed a whole herd. Under the guidance of the cii-Godrej gbc's team of newly minted green-building experts, the Indian software giant Wipro and the Indian Tobacco Company, of all firms, both built Platinum-certified corporate offices near Delhi. The Danish industrial-pump manufacturer Grundfos built a Gold-certified office complex in Chennai. Another dozen or so buildings are now in the works across India. Costs are dropping rapidly: the cii-Godrej gbc's price tag of $2.4 million was about 25 percent higher than a similarly equipped conventional building, while the Grundfos facility cost only about 6 percent extra (before factoring in energy savings). The heat-blocking glass in the cii-Godrej gbc's windows was imported from Belgium; the same glass is now produced in Chennai. Fly-ash brick manufacturing has become a growth industry in India as well.
These are small steps, to be sure, but significant ones in a place where a Green Business brochure has to explain what it means by "green." "This awareness is gradually growing," Kumar concludes. "It's not very massive—it will take a long time."
Meanwhile, back in the white elephant's belly, a young cii-Godrej gbc architect named Prasad Jadhav discusses the green-building module he's been formulating for use in Indian architecture schools. Hearing him draw parallels with the sudden leap into modernity made by Indian software engineers a few years ago, the revolutionary potential of the centre becomes apparent. "We have the luxury to learn from abroad," says Jadhav. "And not repeat the same mistakes."