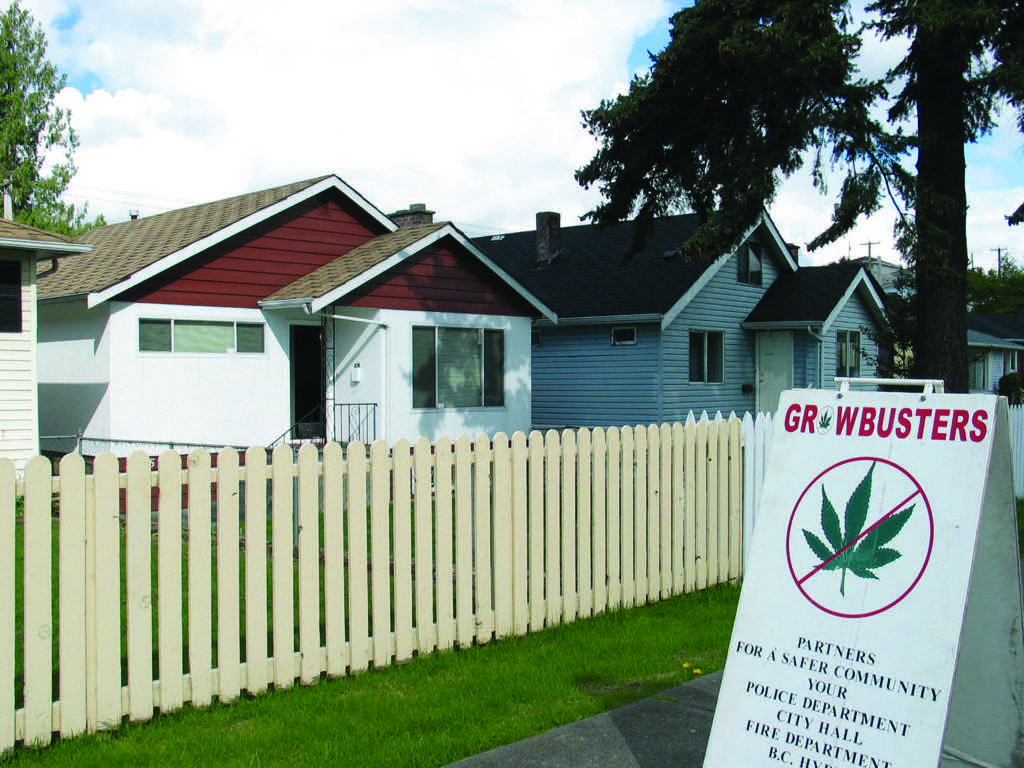 vancouver—As she strolls through the streets of her working-class neighbourhood lined with bungalows and post-war homes, Chris Taulu can quickly spot, if not smell, the proliferation of marijuana grow ops. It could be the heavily cloaked windows, explains the white-haired, sixty-eight-year-old grandmother. Or perhaps it's the humming fans, broken planter pots piled up in the garbage bins, and, unmistakably, a whiff of skunk in the air. Taulu's walks take her past just one small segment of British Columbia's marijuana industry: observers on both sides of the law estimate that the province's 15,000 commercial "grow shows" produce about $5 billion worth of product annually, most of which is exported to the United States.
While most Canadians believe marijuana is a relatively harmless drug, that is not a popular opinion in neighbourhoods where it is grown. "It's not cute, and it's not funny. It's organized crime," says Taulu, who lives in Collingwood, a section of East Vancouver. "The police took down two blocks not far from here where fifteen out of forty houses were grow operations. Another block had five out of six. When the growers move in, they bring trouble. We've had house fires, drive-by shootings, murders, home invasions. It's a nightmare."
As she patrols the neighbourhood, Taulu projects the image of a strict and beloved grade-school teacher, a job she once held. She brought that attitude to bear when she and her neighbours created the Collingwood Community Policing Centre. They formed vigilante teams, setting up foot and bicycle patrols to keep an eye out for new grow houses, which they then reported to the Vancouver Police Department. They also set up a website with a guide to spotting grow ops. But they soon learned that the cops were overwhelmed with complaints, and BC courts were lenient on growers. "Nobody goes to jail for growing marijuana," complains Taulu, sitting in the kitchen of her modest two-bedroom home. "And there's so much money in it, the growers don't mind paying a small fine if they get caught."
Undaunted, Taulu went a step further in her battle and managed to shake loose some money out of city hall for a new marijuana squad, which she and Vancouver Police Sergeant Tom Cork dubbed Growbusters, after the 1984 hit movie Ghostbusters. Cork then selected a six-officer squad and assembled a stack of leads, many of which had come from Taulu's own patrols. Now, twice a week, a big white van with growbusters.ca painted in large green letters on the side rolls out of a police garage and heads off on another series of raids.
When the police arrive at a suspected grow house, they knock loudly, announce their warrant, and force the door if no one answers. Then Cork and his team place their portable advertisement on the boulevard—a large sandwich board announcing to the neighbourhood that another grow op has been taken down courtesy of Growbusters. A curious crowd quickly gathers, and as the cops carry great, bushy marijuana plants out of the house, you can almost hear them humming a slightly altered version of the famous theme from Ghostbusters: "If there's somethin' green in your neighbourhood, who ya gonna call?"
Over the last five years Growbusters, working in tandem with Taulu volunteers, have busted 1,600 grow ops, charging those involved with a variety of criminal offences, as well as breaking municipal bylaws. In the process, they have managed to suppress the marijuana industry to the point where it is getting harder to find a grow house in her neighbourhood. "We must be doing something right, because we've been getting inquiries from Toronto and other cities that want to start Growbusters teams of their own."