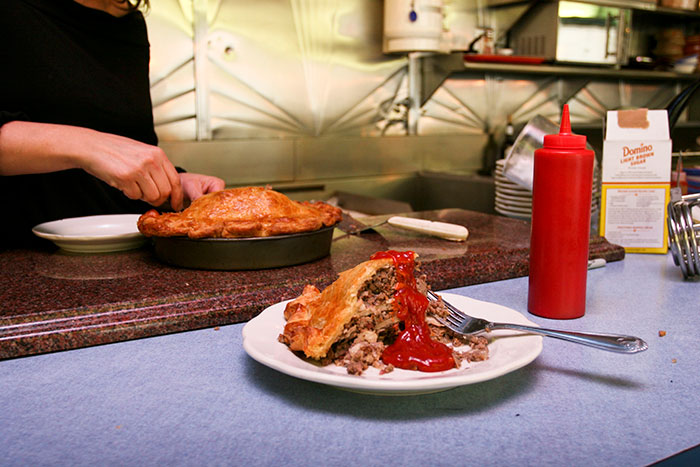 The first time my American boyfriend spent the holidays with my family in Montreal, the tourtière amused him to no end. I had explained that we would have meat pie; he expected something akin to the delicate mincemeat pastries of a Dickensian Christmas. He was surprised to see more meat than pie served out of a wide, deep pot that could have fed a small army wintering over on the St. Lawrence, not to mention the customary squirt of ketchup my aunts and uncles topped their slices with. Then, in 2009, Sarah Obraitis, a partner in Heritage Foods USA, started peddling that most un-American dish, tourtière, around New York, and it was my turn to chuckle. Here was a quintessential Québécois peasant dish being passed off as a specialty gourmet food in the culinary capital of the US. The filling meat pies of my youth quickly became all the rage among Brooklyn foodies, selling for $30 a pop around the holidays.
I should have expected it. Foods from my native Montreal had been gaining popularity in the Big Apple for some time. Poutine, that late-night fix of french fries, gravy, and squeaky cheese curds, can be found at many New York establishments, either as ironic fare at hipster hangouts, or as gussied-up gut bombs in progressive greasy spoons. Its appeal—as with so much of Quebec's hearty, rustic fare—makes sense in the current economic downturn: shrinking budgets have forced diners out of high-end restaurants, and many haute cuisine chefs have turned to cooking soul food and pub grub.
A Mystery Ailment
The afflictions of mercenary life

Sandi Falconer
From the thirteenth century onward, Swiss mercenaries travelled throughout Europe, highly sought after for their tactical prowess. But "summer emigration," as they called it, took its toll on the hardened soldiers, who were often plagued by weakness, insomnia, anxiety, and loss of appetite. Their symptoms remained a mystery until the seventeenth century, when Swiss physician Johannes Hofer had a flash of insight while treating a young man on his deathbed. Hofer diagnosed him with mal du pays, or homesickness, and prescribed that he return to his home country. Before the soldier departed, his condition had already improved.
—Amirah El-Safty
In 2010, about six months after reinventing tourtière as a Brooklyn trend, Obraitis opened the M. Wells diner in her native Queens, with her husband, Hugue Dufour, a former chef and partner at Martin Picard's acclaimed Au Pied de Cochon restaurant in Montreal. With its 1950s chrome exterior and low luncheonette counter, M. Wells may have looked old school, but the menu was unlike anything New Yorkers had ever seen. Dufour included tourtière but opted to omit poutine. (He had prepared tens of thousands of poutine orders and was ready for a break.) Like his mentor, enfant terrible chef Picard, Dufour insisted on using as much foie gras as possible, slapping it onto everything from mushroom soup to grilled cheese. Eclectic? Sure. Iconoclastic? Perhaps. But is Dufour's cooking specifically "Montreal"?
That same year, a twentysomething couple, Noah Bernamoff and Rae Cohen, who met at McGill, opened Mile End in Brooklyn. They billed their enterprise as a "Montreal Jewish deli." The house-smoked brisket and St-Viateur bagels raised more than a few eyebrows among the local deli orthodoxy, some of whom mistakenly believed their city had invented dough rings and saw the parboiled Montreal version as heresy. One article dubbed Mile End the "Deli Provocateur."
It didn't take long for New Yorkers to figure out that smoked meat wasn't some newfangled version of pastrami, but actually a long-held Montreal Jewish tradition. And that it was really good: in its first few months, Mile End often sold out of brisket by 2 p.m. Some patrons even decided that they preferred Montreal bagels—skinnier, sweeter, and chewier than New York ones.
When most New Yorkers think of Montreal cuisine, they think of Picard's legacy, a cooking style that is both playful and irreverent, with ingredients that often contradict one another, assembled with an eye to excess and a touch of the kooky. Ringing endorsements from Anthony Bourdain (who has called Au Pied de Cochon his favourite restaurant) and the New York Times (which trumpeted Picard's sold-out cookbook as a "publishing phenomenon") have made Picard something of a celebrity in New York, and have paved the way for his acolytes.
The tipping point came in 2011, when restaurateur Gabriel Stulman announced that he was installing Au Pied de Cochon alumnus Mehdi Brunet-Benkritly at the helm of his über-hip restaurant Fedora in Manhattan's West Village. The news sent the food media into a frenzy. Soon, people were talking about the "Montreal food invasion," as though tourtière and skinny bagels and whatever Brunet-Benkritly was cooking (crispy pig's head with greens and creamy sauce gribiche; chicken liver and pickled red cabbage on toast) were somehow all related. In Montreal, each of these would constitute its own genre, representing just one of the city's many dining options, alongside Ethiopian, Greek, and dollar pizza slices. But in New York, this cuisine has become its own regional category, made up of Montreal's greatest hits and whatever its expats—especially those who hail from Picard's temple to pork fat and foie gras—deem worthy of whipping up.
The foods I missed most when I first moved to New York (smoked meat on rye, poutine, tourtière) are now just a subway or cab ride away. New Yorkers often invite me out to share these dishes with them, perhaps to gauge their authenticity. It's hard to say no. Hearing the accents of my compatriots at these establishments and experiencing the smells and flavours of home tugs at my heartstrings. But, inevitably, the transplanted versions don't taste quite right: the poutine fries are never greasy enough; and instead of the sacrosanct yellow condiment, the smoked meat sandwiches get slathered with the brown mustard Manhattan hot dog vendors use. I still prefer to save my poutine and smoked meat fixes for when I return to Montreal.
As for tourtière, Obraitis and Dufour—to both my pleasure and dismay—do get it right. Although the couple was forced to close down M. Wells last August, when the landlord jacked up their rent, I can still buy their version over the holidays, by placing an email order with Obraitis. They offer the same Tourtière du Lac-St-Jean my family serves at our Christmas réveillon, a far more elaborate recipe than the stolid ground beef pies sold at Quebec supermarkets. Dufour makes his pies in the same spirit of resourcefulness as my own family does, with whatever meat trimmings might be found in the kitchen that day. (I trust they will feature the tourtière on the menu at their new venture, slated to open in early 2012.)
At my family's annual réveillon, tourtière might include leftover moose from my uncle's fall hunting trip; wild hare caught in the backyard; plus beef, pork, potatoes, onions, carrots, and celery; all cubed, doused in beef stock in a large pot lined with pie crust, and baked slowly over many hours. And therein lies what's missing from New York tourtière: it will never match the tradition-infused pies my family hunted for and prepared together over a long winter holiday. It's why I'll always keep going back to Montreal for a true taste of home.
This appeared in the January/February 2012 issue.