Beyond the beliefs that divide
by Gretta Vosper
Religions, spirituality: what do we mean?
by Michael Ingham
Let's have church
by Nicole Brooks
Have we yoga-fied spirituality?
by Timothy Caulfield
Find yourself a study partner
by Joan Garson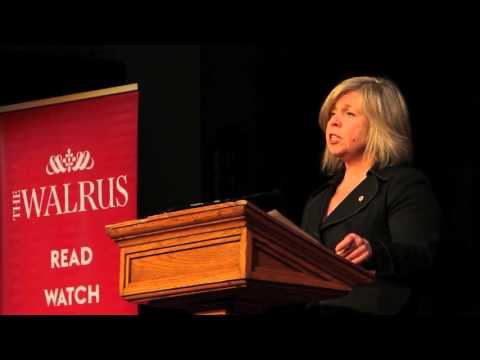 A hope and a prayer for places of faith
by Natalie Bull
Canada-Kanata: it's all about relationships
by Lewis Cardinal
The Walrus Talks Spirituality
FULL SHOW
Featuring:
"Religions, Spirituality: What Do We Mean?" by Michael Ingham, retired bishop and theologian
"Canada-Kanata: It's All About Relationships" by Lewis Cardinal, Cardinal Strategic Communications
"Find Yourself a Study Partner" by Joan Garson, president, Holy Blossom Temple
"A Hope and a Prayer for Places of Faith" by Natalie Bull, National Trust for Canada
"Have We Yoga-fied Spirituality?" by Timothy Caulfield, author
"Beyond the Beliefs that Divide" by Gretta Vosper, minister, United Church of Canada
"Let's Have Church" by Nicole Brooks, creator
---
Michael Ingham served for twenty years as the Anglican Bishop of Vancouver until his retirement in August 2013. He is the author of three books on theological topics. For more than a decade, he pioneered equality rights for LGBT people throughout the worldwide Anglican Communion. Michael has been the subject of profiles in BC Business and the New York Times, among other publications. The Vancouver Sun named him the sixth most influential spiritual leader in British Columbia's history.
---
Lewis Cardinal is the owner of Cardinal Strategic Communications, which specializes in Indigenous education and governance. He was a founding board member of Racism Free Edmonton, vice-president of the John Humphrey Centre for Peace and Human Rights, founder of the Indigenous Peoples' Arts and Culture Coalition, founding board member of Alberta Aboriginal Arts, and co-chair of the Aboriginal Commission on Human Rights and Justice. Lewis has received the Queen Elizabeth II Diamond Jubilee Medal, the Indspire Award for public service, the Alberta Centennial Medal, and the Distinguished Alumni Award from MacEwan University.
---
Joan Garson is the president of Holy Blossom Temple, Toronto's oldest synagogue. She is also the immediate past chair of Arzenu, the International Federation of Reform and Progressive Religious Zionists; she held executive roles at both the Jewish Agency and the World Zionist Organization; and she is president of the New Israel Fund of Canada. A graduate of the University of Toronto, Joan has practiced law since 1980 and is currently in-house council at Baskin Wealth Management.
---
Natalie Bull is the executive director of the charitable National Trust for Canada, part of a global network of organizations that protect and celebrate places that matter. Previously, she was on the City of Ottawa's heritage planning team and later the federal government's Heritage Conservation Directorate, where she worked with project teams at Bar U Ranch, Parliament Hill, and the Canadian National Vimy Memorial in France. Natalie is happiest when glazing sash or jacking up the barn at her 1850s New Brunswick farm on the Saint John River.
---
Timothy Caulfield is a Canada Research Chair in health law and policy, a professor at the University of Alberta's Faculty of Law and School of Public Health, and research director of the university's Health Law Institute. He is also a fellow of the Trudeau Foundation and the principal investigator for a number of interdisciplinary projects on ethical, legal, and health-policy issues. Timothy wrote two recent bestsellers, The Cure for Everything: Untangling the Twisted Messages about Health, Fitness, and Happiness and Is Gwyneth Paltrow Wrong about Everything?: When Celebrity Culture and Science Clash.
---
Gretta Vosper is the author of the national bestseller With or Without God: Why the Way We Live Is More Important than What We Believe as well as Amen: What Prayer Can Mean in a World beyond Belief. Gretta continues to lead West Hill United Church, although the United Church of Canada is reviewing her position because of her atheistic beliefs. Gretta serves on the board of the Canadian Centre for Progressive Christianity; she is a governor of Centennial College; and she is a director and officer of the Clergy Project, an international network for clergy who no longer believe.
---
Nicole Brooks is a filmmaker, performer, singer, playwright, composer, curator, and teacher. She spent over fifteen years producing innovative content for the stage and screen, with a focus on the African Diaspora. Her debut theatrical work, Obeah Opera—which she created, wrote, composed, and performs in—received a Dora nomination in 2012 and had its premiere at the Toronto 2015 Pan Am / Parapan Am Games.
---