The Walrus Talks is a national series of events produced by the charitable, non-profit Walrus Foundation as part of an educational mandate to provide forums for conversations on matters vital to Canadians. Each event offers lively, thoughtful, inspiring, riveting, smart, new thinking.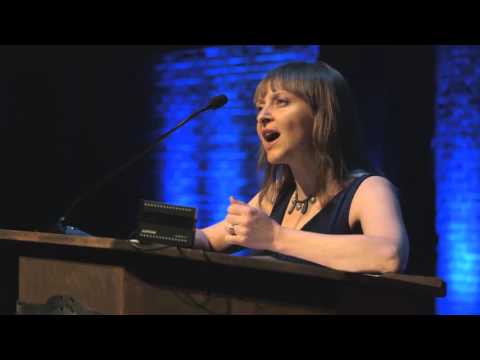 Featuring
"Helpful Kids, Healthy Communities" by Kristen Dunfield, Concordia University
"Mental Health: What Will It Take?" by David Goldbloom, Centre for Addiction and Mental Health
"Cognitive Bias, a Leading Cause of Death" by Alika Lafontaine, Indigenous Health Alliance
"What If We Had a Brain Retirement Plan?" by Louis Bherer, Concordia University
"The Differential Diagnosis of Chest Pain" by Bruce Gao, SHAD fellow and first-year medical student
"The Disappearing Act" by Teva Harrison, artist and writer
"Without Hope, There's No Health" by Waneek Horn-Miller, Indigenous Olympian and advocate
"Changing My Mind" by Margaret Trudeau, author, celebrated Canadian, and mental-health advocate
---
Kristen Dunfield is an Assistant Professor of Psychology at Concordia University and a member of the Center for Research in Human Development. She studied at the University of Calgary (B.A.) and Queen's University (M.A. and PhD) and completed a postdoctoral fellowship at the Ohio State University. Kristen's research examines the development of trust and altruism from social, cognitive, and evolutionary perspectives. Her research is funded by the Social Sciences and Humanities Research council of Canada and the Fonds de Recherche du Québec – Société et Culture and has been featured in the Nature of Things (Babies: Born to be Good?) and New York Times Book Review Editor's Choice Just Babies: The Origins of Good and Evil.
---
David Goldbloom, senior medical advisor at Toronto's Centre for Addiction and Mental Health, is a graduate of Harvard, Oxford (where he was a Rhodes Scholar), and McGill Universities. In 2007, he was appointed vice-chair of the Mental Health Commission of Canada, where he served as chair from 2012 to 2015. Simon & Schuster Canada will publish his latest book, How Can I Help? A Week in My Life as a Psychiatrist, in February 2016.
---
Alika Lafontaine is an award-winning physician, speaker, alignment consultant, and the first Indigenous physician listed by the Medical Post as one of Canada's 50 Most Important Doctors. In 2015, he created the Indigenous Health Alliance to implement the Truth and Reconciliation Commission's calls to action on health. The alliance counts the Royal College of Physicians and Surgeons of Canada, the College of Family Physicians Canada, the Canadian Medical Association, the Assembly of First Nations, and the Indian Residential School Survivors' Society among its members. Alika sits on the council of the Royal College of Physicians and Surgeons and is president of the Indigenous Physicians Association of Canada.
---
Louis Bherer is a professor of psychology at Concordia University, where he also serves as scientific director of the Perform Centre and chair in preventive health science research. He held the CIHR Canada Research Chair on Aging and the Prevention of Cognitive Decline at the Université du Québec à Monréal. Louis completed a post-doctoral fellowship in aging and neurosciences at the University of Illinois's Beckman Institute for Advanced Science and Technology. His research program is currently supported by the CIHR, NSERC, and the CFI.
---
Bruce Gao, a SHAD Fellow and first-year medical student at the University of Calgary, co-founded Simply Solar, an app that aligns solar panels in 130 countries. Bruce was inspired to act after attending SHAD, a prestigious program for high-achieving youth. The recipient of a $60,000 Schulich Leader Scholarship, Bruce is now considering ideas for new apps to improve health care. A recent health scare intensified his passion to make a difference.
---
Teva Harrison is a writer and graphic artist. She is the author of the critically acclaimed graphic memoir, In-Between Days, which is based on her graphic series about living with cancer published in The Walrus. It was named one of the most anticipated books of 2016 by the Globe and Mail, which also named the author one of 16 Torontonians to Watch. She has commented on CBC Radio and in the Globe and Mail about her experience. Numerous health organizations have invited her to speak publicly on behalf of the metastatic cancer community. She lives in Toronto.
---
Waneek Horn-Miller is a sports commentator for CBC and APTN, a motivational speaker, and a community advocate for sport, fitness, and wellness. As one of Canada's few Aboriginal Olympians, Waneek encourages Aboriginal and non-Aboriginal leaders to make sport and wellness a community-building priority. Waneek is also the brand ambassador for Manitobah Mukluks, an Aboriginal-owned footwear company.
---
Margaret Trudeau is a Canadian icon, celebrated for her role in the public eye and as a respected mental-health-issues advocate. Margaret shares her personal experiences—from becoming a prime minister's wife at a young age, to the loss of both her son and her former husband, to living with bipolar disorder—to remind others of the importance of nurturing the body, mind, and spirit. Margaret is the author of four books, including the bestseller Changing My Mind and her latest title, The Time of Your Life. She sits on the executive advisory board of the UBC Institute of Mental Health and is the honorary president of WaterCan, a non-governmental agency helping communities in developing countries build sustainable water-supply and sanitation services.
---
---