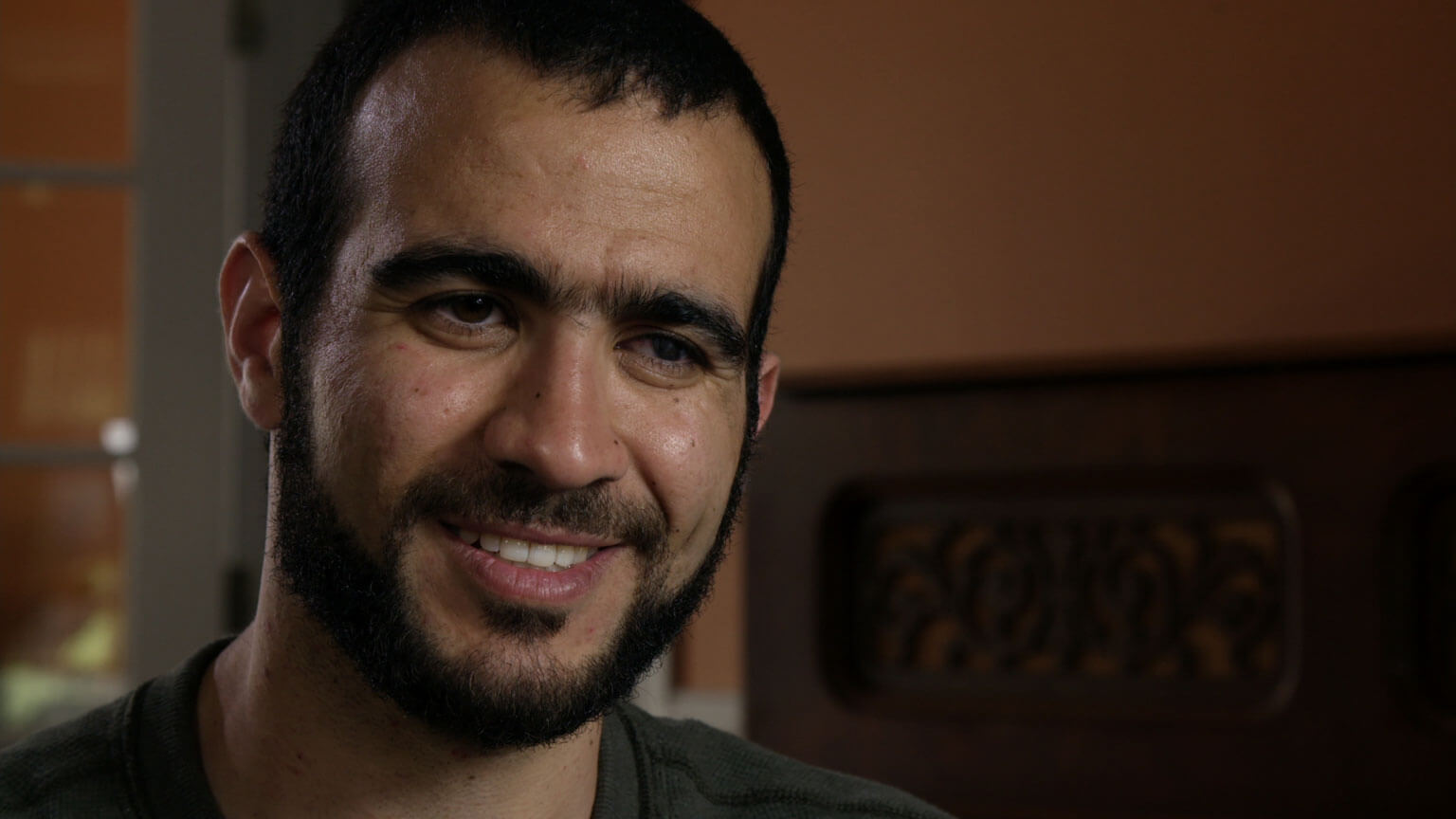 A husband, wife, and young man sit around the kitchen table, eating soup and cracking jokes. Based on the ease with which they banter, the young man could pass for their son. But he's not. And while the scene seems typical, it is anything but.
This is one of Omar Khadr's first days of freedom and one of his first real-world meals since he was released on bail last May. He has been living at the Edmonton home of his lawyer, Dennis Edney. Despite the weight of Khadr's adjustment, the chatter around the table remains light.
"You've got to love something in life, and I love soccer. What do you love—apart from me?" Edney says to Khadr, making a goofy face.
Khadr laughs, and takes a moment to consider his answer. "I like goodness, I like peace, I like happiness, I like joy," he says. "It's all abstract ideas. I'm still new in the material world." Khadr glances at the camera filming to his left.
"What about people?" Edney pushes him, his tone jovial. "Haven't you interacted with human beings in the last number of years?"
"Yeah," Khadr responds, like an overgrown teenager saying, Duh, Dad. "I like people."
Edney's wife, Patricia, chimes in: "Those are beautiful things that you just said."
Edney, meanwhile, pretends to snore. Khadr laughs again, then offers: "I like cars. There's a lot of likes that I have. I don't know. Love is a strong word."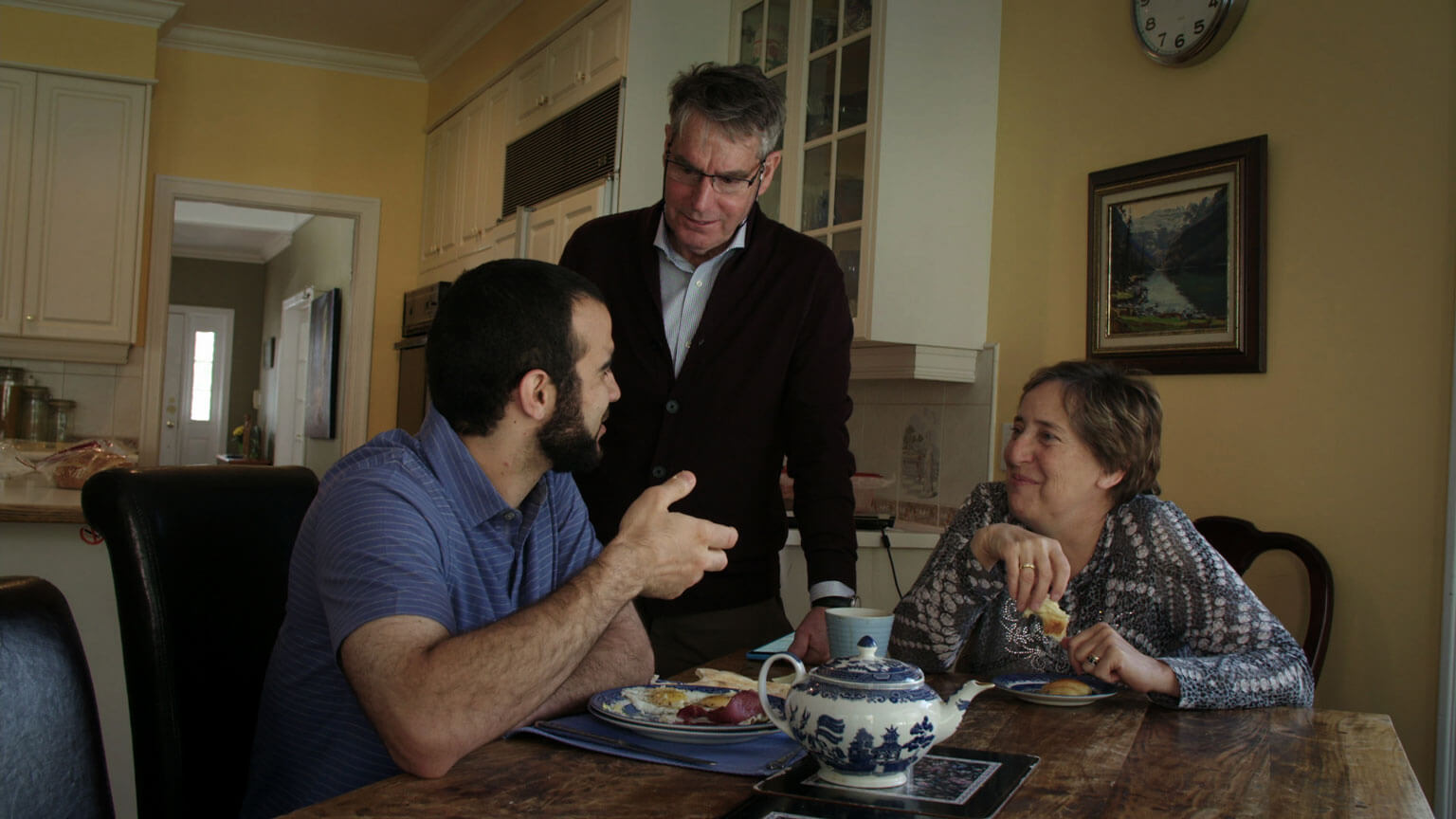 The scene comes near the end of Guantanamo's Child: Omar Khadr, a documentary directed by Patrick Reed and Michelle Shephard, and is one of many that offer a glimpse into the twenty-nine-year-old's life after thirteen years of incarceration.
The film premiered at the Toronto International Film Festival last fall, and it marks the first time Canadians can see and hear from Khadr himself, at length. Until now, save for a brief press conference on the Edneys's lawn last year after his release, what we know and think about Khadr has come from second-hand sources: news reports, Canadian government ministers calling him a "convicted terrorist," and human-rights defenders such as Romeo Dallaire describing him as a child soldier,too young to understand the consequences of his actions.
After years of publicity and controversy, the documentary presents a surprising perspective: Omar Khadr seems normal.
"For the longest time all I would tell to anybody is that I wish I could just get out of prison and be the next Joe on the street who nobody knows," he says. "That would be my ideal life."
Khadr will never be an average Joe, as much as he tries to appear that way on camera. Someone who spent his formative adolescent years being tortured in Guantanamo cannot possibly reintegrate seamlessly into society.
Born in Toronto in 1986, Khadr moved with his family to the Middle East when he was eight, living in Pakistan and Afghanistan, and, for a time, in Osama bin Laden's compound in Jalalabad. Khadr's father was suspected of funding Al Qaeda attacks, and his family has been called "Canada's First Family of Terrorism."
In Afghanistan in 2002, American soldiers captured fifteen-year-old Khadr after a firefight in which Sgt. Christopher Speer was fatally wounded. He was taken first to the US prison at Bagram, and then moved to Guantanamo Bay when he was sixteen, and charged with war crimes. He accepted a deal in 2010, pleading guilty to throwing the grenade that killed Speer in exchange for an eight-year sentence and a way out of Guantanamo. He returned Canada to serve the remainder of the sentence in 2012, and here he recanted his confession and appealed the conviction.
Last Thursday, the Liberal government announced it was dropping the appeal of Khadr's bail that the Conservatives filed last year.
Shephard, a Toronto Star reporter, has covered Khadr's case since he arrived at Guantanamo. At a screening at the Calgary International Film Festival last fall, she said it was important that Canadians see him for themselves.
The documentary offers a sympathetic portrayal. Interviews with American soldiers denouncing Khadr as a killer and footage of him as a young boy building bombs in Afghanistan are tempered by the description of his treatment in prison. Men who knew him inside remember how out of place he seemed—a child in a hellhole. One former detainee at Bagram recalls Khadr returning to his cell after interrogations, looking exhausted and dazed. Khadr says prisoners were beaten, drugged, sexually abused, and waterboarded.
At Guantanamo, according to a US brigadier general, the Americans subjected Khadr to the "human mop technique"—denying access to a toilet in order to force him to urinate on the floor, then making him clean it up by rolling around in it. The "frequent flyer program" was also used—a sleep-deprivation tactic that had Khadr being awakened every two hours. We see him sobbing in an interview with an official from the Canadian Security Intelligence Service, saying, "You don't care about me."
The depravity of all of this, and what it must do to a person, is nearly irreconcilable with the man who emerges from the Edmonton courthouse near the end of the film. He's polite, immediately likeable, and almost child-like in his earnestness. When a reporter asks him what he'd like to say to Prime Minister Stephen Harper, Khadr replies with a smile: "I'm going to have to disappoint him. I'm better than the person he thinks I am."
Watching Khadr, you'd think he has reintegrated smoothly and fully into society. His life is fascinating in its mundanity: he scolds Patricia for not eating breakfast regularly, and he pals around with Edney, more like father and son than lawyer and client.
It feels like a heart-warming happy ending, but we're peering through such a small window, there's no way we can see the full picture. No doubt Khadr will face challenges going forward, once the cameras stop rolling and his "freedom high," as he puts it, comes to an end.
"I think some people will walk away and say, 'Wow, that's remarkable. What a well-adjusted guy for what he's been through,'" Shephard said in a CBC interview. "And I think other people will think, 'Oh, isn't he smooth? He's a bit of a charlatan. How could he not be bitter? He's trying to pull the wool over our eyes.'"
There are moments in the film that hint at something darker, at what may be going on inside Khadr's head and his struggle to overcome trauma. He admits that during his first night of freedom at the Edneys', he lay awake for hours.
He says that in some ways he's still like a fifteen-year-old kid. He struggles with talking to new people and standing up for himself. In Guantanamo, he says, he became adept at concealing his emotions. "It's going to take some time, hopefully not too long . . . to ease up and let that guard down. One of these days, I'm just going to crawl under the bed and just cry my eyes out."
We don't know how Khadr is coping day by day, and we don't get a sense of how he will handle the momentous task ahead of him—perhaps because he doesn't want us to. He is media-shy (Shephard has said he was reluctant to participate in the documentary) and if his wish is to fade quietly into obscurity, spilling details about his inner demons won't help assuage the public's captivation, or nervousness, with him.
While awaiting the judge's bail decision, Khadr told Edney that when he got out he wanted to go swimming. After, they went to a nearby lake and Khadr spent hours in the water.
"Prison is a place where you're really held down, like you almost feel the gravity, everything is weighing you down," Khadr said at the film's screening in Calgary. "For me, water is very symbolic because it gives you this sense of weightlessness. I just enjoy it."