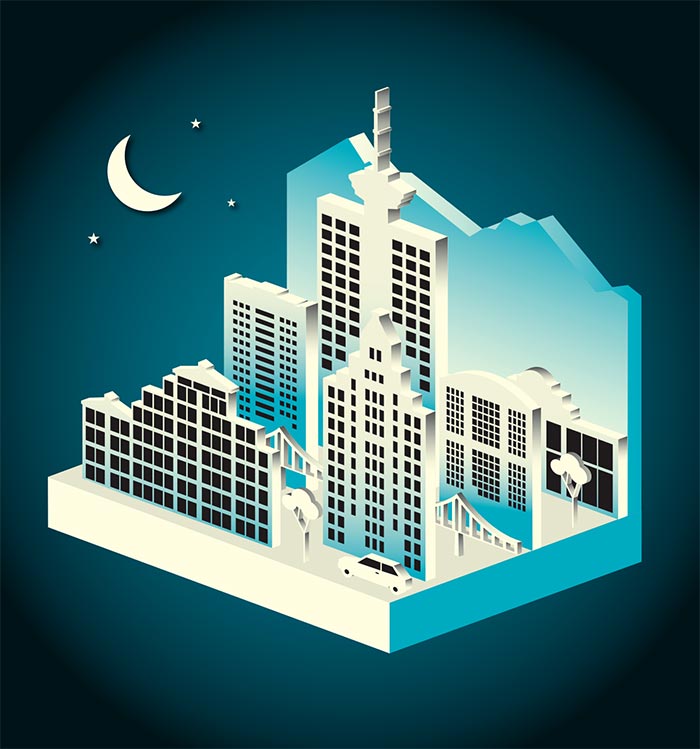 If cities are like human bodies, as Paul Merrick says, then West Vancouver is the city's long left arm thrown out into Burrard Inlet. Marine Drive, the road that hugs much of West Van's coast, is the ticklish inner arm, and I'm driving it into the city's heart. The Lions Gate Bridge, recently widened, is like a glittering stent in a subclavian vein—the Stanley Park Causeway—that pumps in traffic, and I am stuck in that traffic. By the time I pick Merrick up at the Harbour Air seaplane terminal, deep in the garage guts of the brand new Vancouver Convention Centre, it has taken me longer to drive the sixteen kilometres from the North Shore into downtown than it took Merrick to fly here across the Strait of Georgia from Vancouver Island—a fact that greatly amuses him. "They've been talking about a bridge to the Island for as long as I can remember," he says with a chuckle, as he climbs into my car. "But there are lots of people who don't want the Island connected to the mainland. I'm one of 'em."
Merrick himself used to live off Marine Drive in Eagle Harbour, on the way to Horseshoe Bay, in a soaring post-and-beam house he built for his family in the '70s; it is now pending designation as an architectural heritage site, and has been on and off the market recently. He currently lives in Sooke, on the southwestern tip of Vancouver Island, forty kilometres from Victoria, on a plot of land where he and his wife keep two sheep and three dogs, and where he is building the small fixtures for a custom sailboat, his third, in a wood shop next to the driveway.
Since the '60s, when he arrived on the scene on the heels of the West Coast's fetish architect, Arthur Erickson, he has actively shaped the skyline with projects like Cathedral Place, built where the Georgia Medical-Dental Building, Vancouver's first significant art deco high-rise, was demolished in 1989. Other notable examples of his work include the Milano, a mixed-use complex on a busy corner near Davie and Burrard of which he's particularly proud; and the Governor General's Award–winning cbc building he designed in the '70s, which is being updated in time for the Olympics.
Merrick Architecture also specializes in heritage renovations to important historical landmarks, such as the Bank of Montreal building (now Simon Fraser University's Segal Graduate School of Business) and, more recently, the Pennsylvania Hotel, refurbished into a supportive housing facility for at-risk and homeless citizens. The firm is also one of several building Millennium Water, the 1,100-unit condo development sales materials call "Vancouver's Last Waterfront Community," which will house athletes during the Olympics and Paralympics next spring.
With the city sprucing itself up for the Olympics, I've asked Merrick to join me on an architectural tour. And as we leave the seaplane terminal, he asks me to pull over almost immediately on Burrard Street, on what used to be the escarpment into the harbour, in front of the spectacular art deco Marine Building, which Merrick Architecture renovated in the '80s. He glances over his shoulder at the massive shoal of the new Vancouver Convention Centre jutting out into the harbour, a structure he calls "a very sizable lost opportunity."
"They built out over the water, which I have no problem with. You put piles down into the water, and you can put thirty storeys on top of that if you want," he says. "Instead, they put this big, ugly plug between the city and the water, and rendered its edges uninhabitable and unusable. Convention centres are great, they cause activity, but it's very introverted activity. Why put it in front of the best view in town? They could have built the whole thing underground and doubled, or tripled, the waterfront, where people could go for light and air and pleasure."
We head east on Cordova Street, past the Woodward's Building condos, with their handsome, forest-motif iron balconies. "An interesting idea," he says, "though I'm not sure of its application—you're on the twentyseventh floor, and you're looking out your window at that spectacular view through a silhouette image of nature? "
We drive into Vancouver's oldest neighbourhood, and he likens the city to a teenager whose body is maturing after a long adolescence that has lasted from Expo 86 to next February's coming-out party. As we turn up Carrall and shuttle along Hastings to Main, he says, "It's really not that hard to imagine this as a conifer forest, with a few native settlements huddled at the water's edge. Sometimes, I think about how [this is] a state only twice as old as I am now. When I was born here, the city was only halfway through its present life, and it has, like a lot of things, been growing exponentially. It's this beautiful place [whose beauty] went very much unrecognized until halfway through its recent history. In inhabiting it, we've done more to malign the beautiful place than to enhance it. That is changing, but that's where we're coming from."
Merrick's family has a long history in coastal British Columbia. His great-great-uncle, Will Roberts, homesteaded Roberts Creek on the Sunshine Coast in 1889. His grandfather, Frank Roberts, was an engineer on the ferry boats that used to run from West Vancouver, around Stanley Park's Prospect Point to the Vancouver harbour, before they built the Lions Gate Bridge over First Narrows. Merrick grew up near West Van's Ambleside strip and has vivid memories of riding in the engine room as a child. He also remembers riding the ferries with his father when he accompanied him to the downtown workshop where he taught industrial arts at King George Secondary School.
After graduating from high school in 1956, Merrick got a job as an EA1 (engineering assistant) in the city of Vancouver's traffic administration department, where he drafted road systems and won a cross-country competition to design pictographs for universal traffic signage (he designed the school zone and pedestrian crossing signs we still use today). At ubc, he chose architecture over engineering and, after earning a degree, travelled to Berkeley, California, to see the work of architects Bernard Maybeck, Warren Callister, and Charles and Henry Greene. When he returned to Canada, it was to work with Ron Thom on Montreal's Expo 67 and the design of Trent University in Peterborough.
In 1960, he joined Thompson, Berwick, Pratt and Partners, one of Vancouver's most prominent architecture firms, to work with "people I thought of as beautiful people—the rainforest gang," he says of a group that included Barry Vance Downs, the elder statesman Ned Pratt, Bud Wood, and Arthur Erickson, who was also at tbp at the time. One of their shared obsessions, in those early days, was playing with ideas about possible uses for a huge chunk of city-owned real estate acalled Area 6.
"We were a bunch of bums," he recalls, "meeting Thursday nights by some casual agreement, in the back row of the drawing room at tbp, to think about False Creek. In the '70s, [the area] was already this fallow wasteland, abandoned by industry, with things like Sweeney Cooperage, which made barrels; there was a boot chain company, and a cement company, some light industrial activity going on. The [Molson] brewery was on Burrard—still is—but there was this eighty acres right on the edge of town. We thought about it, dreamed about it, talked about it: 'Oh, man, what can we do with this? ' We had no idea how big an opportunity that was."
In the early '70s, the city commissioned Thompson, Berwick and Pratt's clique of young visionaries to put some of their brash theories into practice repurposing old industrial buildings and building new ones to create what is now Granville Island, Vancouver's most beloved public mixed-use space; it is home to a sailboat marina, the city's major public green market, several theatres, craft studios, and the Emily Carr University of Art and Design. "The guys calling the shots and running the store at that point wanted change, and were as young as we were," he says, "and I had the great good fortune to be of an age and around at a time when there were some doors ajar that you could push open and walk through and do stuff. Like, you could put a table on a sidewalk, or a tree in the street. Or change the form of a building."
As we turn onto Main Street and head through Chinatown, Merrick narrates the city's urban geography—past, present, and future—mapping out, with a few hand gestures, patterns of human movement: the railway tracks that were brought in from the city's former hub, New Westminster; the streetcar line that used to run down Hastings Street; the newly completed SkyTrain tracks running along Cambie Street to the airport. He tells me about some of the city's near misses at greatness—for example, his first-hand knowledge of an early-'80s I. M. Pei proposal for a downtown skyscraper that would have "punctured the pablum skyline," but that was rejected by Mayor Mike Harcourt because he didn't want to interrupt the view from City Hall to the mountains.
As we pass Pacific Central Station, Merrick points to new-ish condos east of the water. "The water used to come up to the backyards of all these houses," he says, gesturing. "False Creek used to continue across and go all the way up to Grandview flats; it was a marsh until the developers' trucks filled it with dirt around the turn of century, when they were building sites all over city." In the 1880s, Merrick's great-great-uncle rowed his family's worldly goods from the family home on Clark Drive in what is now East Van through here and all the way up the coast to Roberts Creek. (The Sunshine Coast, as it is now called, is still a three-hour trip by car and ferry.)
Millennium Water, which has been at the centre of a controversy over its financing (documents leaked during the recent municipal election revealed a secret $100-million loan the city made to the building's developers), is being built behind the giant silver bauble of Science World, an Expo 86 leftover, on an expanse of post-industrial lots verging on False Creek. Turning onto First Avenue, we drive past the busy carapace of construction that will soon be the signature piece in Vancouver's shiny new Olympic wardrobe, for which Merrick and his colleagues have, perhaps ironically, taken inspiration from old-world modes of living. The three blocks of Millennium Water designed by Merrick Architecture will consist of relatively low buildings that form a doughnut, creating a courtyard, or village green, inside. "What we're doing is building a neighbourhood," says Merrick. "It's living above the store. This is a pattern of settlement that the old world is adept at without any rules and regulations enforcing it. Vancouver is an immature, adolescent, not quite realized city. But there's something valuable about youth: they don't know what they can't do, or are not supposed to do, so they go ahead and do it. We've done a number of things in our youth just by doing them, just because we could. But the world is now full of little pinheads who have this book of rules that says you can't have a hand railing that isn't like the others. It's idiotic. The sadness is that over time you become dead, stifled, out of oxygen."
Unsurprisingly, one of the biggest requirements in drafting proposals for Millennium Water was sustainability—feeding Vancouver's idea of itself as a world-class citizen in everything green. For Merrick, though, unconventional lessons for sustainability, like livability, can be drawn from the Old World. "Sustainability," he says, "means all those things: grey water, green rooms, passive ventilation, low-flow showers and toilets, and recycling waste, but there are many dimensions of this thing we call 'green.'" He recalls a recent visit to Mozart's birthplace in Salzburg, Austria, where he had a eureka moment about sustainability, understanding for the first time that it means building things that last. "It's a little row house downtown with party walls and timber floors and walls built from rubble and stone, and we realized—holy cow—this house was already 600 years old when Mozart lived here. So that's pretty sustainable, as in, it has been sustained," he says dryly.
"The BC Electric Building [built by Thompson, Berwick and Pratt] was one of the first curtain wall buildings in Vancouver, in 1957," he recalls. "But when we converted it from office to residences [in 1994], we removed and replaced the building's entire skin, because the original one didn't perform very well. Long story short, forty years later a very substantial wall made of metal and glass gets removed, thrown out, and replaced. So as you see, these concepts of 'sustainability' are always fraught."
We drive past the epicentre of Millennium Water, past False Creek, and dip down under the Granville Street Bridge for a quick look at Granville Island—which, even on this weekday afternoon, is crowded with people. Merrick points out the building that was once Sweeney Cooperage. "Look at it, just corrugated metal. That's what they were all like—each one has a story. And look," he says happily, "they're still making cement in trucks down here and delivering it downtown. It's a good location, because they need water access for barges of gravel, and that's okay with me. With the food market next door, the zoning would typically say you can't have cement there. But it worked. People come by in hordes just to groove on it."
As we cross over the Burrard Street Bridge (also designed by Thompson, Berwick and Pratt), Merrick suggests a quick drive around Stanley Park before he catches a float plane back to the island. We park in front of the Royal Vancouver Yacht Club to look at the city across Coal Harbour. "There's the Marine Building, which you can't hardly see anymore for everything that surrounds it, and the Hotel Vancouver, which you can't see anymore either," he says. "They used to be the head of the skyline, when everything else was domestic scale. Now, look at the Convention Centre and tell me if it makes your heart leap. Compare that with Arthur [Erickson]'s terrace building over there, like a Mayan ruin left over from some previous era. That high one over there, [James K. M. Cheng's] Shangri-La, is a really fine piece of work. It has finally punctured the pablum skyline of Vancouver, at last. It will be interesting for whoever tries next, because downtown is getting full. The only place to go is up."
As the sun sets across the water, I drop Merrick off at Harbour Air for his trip back to his home and his boat. "Boats have been a lifelong thing [for me] and I'm hoping this one will stick," he says. His other two boats, neither of which he still owns, were retrofits. The current one was crafted by "wonderful, beautiful, capable boat builders" on Vancouver Island's Cobble Hill, and he recalls his monthly visits to plan and draw every detail, down to picking the screws, with pleasure. "I'm almost in my goddamn deathbed," he says, "before I get what I dreamed about as an adolescent."