The Walrus Foundation joins the Canada Council for the Arts in celebrating the finalists for the 2012 Governor General's Literary Awards. The Governor General's Literary Awards were established in 1936 and have since evolved into Canada's pre-eminent national literary prizes. The winners (marked in gold) were announced on November 13, 2012.
English-language finalists
Fiction
Tamas Dobozy, Siege 13
Thomas Allen Publishers
In 1944, the Red Army entered Budapest to begin one of the bloodiest sieges of World War II. Set in Budapest before and after the siege, and in present-day Canada, the US, and Europe, Siege 13 traces the ripple effect of these events on the people directly involved and the others in their lives.
Robert Hough, Dr. Brinkley's Tower
House of Anansi Press
In 1931, the radio tower in a tiny Mexican border town broadcasts Dr. Romulus Brinkley's revolutionary goat-gland cure for impotence. Fortunes change overnight, but not all for the good: the whole area glows green and the signal is broadcast through every bit of metal, even toasters. Meanwhile, Dr. Brinkley has attracted the affections of the beautiful Violeta.
Vincent Lam, The Headmaster's Wager
Doubleday Canada
Vietnam is on the verge of war. But headmaster Percival Chen—bon vivant, compulsive gambler, and womanizer—refuses to see it. When his son gets in trouble with the authorities, Percival faces the limits of his connections and wealth, and is forced to send him away. He finds a precarious happiness in the beautiful French-Vietnamese Jacqueline.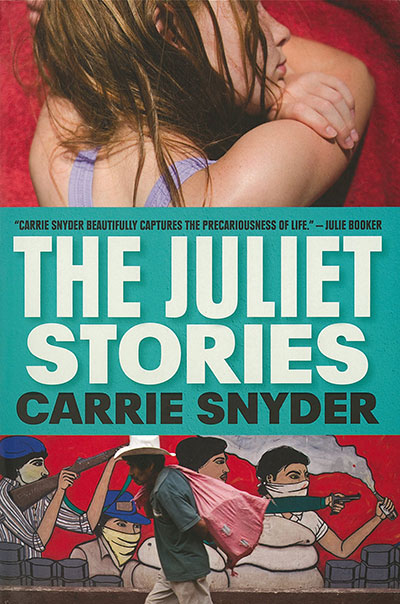 Carrie Snyder, The Juliet Stories
House of Anansi Press
In 1984, Juliet Friesen, ten, moves with her family to Nicaragua to protest American involvement in the post-revolutionary war. The adventure protects the family from its own conflicts, but back in Canada, they drift apart. As an adult, Juliet is torn between giving her own children a free life or a more settled one.
Linda Spalding, The Purchase
McClelland & Stewart
Pennsylvania, 1798: Daniel Dickinson, a young Quaker father and widower, leaves his home to establish a new life with his five children and a fifteen-year-old orphan wife. In an act of misplaced compassion, Daniel buys a young slave boy, Onesimus, setting off a chain of events that sweep over several generations.
Nahlah Ayed, A Thousand Farewells
Viking
When Nahlah Ayed was a child, her family gave up their comfortable life in Winnipeg for the squalor of a Palestinian refugee camp in Jordan. Back in Canada, as a teenager, she put these years behind her—until the Gulf War and the events of 9/11 drew her back as a war correspondent for the CBC.
Carol Bishop-Gwyn, The Pursuit of Perfection
Cormorant Books
Born into a working class family in 1921, Celia Franca wasn't a candidate for ballet greatness. Yet due to her remarkable drive, she became one of dance's key figures of the 20th century. A fascinating story of the triumphs and tragedies, both on and offstage, of the National Ballet of Canada's founder.
Wade Davis, Into the Silence
Alfred A. Knopf Canada
On June 6, 1924, two men set out from a camp perched on an ice ledge near the tip of Mount Everest. Neither of them returned. This is a timeless portrait of British adventurers who survived World War I and went on to risk their lives attempting to conquer Everest.
Ross King, Leonardo and the Last Supper
Bond Street Books
The Last Supper, arguably the world's most famous painting, defined its creator, Leonardo Da Vinci. This gripping tale recounts the full story behind its creation, including the political events of the time that forced da Vinci to flee Milan with the paint on The Last Supper barely dry.
Noah Richler, What We Talk About When We Talk About War
Goose Lane Editions
Noah Richler tackles Canada's identity crisis as a nation of peacekeepers turned war-makers. He examines the narrative used by politicians and military, and takes the media to task for our revised national mythology and re-interpretation of past events and wars.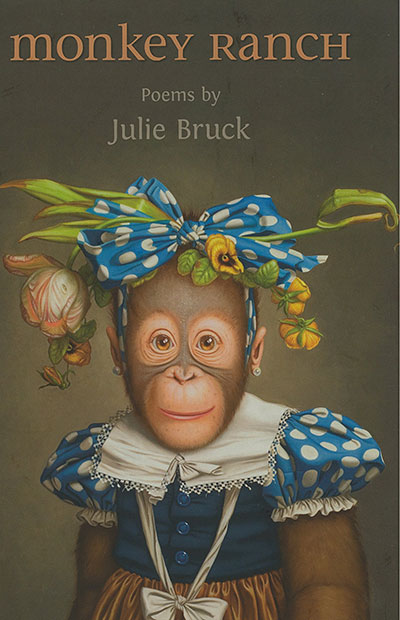 Julie Bruck, Monkey Ranch
Brick Books
This collection of poems includes a mandrill, a middle-aged woman, a Baghdad neighbourhood, a long marriage, even a dog who rides with his head through a truck's passenger window. Julie Bruck's works grapple with the question: What is sufficient, what will suffice?
David McGimpsey, Li'l Bastard
Coach House Books
The "chubby sonnets" in this collection explore popular culture, love and death, aging, baseball and beer, and Barnaby Jones. Veering from picaresque to fantasy, to humour to song lyrics, the poet takes us on a wild tour of Montreal, Chicago, Nashville, Texas, and Los Angeles.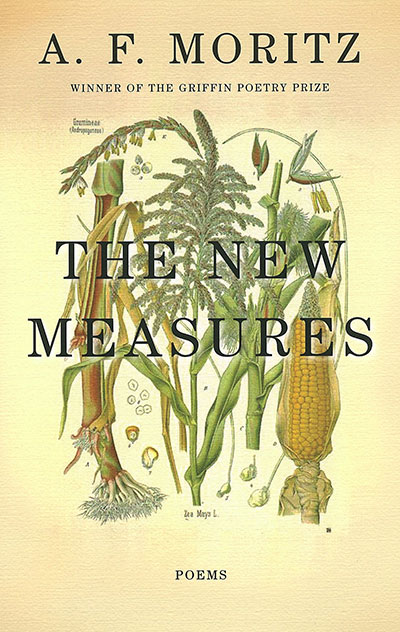 A.F. Moritz, The New Measures
House of Anansi Press
The works in this bold, passionate collection make unique music. They revel in pleasure, and the thirst for more pleasure. And they insist on the hope—perhaps paradoxical, perhaps impossible, yet never extinguished—for the perfection of a world both natural and human.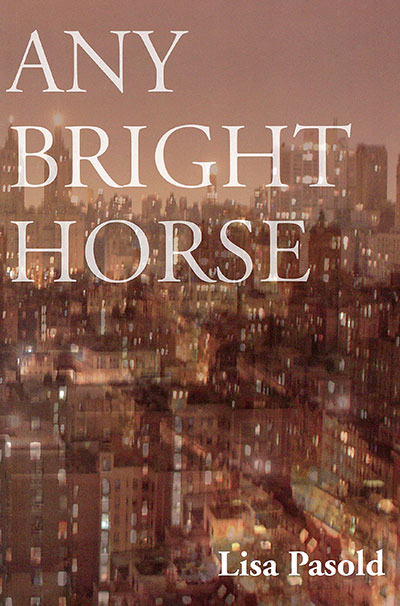 Lisa Pasold, Any Bright Horse
Frontenac House
Marco Polo's memoirs of his travels to Afghanistan, Russia, and China are the muse for this collection of poems on the transformative effect of journeys. The poet explores geographic and psychic terrain and the disorientation of returning home a different person.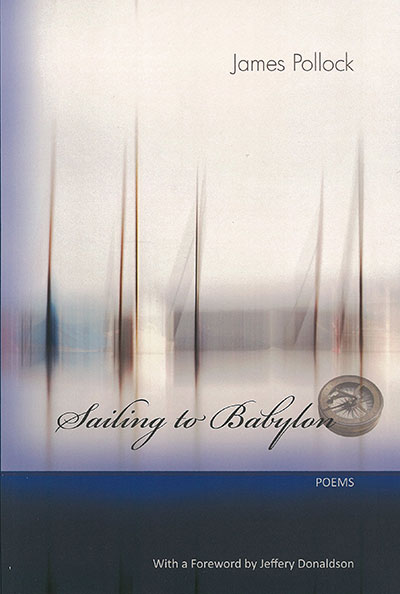 James Pollock, Sailing to Babylon
Able Muse Press
The poet's first full-length collection, Sailing to Babylon is filled with poems of exploration and discovery. Figures from Canadian history also inspire, including explorers Henry Hudson and John Franklin, critic Northrop Frye, and pianist Glenn Gould.
Catherine Banks, It Is Solved by Walking
Playwrights Canada Press
News of the death of Margaret's ex-husband spurs a journey through their relationship, inspired by Wallace Steven's poem "Thirteen Ways of Looking at a Blackbird." Along the way she revisits memories—both beautiful and painful—of their marriage and gradually finds her way back to poetry.
Trina Davies, The Romeo Initiative
Playwrights Canada Press
Anxiety, paranoia and betrayal—all elements of the Cold War, but what about love relationships? Part romantic comedy, part spy-thriller, this story set in 1970s West Germany looks at Karin Maynard's relationship with her "perfect" match, the handsome Markus Richter from East Germany.
Karen Hines, Drama: Pilot Episode
Coach House Books
"People go east when invited, when opportunity knocks. People go west when all bets are off." This satire takes on Canada's migration west and TV drama through the story of Dr. Penelope Douglas, an ex-forensic psychiatrist who moves from Toronto to Calgary looking for a fresh start.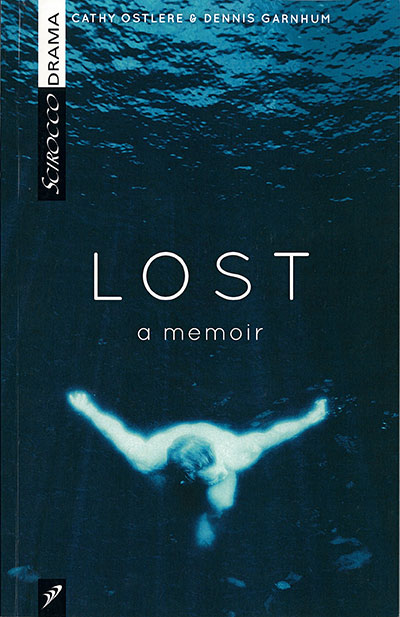 Cathy Ostlere and Dennis Garnhum, Lost: A Memoir
Playwrights Canada Press
Cathy Ostlere's brother fails to call home on his birthday after a two-week sailing trip. So begins her journey to discover what happened at sea. As hope of finding her brother fades and as she's forced to navigate her own waves of emotion, life at home unravels.
Anusree Roy, Brothel #9
Playwrights Canada Press
Rekha is a young woman from a small village who goes to Calcutta to work in a light-bulb factory. Instead she finds her brother-in-law has sold her to a brothel. Rekha struggles to shape her destiny in the company of Jamuna, an older prostitute who is resigned to her trade.
Sheila Fischman, Ru
English translation of Ru by Kim Thúy
Random House Canada
In vignettes of sharp observation and sly wit, Quebec bestseller Ru is an unforgettable journey from a palatial residence in Saigon to a Malaysian refugee camp, and to a new life in Quebec. From history to memory and back again, Ru celebrates life in all its beauty and sensuality, brutality and sorrow, comfort and humour.
Michael Gilson, Mafia Inc.
English translation of Mafia inc. by André Cédilot and André Noël
Random House Canada
Translated from the Quebec bestseller and updated to include more recent events, including the 2010 shooting of Nicolo Rizzuto Sr, Mafia Inc. reveals how the Rizzuto clan built their Canadian empire through force and corruption, alliances and compromises, and turned it into one of the most powerful criminal organizations in North America.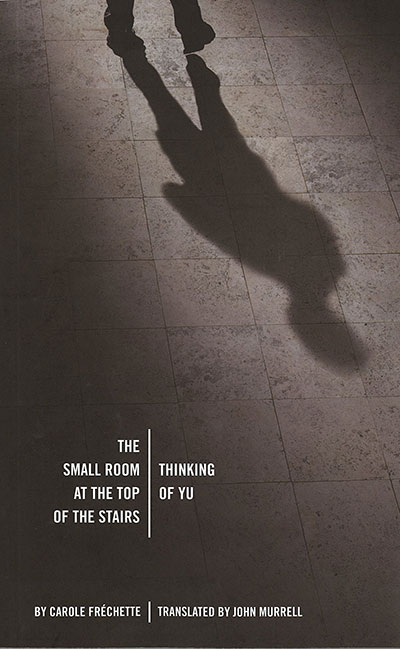 John Murrell, The Small Room at the Top of the Stairs and Thinking of Yu
English translation of La petite pièce en haut de l'escalier and Je pense à Yu, suivi de Entrefilet by Carole Fréchette
Playwrights Canada Press
Two plays: two women's stories. In one, a woman is drawn to the mystery of the room her husband has forbidden her to enter. In the other, a woman discovers herself as she learns about the creative rebellion of three Chinese students who altered a portrait of Mao in Tiananmen Square.
Nigel Spencer, Mai at the Predators' Ball
English translation of Mai au bal des prédateurs by Marie-Claire Blais
House of Anansi Press
In this swirling fresco, a gang of boys morphs into heavenly creatures. At the Porte du Baiser Saloon, they slip on colourful dresses and outrageous wigs to put on a show, a celebration of freedom and transgression. Fifteen-year-old Mai makes uncensored observations on femininity and youth, freedom and constraint belie her age.
Shelley Tepperman, The List
English translation of La liste by Jennifer Tremblay
Playwrights Canada Press
In this one woman-show, a woman invites us into her life of compulsive lists and endless chores. She does not let anything go unchecked, except for one item: a favour to her neighbour. With this broken promise, a series of events unfolds with fatal consequences. Was it preventable had the task been completed?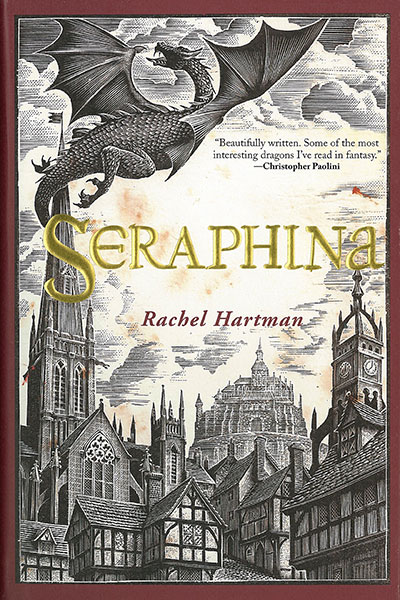 Rachel Hartman, Seraphina
Doubleday Canada
Four decades of peace have done little to ease the mistrust between humans and dragons in the kingdom of Goredd. Fearing both sides, Seraphina, an unusually gifted musician joins the court as a member of the royal family is murdered. Drawn into the investigation, she struggles to protect the secret behind her musical gift.
Deborah Kerbel, Under the Moon
Dancing Cat Books
Since the death of her aunt, Lily MacArthur can't sleep. One night, she slips out of the house and meets Ben, who works the night shift at the local drive-thru. He keeps his troubled past secret, and holds the key to curing Lily's insomnia.
Susin Nielsen, The Reluctant Journal of Henry K. Larsen
Tundra Books
Thirteen-year-old Henry's life changes forever when his older brother leaves one morning with their father's hunting rifle. At his therapist's suggestion, Henry confides in a journal all his thoughts and his love of the wrestling show Saturday Night Smash-Up.
Judd Palmer, The Umbrella
Bayeux Arts
The Umbrella is an uplifting story of love between an umbrella and the human being who is its beneficiary. With its subjects intended to appeal to all readers from ages seven and up, the stories or poems are darkly humorous; each carries a revelatory or cautionary message.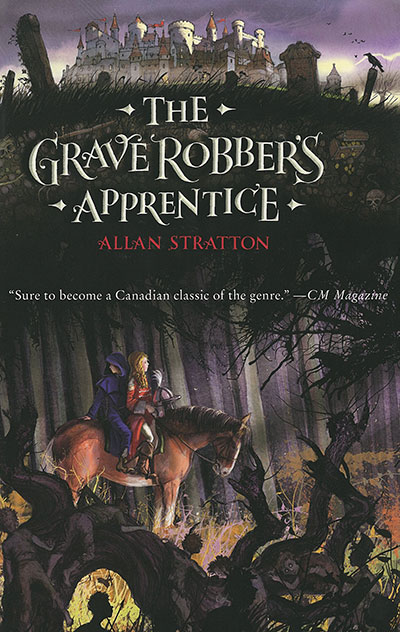 Allan Stratton, The Grave Robber's Apprentice
HarperCollins Publishers
Hans is on the run from his adoptive father, a grave robber. He meets Angela, a young countess fleeing the evil Archduke Arnulf and his dreaded Necromancer. Together, they go on a quest to uncover Hans' shadowy past and save Angela's parents from the archduke's monstrous asylum.
Isabelle Arsenault, Virginia Wolf
Text by Kyo Maclear
Kids Can Press
Virginia's "wolfish" mood is upsetting the whole family. Her sister, Vanessa, cheers her up by painting an idyllic imaginary world on the bedroom walls. Soon Virginia picks up the brush and undergoes a transformation of her own. A celebration of sibling relationships and the healing power of art.
Renné Benoit, Big City Bees
Text by Maggie de Vries
Greystone Books
When Sophie and Matthew grow pumpkins at their city garden, they worry that no bees will pollinate their plants. Where can you find bees in the city? And will the bees find the pumpkins? An adventure that introduces children to the wonders of bees.
Jon Klassen, Big City Bees
Text by Ted Kooser
Candlewick Press
A family moves into a new house on a perfect lawn without a single tree. But over time, the family grows and moves away. Eventually seeds blown from nearby woods take root, grow, and lift the house off the ground. A story of change and the triumph of nature.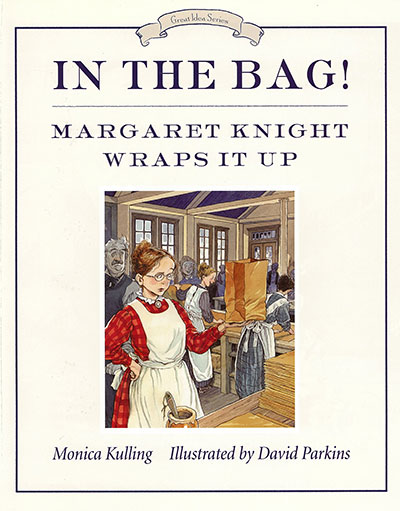 David Parkins, In the Bag! Margaret Knight Wraps It Up
Text by Monica Kulling
Tundra Books
Margaret (Mattie) is different from most American girls living in 1850. She loves to build and invent! Best known for inventing the paper bag, Mattie would go on to have ninety inventions to her name and over twenty patents. From Tundra's Great Idea Series of inventor biographies.
Barbara Reid, Picture a Tree
Text by Barbara Reid
North Winds Press
Picture a tree… what do you see? A canopy of fall colour, shade from the sun, a site of adventure… Lyrical text and playful Plasticine illustrations depict the many possibilities that our tree friends offer us through the seasons and in all weather.
French-language finalists
Fiction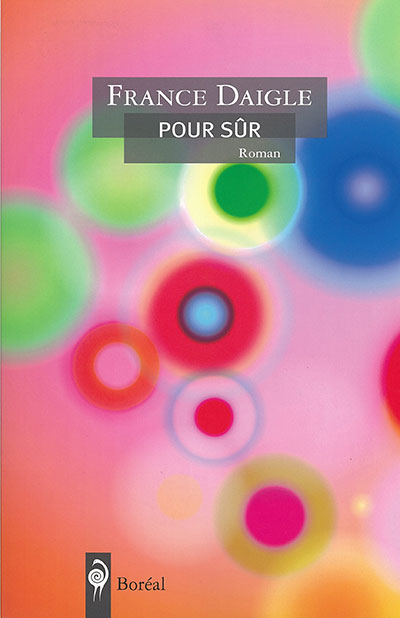 France Daigle, Pour sûr
Encyclopedic and labyrinthian, these 1728 fragments tell the story of Terry, Carmen, and their children, Étienne and Marianne, and those who frequent the Moncton, New Brunswick bar Le Babar: the Zablonskis, Zed, Pomme, artists, and the ordinary people, who, as they go about their daily lives, wonder about their places—geographical, historical, political or cultural—in the world.
Ryad Assani-Razaki, La main d'Iman
A child, a young girl, and an old woman take turns telling us a story that spans three generations—that of the magnificent Iman, the child of a white colonist and an African adolescent who's in search of a better future away from Africa. Each contributes a piece to the puzzle. Without being named, Black Africa becomes the main character of the novel.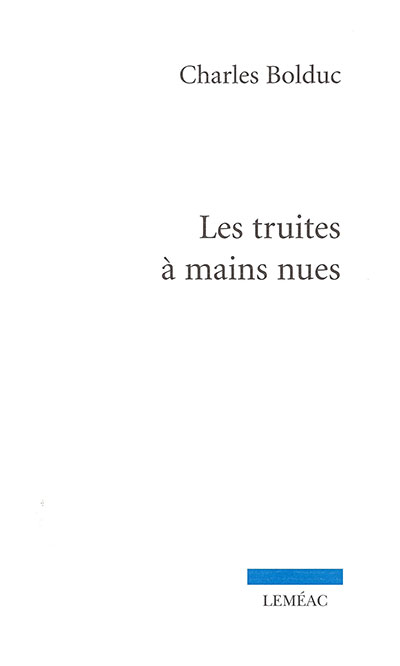 Charles Bolduc, Les truites à mains nues
Charles, the narrator, shares, in thirty "textlets," thirty situations from his twenties. With humour and emotion, these fugitive moments—the smell of a bakery, puppies born to virtual dogs, a woman doing her laundry dressed in a diving suit, an interrogation on the mysterious death of pigeons, the name of a boy—together make up a much vaster universe.
Catherine Mavrikakis, Les derniers jours de Smokey Nelson
Sydney Blanchard has a good life… except for a stint in prison for murders he didn't commit. Today, he's going back to New Orleans. After the murders in 1989, Pearl Watanabe swore she would never go back to the United States—and here she is in Atlanta. An hour away, Ray Ryan is inconsolable over the murder of his child. In the penitentiary, Smokey Nelson, the murderer, lives out his last days.
Audrée Wilhelmy, Oss
When Grumme dies, the Petite turns her back on the fat old lady's general store, leaving the Naëlles, Fribulles, and Marie Grille-Temps of her village to go ring her bells in the Fort-Bouteille circus. On the edge of a strange forest is the big bad Wolf. In this amoral, erotic, and cruel tale, it's hard to know who is the predator and who is the prey.
Normand Chaurette, Comment tuer Shakespeare
For more than twenty-five years, Normand Chaurette has written with and against Shakespeare. In Les Reines, he rewrote Richard III from the point of view of its female characters. From his translation of Othello to Roi Lear, he has invented a language that captures that of the immortal playwright. This book is the unique perspective of a man of the theatre who defies the real and ghostly presence of Shakespeare.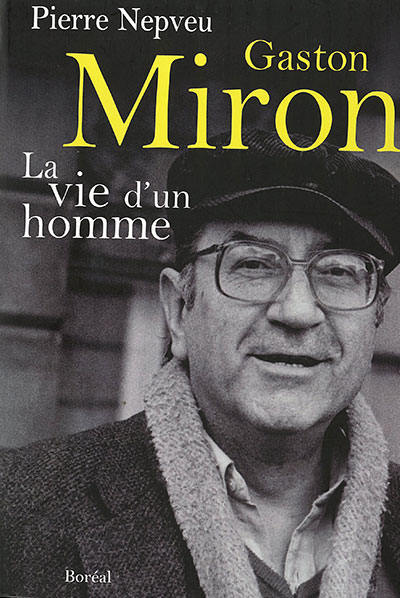 Pierre Nepveu, Gaston Miron
Abundantly documented and rich in anecdotes, this book embraces and puts into context the extraordinary life and work of poet Gaston Miron. Pierre Nepveu succeeds in bringing out the "Mironesque" scope of the poet and in painting a portrait of the man—his roughness and fragility, his unrestrained laughter and anger, the childhood poverty that he wore like stigmata, and his indomitable spirit.
Pascal Riendeau, Méditation et vision de l'essai
The essay is not a genre that is easily defined. Roland Barthes, Milan Kundera, and Jacques Brault have all pushed its boundaries. Their work is very different in tone and message, and reuniting these three important authors is not evident. Nonetheless, this book succeeds in bringing together three dissimilar aesthetics and providing a comprehensive portrait of the possibilities of the essay.
Yannick Roy, La révélation inachevée
Long considered frivolous, the novel, at least since Don Quixote, has curiously turned against itself in the name of the reality it was originally criticized for avoiding. It has nonetheless remained, discreetly, true to its origins—i.e., to lies and illusions. Through the work of Cervantès, Balzac, Flaubert, Valéry, and Kundera, the author shows that all novelists concede to their characters the mystery of their freedom.
Maude Smith Gagnon, Un drap. Une place.
This poetic prose describes experiences (of places, landscapes, encounters) that don't seem to respond to our natural and spontaneous interest in them. The collection visits various places—Natashquan, Vietnam, Montreal—and seeks to bring out the common nature of these places. We read with the impression that this could happen anywhere.
Fredric Gary Comeau, Souffles
The collection speaks of a redemptive love that could heal the wounds of a long-wandering soul. From desert to ocean, from Iceland to Atacama, from the Gulf of Aden to Nepisiguit Bay, from Damascus to Samarkand, it evokes Assyria or the desire of Ulysses and telescopes eras and myths to celebrate the body of the woman found at last, refuge, and haven.
Corinne Chevarier, Anatomie de l'objet
This work probes human nature, through a subject rarely addressed in poetry (an abused and battered childhood). "Ça est une petite fille dans une situation limite, à l'âge où l'irréparable peut se produire." (Here is a little girl in a risky situation, at the age where the irreparable can happen.) Scalpel-sharp, the poems cut to the truth of the flesh, to the unthinkable things that we intentionally avoid seeing.
Hélène Dorion, Cœurs, comme livres d'amour
In the face of the intransience of things and the fragility of life, the poem speaks of the shadows that trap us and fracture our ties to the "other." A celebration of the beauty of the individual and the quest for meaning, this collection reminds us of our vulnerability and invites us to come together. It opens up a space where the heart is a place of transformation where we can experience the capacity for love, the foundation of our lives.
Christian Saint-Germain, Tomahawk
Highly charged and full of tension, this work's lyricism declines libidinous enthusiasm, paternity, and the death of a father, nationalism, childhood, and the city of Maui. A violence against all hope and all reconciliation with Quebec's losing situation; the collection expresses the extravagance of the aging poet with a child's mind—his own and that of his daughter.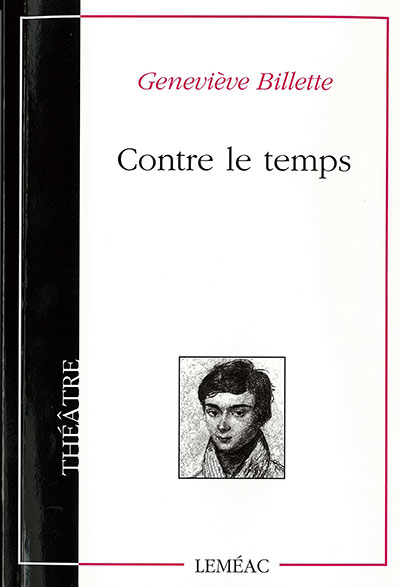 Geneviève Billette, Contre le temps
This work probes human nature, through a subject rarely addressed in poetry (an abused and battered childhood). "Ça est une petite fille dans une situation limite, à l'âge où l'irréparable peut se produire." (Here is a little girl in a risky situation, at the age where the irreparable can happen.) Scalpel-sharp, the poems cut to the truth of the flesh, to the unthinkable things that we intentionally avoid seeing.
Simon Boudreault, D pour Dieu?
A man describes his life: from the days when he was the centre (and god) of his parent's universe, to the day, and every day after, when his perception of the world changed. From illusions to disillusions, he realizes that his own role is shrinking even as his understanding of the universe expands.
Evelyne de la Chenelière, La chair et autres fragments de l'amour
Simone and Jean take a vacation in Ireland, hoping to breathe new life into their relationship. One day, Jean finds the body of a woman on the beach. The dead woman becomes a shadow between them—so present that they invent an existence for her, and in doing so awaken remorse and regrets that change their lives. Based on Marie Cardinal's novel Une vie pour deux.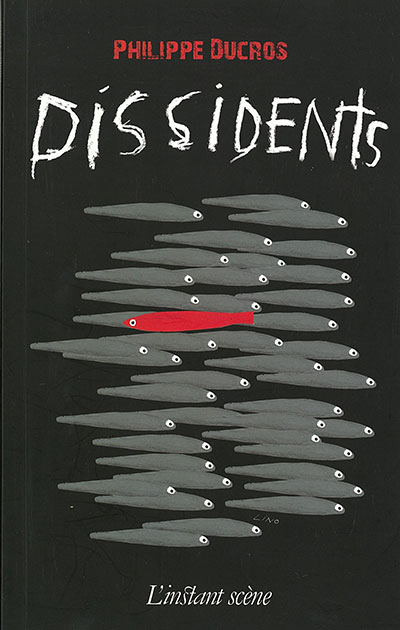 Philippe Ducros, Dissidents
A disgraced and indignant man is interrogated by three visitors: a woman, a young girl, and a so-called expert in behavioural problems. All three try to force confessions from him. Between pity and cruelty, what ensues is a succession of dialogues of the deaf, ramblings, nightmares, and hallucinations. In short, a concentration of humanity, on the margins of the frantic race for happiness fabricated by neoliberal ideology. Inspired by Ronald Wright's works on progress and Naomi Klein's works on anti-globalization.
Alain Roy, Glenn Gould
French translation of Glenn Gould by Mark Kingwell
Like Glenn Gould himself, who demanded twenty-one takes of the Goldberg Variations during his famous 1955 recordings, this book proposes twenty-one "takes" on the life of the virtuoso pianist. Each reveals a different facet of the man, the complex harmonies and dissonances of his life.
Dominique Fortier, Une maison dans les nuages
French translation of The Prophet's Camel Bell by Margaret Laurence
From 1950 to 1952, Margaret Laurence accompanied her husband in the desert of Somaliland. Fascinated by the people and their rich culture, she collated and translated Somali poems. Over time, her notes and observations came together in a moving tribute, humorous and thoughtful, to the Somali people and the surreal beauty of their land.
Sophie Cardinal-Corriveau, Un adieu à la musique
French translation of Carolan's Farewell by Charles Foran
Ireland, 1737. Terence Carolan, a legendary blind Irish harper, is returning home in poor health after an arduous pilgrimage to Station Island, the ultimate challenge to the British Protestant rule. The adventures of Carolan and his guide Owen Connor evoke the smells of places, the music of voices, the taste of whiskey and the gentleness of a hand held in his own.
Lori Saint-Martin and Paul Gagné, Irma Voth
French translation of Irma Voth by Miriam Toews
Irma, nineteen, lives in a Mennonite colony in northern Mexico. When a film crew comes to the community to make an avant-garde movie about the silence of these apparently tranquil people, Irma becomes the director's interpreter. For her, this is a chance to escape the children of Menno—the outside world is filled with enigmas and barriers, and there is her sister, Aggie, to think of as well.
Lori Saint-Martin and Paul Gagné, La petite cousine de Freud
French translation of Distantly Related to Freud by Ann Charney
It's Montreal in the 1950s, and Ellen lives with her mother. Her mysterious ancestry makes her "distantly related to Freud," and she grows up surrounded by fascinating characters: an aunt whose anxiety meter is stuck on high, a rebel friend with a femme fatale mother, a stepfather known as the "Playboy of the Communist World," and cousins who are living the American dream.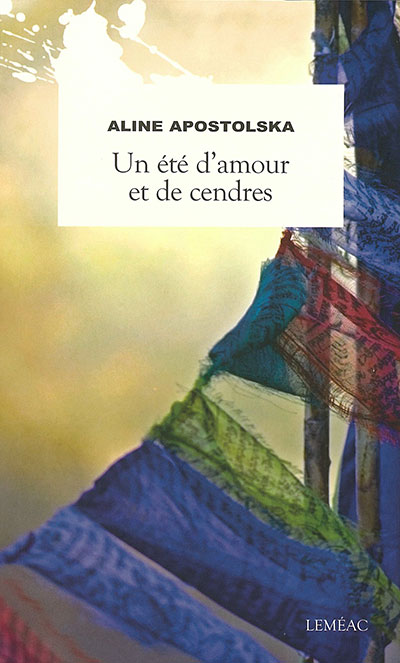 Aline Apostolska, Un été d'amour et de cendres
Since childhood, Emma has travelled the world with her parents, members of their cooperative and other adventurers. At age fifteen, she and her family move to Dharamsala, in northern India, home to the exiled Tibetan community. Emma falls in love with Tenzin, who belongs to an organization opposed to the Dalai Lama's theocracy. Three years later, she tells the tale of that year's dramatic events.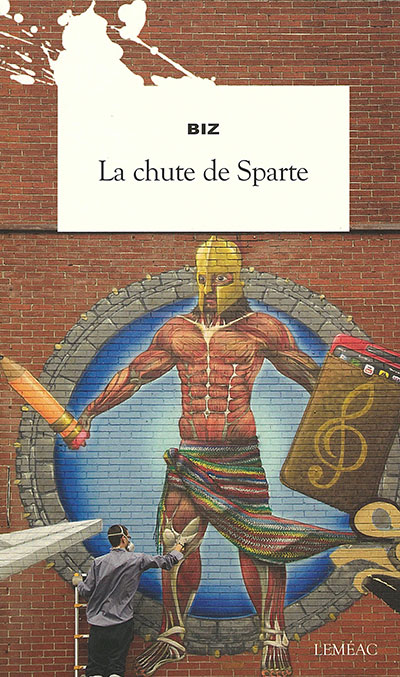 Biz (has withdrawn from competition), La chute de Sparte
Seventeen-year-old Steve, a voracious reader and fierce social critic, describes his final year at Gaston-Miron high school, with its "cracked concrete, yellowing plaster, rusty metal and sad colours." A sarcastic, clear-sighted and humorous teen, Steve recounts the highs and lows of his friendships and romances, during a year marked by the death of the football team's quarterback.
Louise Bombardier, Quand j'étais chien
Antoine is twenty-five, but he has the mind of a five-year-old child. The love of his mother Gritte protects him from everything, including his brother Jacques. One day, Gritte dies and Jacques abandons him. Antoine has never had to feed or wash himself. He joins his dog Delphine in the doghouse, and decides to become a dog.
Camille Bouchard, Le coup de la girafe
Jacob lives alone with his mother. He's in a special class in high school because he suffers from a disease that causes hallucinations. Everywhere he goes, Jacob is constantly harassed and ridiculed by three bullies. Luckily, two true friends protect him and help him to express himself. But during a trip to the zoo, the three bullies lead Jacob into the lion's den…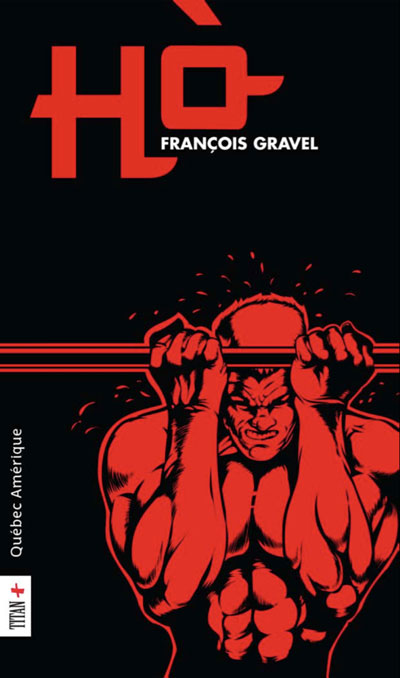 François Gravel, Hò
Sixteen-year-old Hò, a champion weightlifter indoctrinated by an oppressive regime, is dying in the hospital. On little scraps of paper hidden under his mattress, he describes his reality: the experimental training program, drugs and multiple operations, his forced marriage at age fourteen, the control of his sexuality. Lin, his wife, brings a lucid and critical perspective to this reality.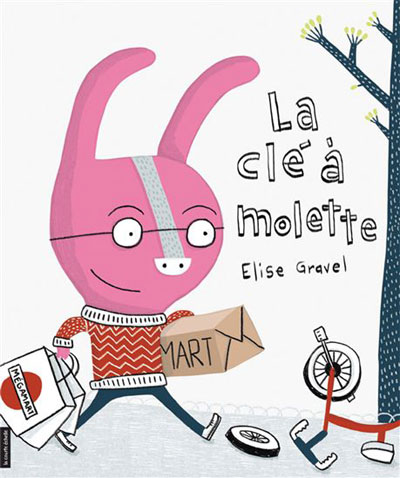 Élise Gravel, La clé à molette
Text by Élise Gravel
Bob, a little pink animal, needs a wrench to repair his bike. He goes to Mégamart, the super-mega-giga-giant department store where incredible stuff can be found! Bewitched by the salesman and enticed by beguiling baubles, Bob buys all sorts of things… but forgets to buy the wrench.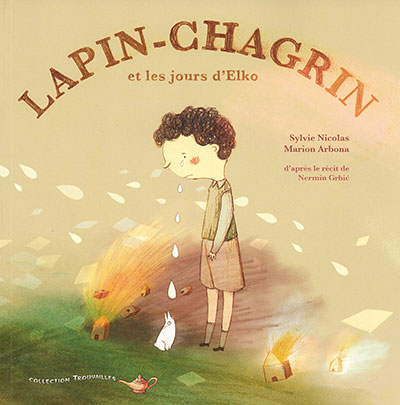 Marion Arbona, Lapin-Chagrin et les jours d'Elko
Text by Sylvie Nicolas
Tata, Mama, and their children Nerko and Elko flee the war and abandon their home, their garden, and their dogs. Fortunately, their love for each other and the generosity of the country's inhabitants help to ease their pain. For Nerko, there is also the reassuring, imaginary presence of Lapin-Chagrin (the sorrow bunny), who swallows his sadness and his tears. Inspired by the true story of Nermin Grbic, who was a child during the war in Bosnia-Herzegovina.
Manon Gauthier, Giroflée Pois-Cassé
Text by Marie-Danielle Croteau
During a scientific expedition in the Amazon jungle, Giroflée Pois-Cassé believes she has stumbled upon the remedy that will cure the warts on her nose: the Géragnome, a tiny fly-like creature that lives in wild orchids. On this fateful day in the Year 32, the Géragnomes' peaceful kingdom is thrown into upheaval by the eccentric scientist.
Émilie Leduc, La ronde des mois
Text by Émilie Leduc
"Février. Toute la journée, j'ai gardé mon château. / Bottes, bonnet, manteau, mon armure est gelée! / J'aime le mois de février et le chocolat chaud." (February. All day long, I stood guard over my castle. Boots, toque, coat, my armour is frozen! I like February and hot chocolate.) In twelve poems, a young boy invites us to discover the seasons: changes in nature, birthdays that add excitement to ordinary days, and adventures with his cat Clémentine.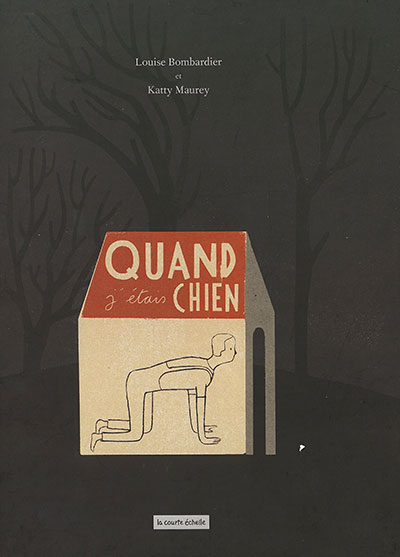 Katty Maurey, Quand j'étais chien
Text by Louise Bombardier
Antoine is twenty-five, but he has the mind of a five-year-old child. The love of his mother Gritte protects him from everything, including his brother Jacques. One day, Gritte dies and Jacques abandons him. Antoine has never had to feed or wash himself. He joins his dog Delphine in the doghouse, and decides to become a dog.