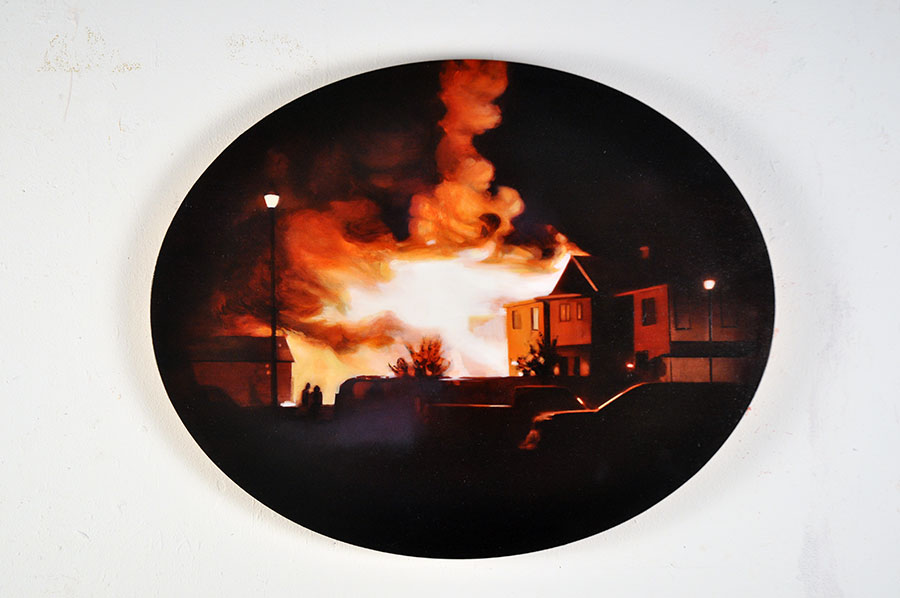 Corri-Lynn Tetz lives in Montreal. She received a BFA from the Emily Carr University of Art + Design in Vancouver, and is currently an MFA student at Concordia University.
Why did you choose painting as your medium?
It's the first way I connected to art as a kid. My grandma was a painter, and I remember that just always being around, and her paintings being around, and I remember seeing her brushes and smelling the oil. I didn't really know artists could do other things. As I started painting, I just became more and more compelled and obsessed with meeting the challenges and finding solutions. It takes so much time to be a good painter that the idea of starting something else seems really difficult because I feel like I have such a long way to go in painting.
Tell us about your influences.
They've changed a lot through the years. In my early twenties at art school, I was interested in early abstraction. Then it moved towards classical painting. There was a time when I was interested in the symbolists, and recently I've looked a lot at Michaël Borremans and Wilhelm Sasnal, both of whom are figurative painters.
When you look at your work, past and present, do you feel there are any reoccurring themes or obsessions?
Bad photos and awkwardness, and absence and presence. Looking over my work from the last year, there have been several references to nostalgic utopias. It wasn't something that I really started thinking about, but it just kept popping up. I have all this work that appears different, but when it all fits together I can see this connection.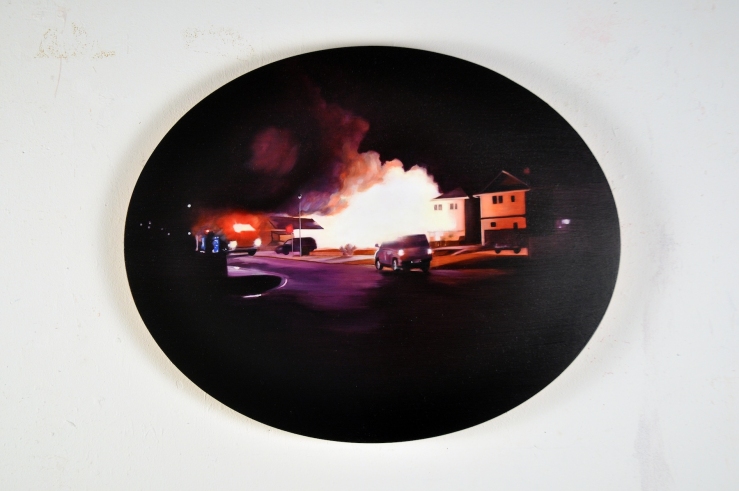 Do you see any dominant trends in current Canadian art?
There's definitely a return to craft and studio practice and a lot of abstraction. There aren't a lot of people working with the figure or in any kind of realism.
What do you think this year's RBC Canadian Painting Competition short list says about where painting is in Canada right now?
It shows the diversity and strength of Canadian painting. For years, painting was put aside, and it's thriving now and a lot of younger artists are working as painters.
Describe your ideal working conditions.
Ideally, I'd have a big, bright studio in my house. I love being able to leave my studio and have a snack or do laundry and come back to it. It takes a lot of effort for me to leave my house and go work somewhere else.
How do you respond to art that's been reproduced, either on a website or in a magazine?
In the years between undergrad and grad school, I looked at a lot of paintings over the Internet, and it did affect how I painted. I forgot that painting is really visceral and dirty and messy. And, now that I'm looking at more paintings, I'm realizing that I want my hand and my brushstrokes to be a part of it again. It's paint, it's a thing, it's not a photo.
This interview has been condensed and edited for publication. See all fifteen finalists at TheWalrus.ca/cpc.