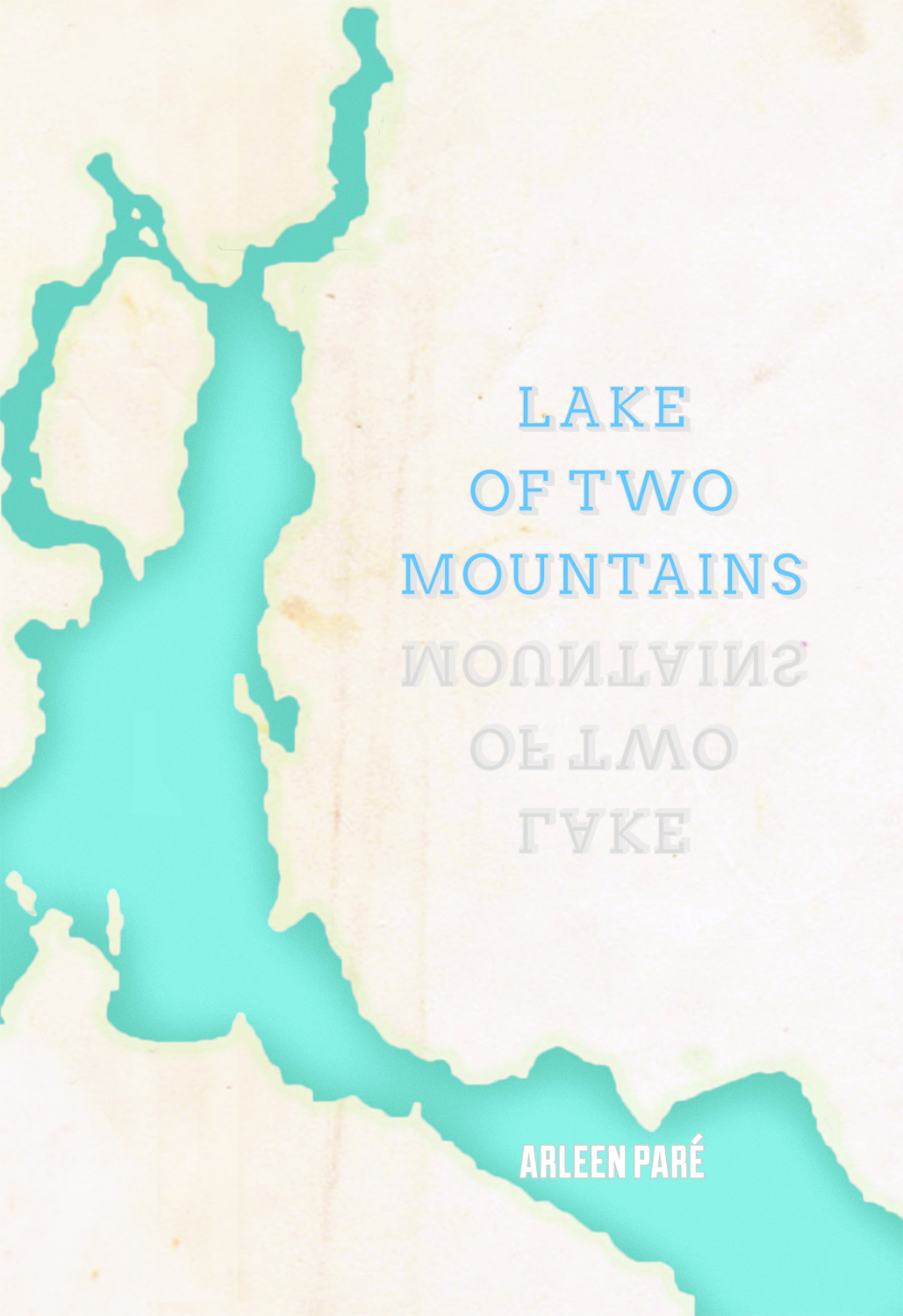 Brick Books
flint-dark far-off
sky on the move across the lake
slant sheets closing in

sky collapsing from its bowl
shoreline waiting taut
stones dark as plums

—from "Distance Closing In"
In Lake of Two Mountains, Arleen Paré's Governor General's Literary Award–winning collection of poetry, the titular lake—located just west of the island of Montreal—is in fact not a lake at all, but rather part of a delta between two lumps of land that hardly qualify as mountains. If the body of water is symbolic of the "two solitudes" of Quebec's linguistic divide, the book warns readers that these are neither real solitudes nor really two. Around the shoreline, post-contact history begins with three basic groups, including the original Mohawk occupants of the land, and sprawls to include the complex histories of immigrants arriving from different European cultures.
"I did all of that on purpose, because I think, at least in the reality that I live in, things aren't as they always seem, and are identified as they aren't necessarily," says Paré, reached by phone at her home in Victoria. "I was also grappling with the issue of who belongs in this place. Especially as a child who once was there, once was in Quebec, once belonged to the lake and the lake belonged to her, then moved away entirely to the other side of the country—Victoria. Is this still her place? "
Paré, who was born and raised in Montreal's West Island suburbs and spent childhood summers on Lake on Two Mountains, pays particular attention to the tensions around Kanesatake Mohawk territory, adjacent the francophone community of Oka—scene of a land dispute that pitted Mohawk protesters against Quebec police and Canadian soldiers during the summer of 1990.
Preparing to write the collection, Paré returned to Kanesatake with her sister and drove through it. One of the poems deals with her feeling that she had to turn back immediately, because she felt she didn't belong there.
She says that humbling experience was not because of what was happening, but rather, "because of what I'd understood and read. No one was imposing this on me; these were my reactions."
Yet the impetus for the book was much less politically loaded. It began as a simple celebration of a lake that Paré felt instinctively connected to, "in [her] bones, at [her] cellular level." To that end, the collection adopts the long tradition of the pastoral in Canadian poetry, ranging from Archibald Lampman to A. J. M. Smith to Margaret Atwood to Michael Ondaatje. More recently, the poets who've inspired Paré have been Nova Scotian Don Domanski (himself a former Governor General's Literary Award winner) and Prairie-born Victorian Tim Lilburn—both of whom, she notes, deal with pastoral imagery in a personal context.
"We live in this huge country that has so many lakes and rocks and mountains," she says. "Given that we're surrounded by trees and rocks and lakes, perhaps this is a very Canadian concern."
In this sense, Paré's poetry was driven by a most Canadian inspiration: "I was looking at the lake, because as a child I believe I fell in love with it. I wouldn't have known how to phrase that as a younger person, but when I look back, that's true. I love this lake, in the way that we all love our early geographies, if we're lucky. The initial impetus was the lake itself. I wanted to get closer to the lake."